President to address virtual Davos Agenda
Share - WeChat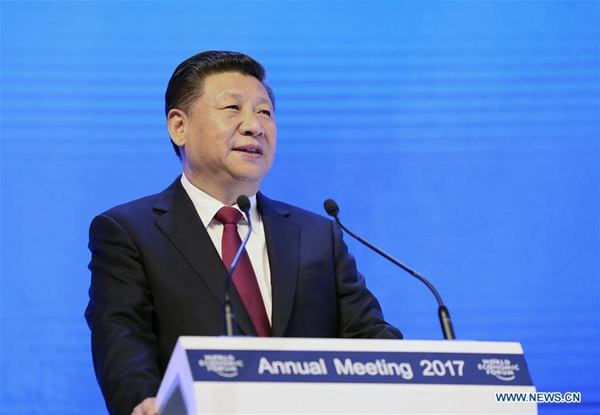 President Xi Jinping's participation in the Davos Agenda event next week is expected to bring more confidence to the world economy ravaged by COVID-19, analysts said.
Xi will make a special address at the five-day virtual Davos Agenda event of the World Economic Forum, which opens on Monday, Foreign Ministry spokeswoman Hua Chunying said on Tuesday.
It will be Xi's second time to participate in the forum as Chinese president, following his appearance in January 2017, when he reaffirmed China's firm stance on promoting economic globalization and further promoting opening-up.
The speech Xi made at the forum four years ago was widely hailed by the international community, Hua said, adding that the current international situation has great similarities with 2017.
The world economy is still stagnant and challenges are rising around the globe, she said. The international community is expected to reach more consensus at the forum and find solutions to solve the problems, she added.
The event will focus on topics such as economic, environmental, social and technological challenges amid the COVID-19 pandemic, the WEF said on Monday.
It will be attended by over 1,500 business and government leaders from more than 70 countries.
Apart from Xi, other world leaders will also participate, including German Chancellor Angela Merkel, French President Emmanuel Macron, Japanese Prime Minister Yoshihide Suga and Indian Prime Minister Narendra Modi.
Klaus Schwab, founder and executive chairman of the WEF, said at a virtual news conference on Monday that, facing the challenge of the pandemic, the need to reset priorities and reform systems has been growing stronger around the world.
The year 2021 will be a crucial year, when mankind will have to continue to engage in the fight against COVID-19 and the need for more resilient, inclusive and sustainable economies will be more urgent, he noted.
Chen Fengying, a research fellow at the China Institutes of Contemporary International Relations in Beijing, said that Xi's speech at the forum will be of great significance as the world is expecting to hear about China's solutions to the problems in the post-pandemic era.
Noting that China is the only major economy that has registered positive economic growth amid the pandemic, Chen said the world is looking forward to its cooperation on economic development and hearing about China's experiences.
China's contributions to pandemic control have consolidated the country's stance on upholding multilateralism, she added.
"We should make full use of multilateral platforms such as the G20 and the United Nations to achieve inclusive and sustainable growth, not only in rich countries, but also in developing nations," she said.
Jin Yong, a professor of international relations at Communication University of China, said that the world has greater expectations toward China now than four years ago because of the sluggish global economy.