Dutch government resigns amid scandal
Share - WeChat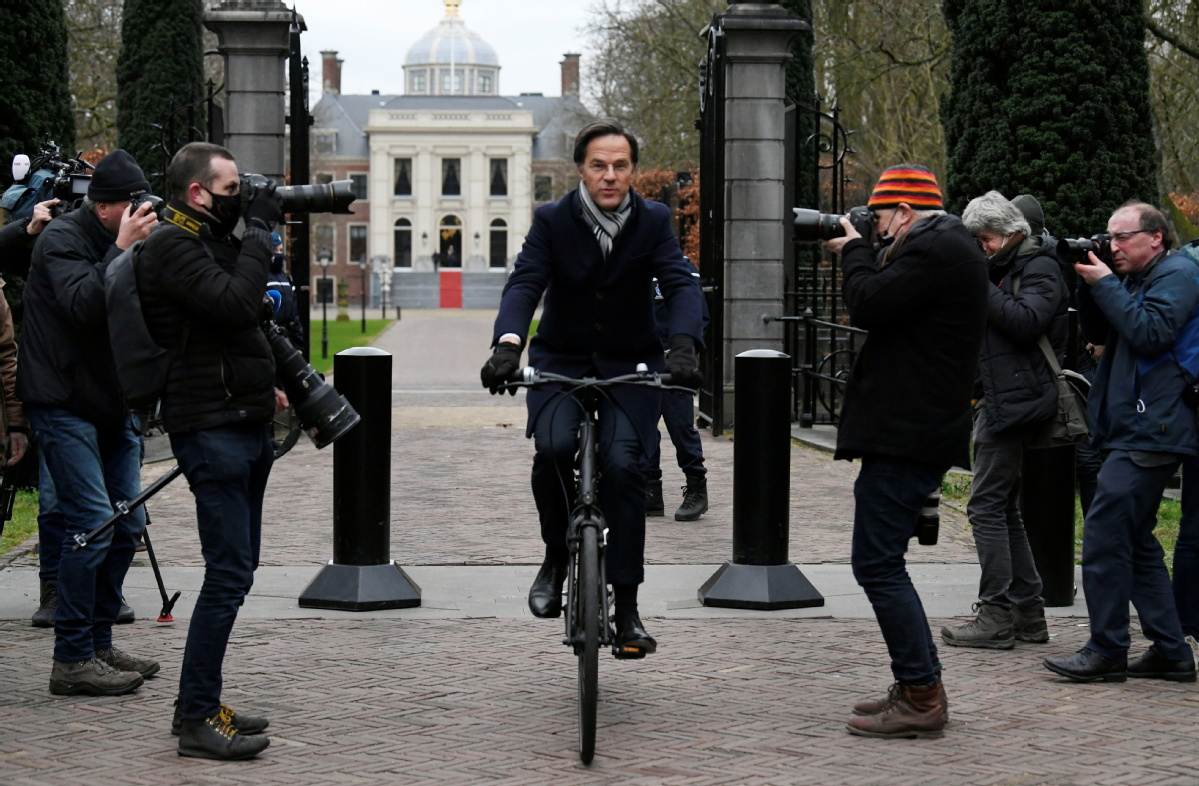 The Dutch government led by Prime Minister Mark Rutte has resigned amid a scandal over child benefits in which about 26,000 families were falsely accused of fraud by the tax authority.
The move came ahead of general elections scheduled for March 17, in which Rutte's center-right People's Party for Freedom and Democracy, or VVD, is projected to win.
"The government was not up to standard throughout this whole affair," Rutte said in a news conference on Friday. But he said he had no direct involvement in the scandal which lasted from 2013 to 2019.
"Mistakes were made at every level of the state, with the result that terrible injustice was done to thousands of parents."
Rutte, who has led three coalition governments since 2010, said he believes he can continue as party leader, but that is ultimately up to the voters.
Rutte was surrounded and chased by reporters when he cycled to the Dutch King's Royal Palace of Amsterdam on Friday to formally offer the cabinet's resignation.
His cabinet will stay in a caretaking capacity until a new coalition is formed after the vote. Eric Wiebes, the economic affairs and climate policy minister, is the only cabinet member who has resigned.
Stability needed
Rutte previously expressed the view that he was opposed to dissolving the coalition government at a time that stability is needed to fight COVID-19. But other coalition parties said there should be political consequences from the scandal.
In the scandal, the tax authority demanded that about 10,000 families to repay tens of thousands of euros, resulting in unemployment, bankruptcies and divorces in some cases.
Orlando Kadir, a lawyer who represents about 600 families, said that people had been targeted "as a result of ethnic profiling by bureaucrats who picked out their foreign-looking names".
The Dutch government apologized for the wrongdoing and earmarked more than 500 million euros ($604 million) as compensation, or about 30,000 euros for each family, the Guardian publication reported.
The government's resignation marked a week of political reshuffling among European Union member states.
Estonia's Prime Minister Juri Ratas resigned on Wednesday over a corruption scandal of misusing state loans intended for COVID-19 pandemic relief.
Former Italian prime minister Matteo Renzi on Wednesday pulled his party ministers out of the coalition government led by Prime Minister Giuseppe Conte as a new wave of COVID-19 cases hit the country.