Julian Assange: The right decision for the wrong reason
Share - WeChat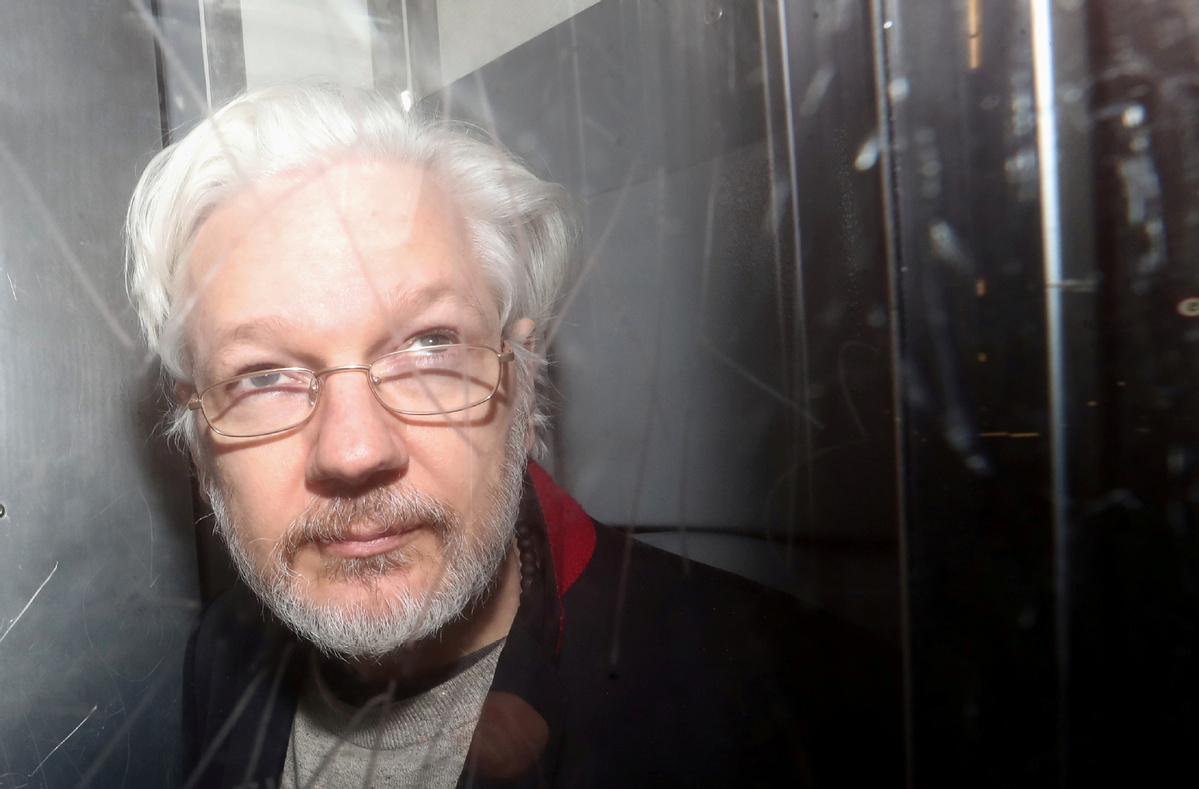 Editor's note: Andrew Korybko is a Moscow-based American political analyst. The article reflects the author's views and not necessarily those of CGTN.
A British judge ruled on January 4, 2021, that Wikileaks founder Julian Assange shouldn't be extradited to the United States. He's been held for a little less than two years after being arrested at the Ecuadorian Embassy in London where he had previously received asylum.
Assange is facing 17 espionage charges and one charge of computer misuse for publishing leaked US government documents passed along to him by Chelsea Manning which prove America's complicity in war crimes and diplomatic malfeasance. If convicted, he could face up to 175 years in jail.
The judge disagreed that the charges against him were politically motivated, but believed that he'd try to kill himself if he was sent to the US for trial. She cited his depression, autism spectrum disorder, and the tough prison conditions that he'd suffer under. This was arguably the right decision, but for the wrong reasons. There's no doubt that Assange is being persecuted by the US government for fulfilling his role as an independent journalist by publishing leaked documents that are in the public interest.
It's one thing to claim that Chelsea Manning – an active US army analyst at the time who passed along the documents in question – committed a crime, and another entirely to allege the same about Australian citizen Assange. In effect, the US carried out an international witch hunt against him driven by its unipolar hegemonic obsession with expanding its extrajudicial sway across the world. The purpose in doing so was to deter other foreign journalists from ever following in his footsteps and leaking classified documents.
Assange's saga has been going on for over a decade now since he published the first of Manning's documents in 2010. In the time since, he's become a global icon for press freedom, human rights, and peaceful resistance to the US' aggression abroad. His case captivated the world's attention, and he became the most well-known journalist in the world. His supporters praise him for his bravery in taking what have since become life-changing risks in pursuit of the truth while his detractors regard him as a dangerous threat to US government interests.
There had earlier been some speculation that outgoing US President Donald Trump might consider pardoning Assange, but it was actually his administration under which the sealed indictment against him was revealed in 2018. Arguments in favor of this scenario are that he did nothing wrong with respect to the Manning incident, and that if anything, he inadvertently helped the Trump campaign in 2016 by publishing leaked documents about the Democratic National Committee (DNC) and Democrat presidential candidate Hillary Clinton.
Trump's opponents, meanwhile, predictably argue that any possible pardon would be the result of self-interested corruption because of Assange's role in indirectly influencing the results of the 2016 election. Some of them even believe that the Wikileaks founder was secretly coordinating with the Russian government, which had been accused of hacking those embarrassing documents. It remains to be seen whether Trump will end up issuing the speculated pardon, and whether incoming US President Joe Biden will continue the case if he doesn't.
At any rate, it's a welcome development that Assange wasn't extradited to the US, though the American government plans to appeal the decision. This hints that Trump probably won't pardon him like his supporters hope, even though he could still do so on humanitarian grounds and/or to spite Biden. Assange deserves to be free since he's not a spy but a journalist. His whole life was ruined simply for reporting the truth about American military crimes, sensitive diplomatic issues, and embarrassing truths about the DNC and Hillary.
The latest news is that Mexican President Andres Manuel Lopez Obrador said that he'd be interested in granting Assange asylum if the UK releases him. It's still not clear whether London will ultimately let him go or not, but Obrador deserves to be commended for publicly taking a principled stand on this important issue of press freedom and human rights. The judge was right, Assange will likely try to kill himself if he's extradited to the US, but she was wrong in claiming that he's not being politically persecuted.
Most Viewed in 24 Hours
China Views