Mental well-being deserves greater attention in challenging times
Share - WeChat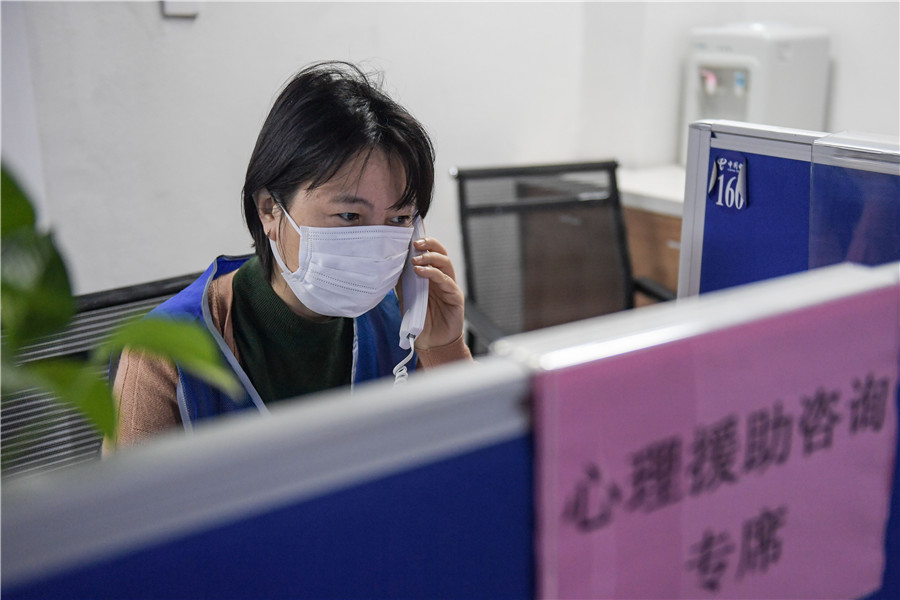 The recent announcement in the Chief Executive's Policy Address that the redeployment of HK$300 million ($38.7 million) from the Beat Drugs Fund represents an important statement that the pandemic is not the only public health concern at present, and that we must not neglect psychological well-being, particularly after the challenges of the social unrest in 2019 and COVID-19 in 2020.
It is also notable that the expression "mental well-being" is used in the policy address, and not only "mental health" or "illness". Too often, we have come to think of mental wellness as a black or white condition, and that either we are fine or we are mentally unwell, when in reality well-being is a dynamic and multi-faceted state.
As we look beyond the new year, with signs of hope for controlling the virus, we have a chance to shake off lingering feelings of helplessness and to make a commitment to our well-being and that of our family, friends and co-workers
Certainly, there are those of us dealing with acute distress or chronic mental illness, and for such individuals, we must do more to ensure there is adequate professional and medical care. For most of us, however, our mental well-being is a condition that is responsive to the environment, our daily social interactions, and our behaviors.
Many of us have come to realize this in 2020 in a way that we never did before. Limited access to fitness facilities due to social distancing restrictions highlighted how our moods could be affected by lack of exercise. Exercise and sports are the best medicine for promoting mental well-being.
Restrictions on eating and socialising helped us realize how important it is to spend time with like-minded friends and family. Our research suggests that the suicidal risk of those with social support is 73 percent less than those who don't. Thankfully in Hong Kong we have not experienced the full lockdowns of other regions, therefore we have been fortunate to still have access to green space and the "eco-therapy" offered by Hong Kong's lush mountain trails and seafronts. Our beaches have been reopened and they are a lifeline of many elderly adults who have been doing a morning swim for decades to keep their mental and physical health fit.
As we look beyond the new year, with signs of hope for controlling the virus, we have a chance to shake off lingering feelings of helplessness and to make a commitment to our well-being and that of our family, friends and co-workers. This means recognizing that while there are some things largely beyond our control, there are also many things that we do have power over that we can work on.
Some businesses are already taking steps to improve the well-being of their staff for the next year. For instance, by providing certainty to employees by allowing them to work from home throughout 2021 and giving them allowances to invest in their home office environments.
Companies are also exploring how employee wellness schemes can be enhanced by taking advantage of the greater focus on health and well-being measures at present, due to COVID-19 prevention and monitoring. This includes exploring ways to optimize well-being and examining its relationship to productivity.
For companies to fully invest in the well-being of their staff, executives will need to understand the business case for doing so. If an office suffers an outbreak of COVID-19 then the harm to the business caused by a sudden drop in output and costly relief measures can be immediate and obvious. But what of the harm that may be caused by excessive stress and related psychosocial issues? How might performance be hampered in more subtle or long-term ways?
Well-being is notoriously difficult to quantify, however with the use of artificial intelligence and data science we are beginning to make inroads. Increasingly, there are tools to enable businesses to measure the ROI or "social return on investment" of allocating resources to employee well-being.
We can collect subjective perceptions of well-being, analyze the way people are communicating and behaving, and map these against measures of health and performance. Absenteeism, presenteeism (working but doesn't reach the optimum level of productivity) and costs associated with sick leave and ill health can also provide important markers that can be used to adapt the working environment and improve employee productivity.
The positive effects from our workplaces and schools becoming more attentive to health and well-being can ripple out into the community. Consistent with the government's Shall We Talk campaign, it can help to rid society of the stigma of seeking help. But the benefits are not merely preventative. We do not want to be existing only in a mental state where we do not quite need to seek help, but also aren't doing too well. The skills, tools and insights that can enable us to handle stress well and to flourish are equally important.
At the moment it is very easy to be cynical. Many of us are carrying around traumas from the last 18 months or are struggling economically. Waiting times are too long for health services, with some having to wait many months to seek a mental health specialist due to too few clinicians. This is not good enough.
It is important that we talk about the problems that exist, and that we try to solve them. But equally, "Shall We Talk?" should not be a question reserved only for when we are facing great difficulties. We might also use the question as a basis for discussing how to enhance well-being within our workplaces and communities. There may not be easy answers to such a question, but it is one that we all have a stake in.
Edward Pinkney is a project officer and Paul Yip is the director of the Centre for Suicide and Prevention of the University of Hong Kong.
The views do not necessarily reflect those of China Daily.
Most Viewed in 24 Hours
China Views