Drones take drudgery out of farmwork
Share - WeChat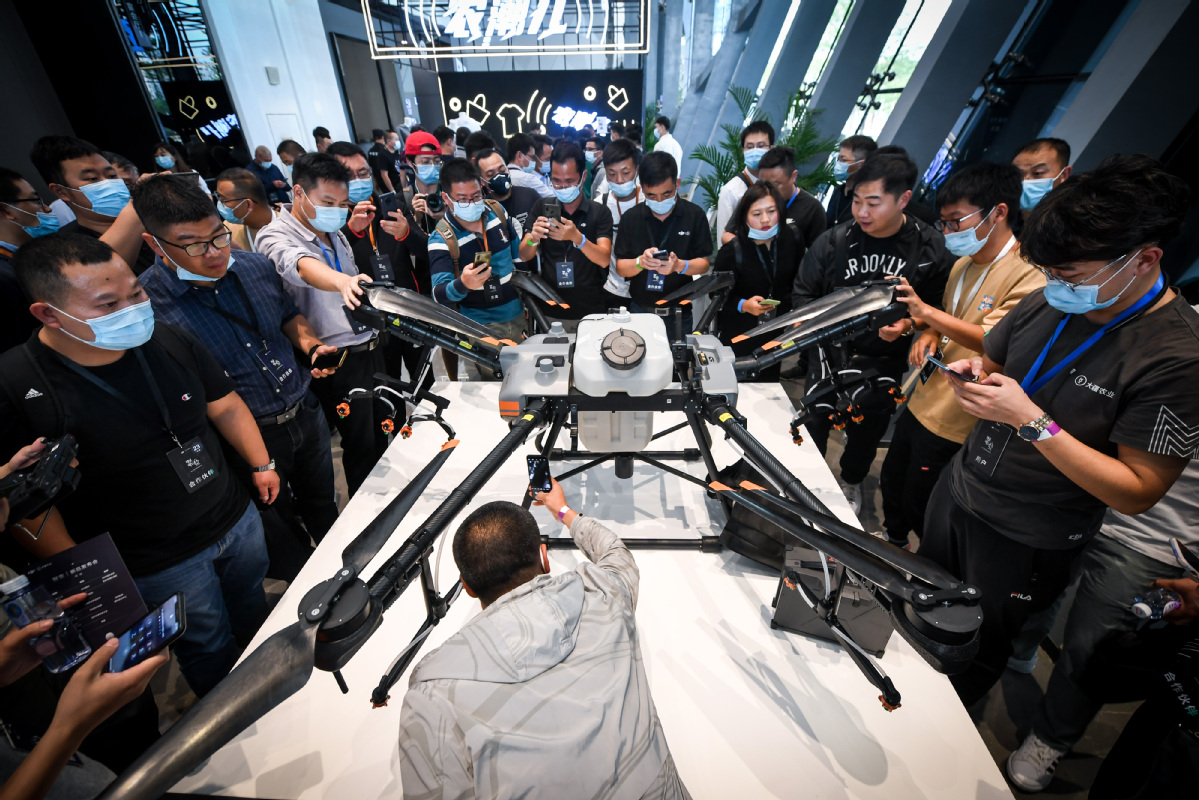 Sowing seeds, spreading fertilizers and pesticides increasingly done remotely
Aerial drones appeared one recent early morning above the Honghe Hani Rice Terraces in Southwest China's Yunnan province in an area where the elderly form the backbone of local agricultural cultivation.
Li Zhenglin, a farmer in his 60s, gazed down from a hillside and watched the agricultural-use drones buzz through the air and spread seeds during the rice planting season. With the advent of drones, he can finally bid farewell to the days of trekking up and down the steep slopes in the mountainous area.
In the past, Li had to rely on manpower to seed, sprinkle fertilizers and spray pesticides-tasks that are exhausting, time consuming and inefficient. But now a group of tech-savvy young people have brought farm drones to help villagers like Li boost productivity and profits.
"It took up to one day to manually spray fertilizers on only 0.3 hectare of rice terrace. But now the same amount of work can be completed by one drone in five minutes," he said.
With the modernization of agriculture, demand for advanced farming devices has been growing significantly in China. Data from the Shenzhen, Guangdong province-based Qianzhan Industry Research Institute said the value of the domestic agricultural drone market will exceed 12.8 billion yuan ($1.96 billion) by 2021, representing a compound annual growth rate of 38 percent.
The government has implemented policies to promote the use of modern agricultural machines and offers subsidies to encourage the use of drones on farms.
DJI, the world's largest commercial drone manufacturer by market share, has invested heavily to develop agricultural drones, with the goal of helping farmers improve efficiency and increase the usage ratio of intelligent agricultural equipment.
Chen Tao, global marketing and sales director of DJI's agricultural equipment department, said the company's agricultural drones have worked on around 33 million hectares this year, more than double the area covered last year. The company sold more than 40,000 drones for agricultural use this year.
The Shenzhen-based company has also expanded its footprint in international markets, especially in Southeast Asia and Latin America, which have shown great growth potential, Chen said, adding that overseas sales doubled this year despite the negative impact of the COVID-19 pandemic.
"In recent years, smart-technology equipment in the form of farm drones has continued to help farmers increase revenue and cut costs," Chen said, adding that DJI will continue to put more resources, build digital agriculture solutions based on spatial intelligence solutions with partners, help farmers improve farmland management and provide new solutions for China's agricultural development.
Chen said DJI hopes to attract more young people, especially those in rural areas, to use agricultural-use drones and start up related businesses. "We have also invested more than 200 million yuan in agriculture after-sales services this year."
The COVID-19 pandemic has promoted the application of unmanned agricultural machinery and equipment to some extent, which is a big boost for the drone industry, Chen added.
In November, DJI launched its new agricultural drone products, the T30 and T10, which feature dynamic systems to increase work efficiency and accuracy.
Drone operators who use T30 drones equipped with updated barrier-avoidance radar systems and dual cameras can spray pesticides over about 16 hectares of farmland an hour, 33 percent more compared to the previous generation of aerial drones.
Priced at 19,999 yuan, T10 is the cheapest among DJI's agricultural drones. Small and lightweight, the drone can be used for smaller plots more common in South China by small and medium-sized farm owners.
The company is bullish on prospects for agricultural drones as demand for such gadgets is huge and the whole industry is still in an exploratory mode.