After record steel output, Baowu chases tech, profitability and scale
Share - WeChat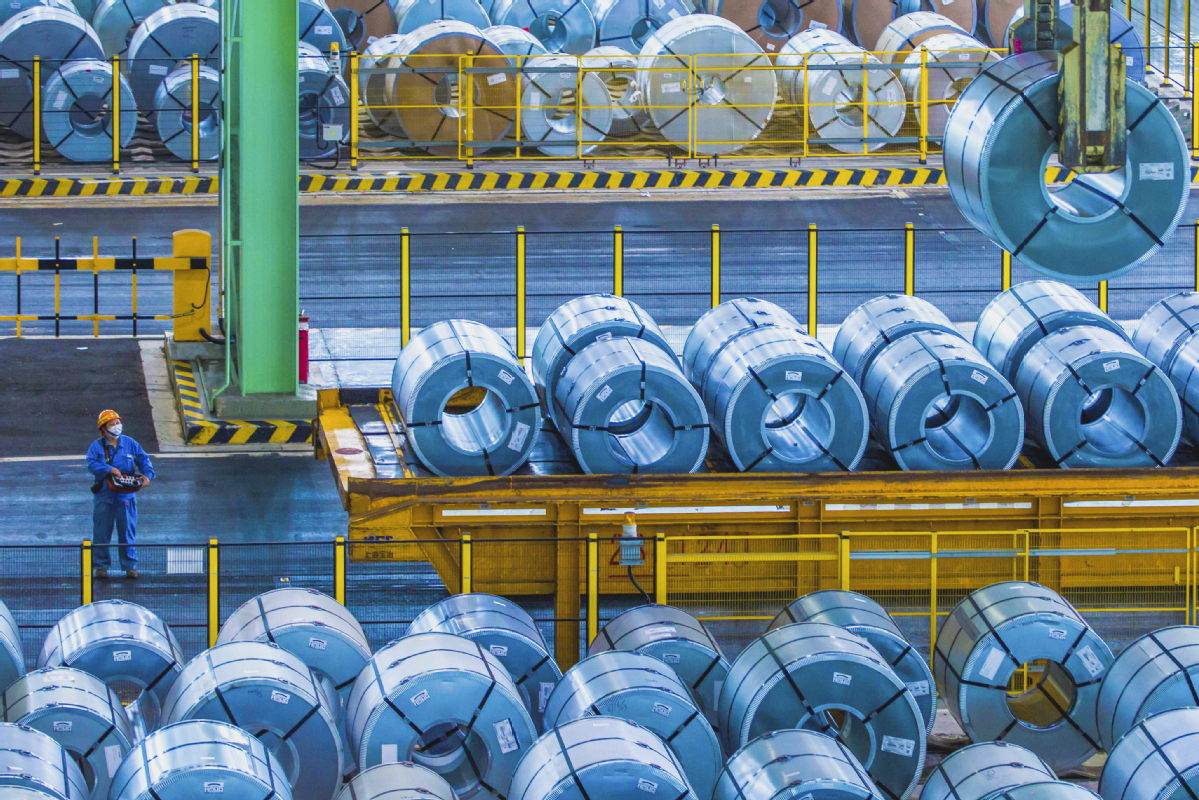 China Baowu Steel Group is set to become the world's largest crude steel producer this year, having crossed the output mark of 100 million metric tons, a first for any Chinese steelmaker.
The steel giant is going to pursue latest technologies and innovation and emerge as the global steel industry leader, said its chairman.
"Baowu will overtake Arcelor-Mittal to become the world's No 1 crude steel producer this year," said Chen Derong, its chairman.
Baowu is also on track to becoming an industry leader in terms of profitability. "In order to become a global steel industry leader, Baowu will consistently spearhead technological innovation, with technology, profitability and scale being the three pillars to ensure our success," said Chen.
According to Chen, technology will help build a solid foundation for strengthening competitiveness, and safeguard Baowu to maintain its leadership in scale and profitability in the long term.
A platform of industrial internet was launched by Baowu on Tuesday as part of its efforts to leverage technology power.
Developed by Baowu's listed arm Shanghai Baosight Software Co Ltd, the platform of industrial internet boasts the first systematic industrial internet platform in China's manufacturing.
Based on technologies like big data, AI, intelligent equipment, and virtual manufacturing, the platform strives to satisfy various applications for both intelligent manufacturing and smart service.
The platform would be capable of offering solutions to diverse sectors like steel, medical, transportation, finance, agriculture and e-commerce.
It will cover safety, manufacturing, energy saving, emission reduction, quality control, supply chain management, R&D, design, operations, management, warehousing, logistics and maintenance.
"The platform is seeking to become a demonstration platform for China's industrial internet in the coming three to five years," said Zhu Xiangkai, general manager of Baosight.
On Tuesday, Baowu showcased 10 products for application in various industries. The products include construction steel used to build the most durable bridges and high-speed railways, ultra-thin (0.02 mm) steel, and steel designed for meeting high environmental standards with high efficiency.
The 10 steel products are a fraction of innovations made by Baowu through years of consistent research and development, Chen said.
Back in January, Baoshan Iron and Steel Co Ltd's Shanghai factory was inducted into the list of World Economic Forum lighthouse facilities, the first such honor for the Chinese steel industry.
A lighthouse factory represents China's transformation from the world's biggest steel producer into an iron and steel power through smart manufacturing, with Baowu's long history proving context and a reference point.
China will soon become the first country to have its crude steel output exceed 1 billion tons in 2020, said Li Xinchuang, chief engineer of the China Metallurgical Industry Planning and Research Institute, in an interview to the Xinhua News Agency earlier this week.
According to Li, China produced 961.16 million tons of crude steel in the first 11 months, and the nation's total output is expected to reach 1.05 billion tons, accounting for 60 percent of the world's output.
It is only a matter of time for Baowu to become the No 1 steelmaker by volume as the company has been consistently expanding its output through a slew of mergers and acquisitions, according to Chen.
In December 2016, China Baowu was formed by the merger of Shanghai-based Baosteel Group and Wuhan Iron & Steel Group in Central China's Hubei province, which created a monolith with a production capacity of 70 million tons, second only to ArcelorMittal worldwide.
In June 2019, China Baowu announced to acquire Maanshan Iron and Steel Co Ltd (Magang), increasing its output to more than 90 million tons. And in August last year, China Baowu announced it would acquire a 51 percent stake in Taiyuan Iron & Steel (Group) Co Ltd.
In 2019, Baowu produced 95.22 million tons of crude steel, earning 556.6 billion yuan ($85.2 billion), and a net profit of 34.5 billion yuan.
From its establishment in late 1970s, Baosteel has been setting the highest technology standards among all Chinese steel mills, and in recent years its R&D investment has exceeded that of other mills, reaching 14.9 billion yuan in the past three years, more than double that of second-ranked Hebei Iron and Steel Co Ltd, which invested 6.79 billion yuan in R&D.