Revealing glories of the past
Share - WeChat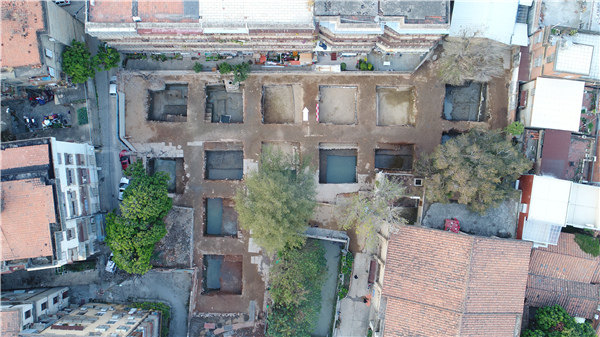 Once-forgotten techniques used in construction in previous centuries still remain relevant for today's builders.
Since Wang Bo, a researcher at the Institute of Archaeology of the Chinese Academy of Social Sciences, joined archaeological work in Quanzhou city, East China's Fujian province, at the end of last year, he couldn't help wandering the streets and alleys of the old city in his free time. He was amazed by the traditional Chinese wisdom shown in the construction of the city in ancient times.
"Quanzhou's construction in many ways shows the thoughts of Kanyu, or Chinese geomancy, which is a part of traditional Chinese culture. So with the guidance of Kanyu's thought system, we can clearly see the development of the city construction," says Wang.
His findings pointed the direction for the archaeological work. After more than a year's efforts, the current achievement of the work was summarized in a seminar held in Quanzhou on Dec 11.
Organized by the Institute of Archaeology of CASS, the Bureau of Cultural Heritage of Fujian province and Quanzhou people's government, the seminar collects more than 30 essays from experts on various fields of Quanzhou's archaeological work, and some of them reported their findings during the seminar.
According to Wang, since last April, experts from the Fujian Museum's archaeological institute, the Institute of Archaeology of CASS, and the School of Archaeology and Museology of Peking University joined the team in carrying out archaeological work in Quanzhou, as part of China's world cultural heritage application project to UNESCO.
Archaeologists made a general excavation plan, and excavated the Xiacaopu iron production site in Qingyang village, Anxi county, the sites of Dehua kilns, the southern clan office and maritime trade office. The four sites are among the 22 sites of historical heritage highlighted in the project.
Wang, the leader of archaeological team excavating the sites, southern clan office and maritime trade office, says their work "basically proves the existence of the two sites".
The southern clan office was a government sector that functioned from 1133 to 1277 to administer the imperial clan members who moved to Quanzhou during the Southern Song Dynasty (1127-1279). The maritime trade office was an official agency in charge of maritime trade from 1087 to 1472 in Quanzhou spanning the Song (960-1279) and Yuan (1271-1368) dynasties.
"We have found remains of some construction which show they were of high level in ancient China, and they were built according to strict official mapping, which was only used in official constructions. Words on some cultural relics unearthed also prove they are official constructions," says Wang.
Most Popular