Love of lacquer draws artist to Chongqing
Share - WeChat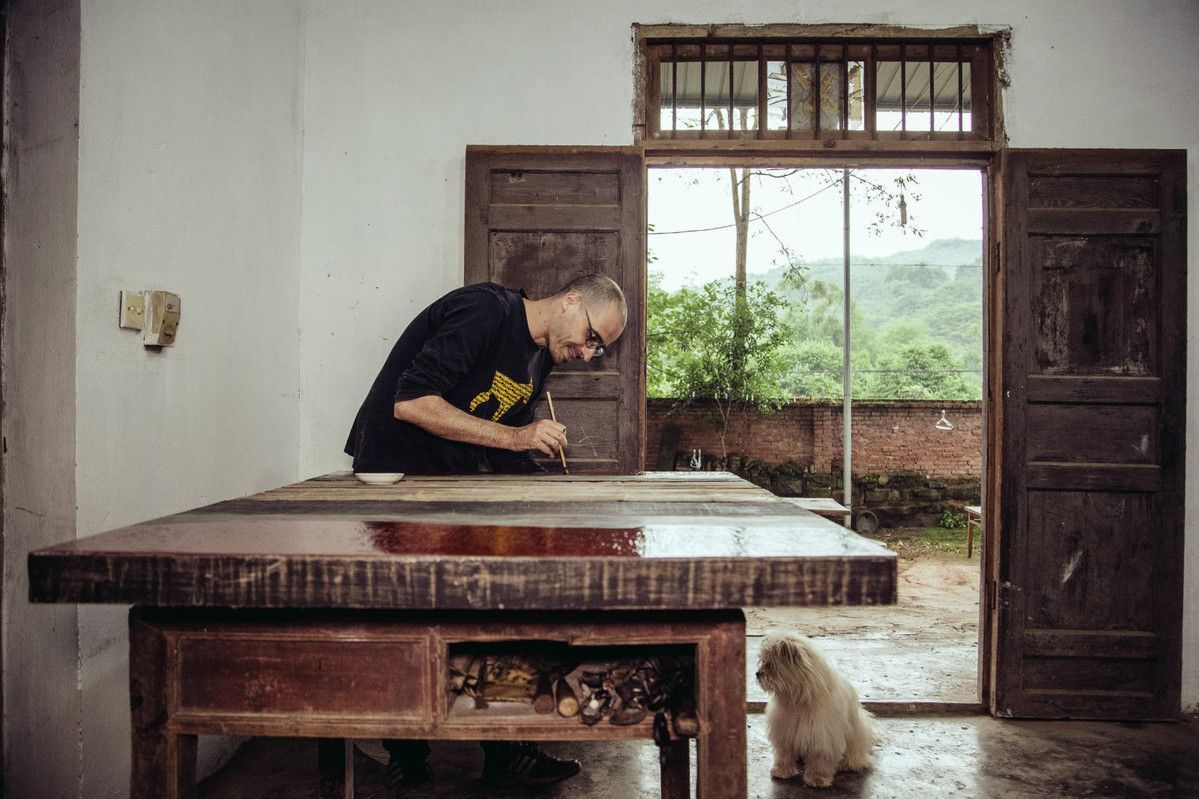 Frenchman takes advantage of abundant raw material in Southwest China to make a living crafting modern works
Vincent Cazeneuve's art studio is hidden in a two-story farmer's house on Hufeng Mountain, about 40 kilometers away from downtown Chongqing.
On a quiet, rainy afternoon in late autumn, the French artist was using a scraper to put layers of dark lacquer mixture on a large piece of ragged cloth on a large, wooden table in the studio.
"I just add many processes to my art and improvise to it," he said. "I don't know what's next."
Wearing a pair of olive green rubber-soled shoes, a favorite among Chinese farmers, the 43-year-old Frenchman has lived like a local in the southwestern municipality since 2009 and has developed his lacquer art career.
He is married to a Sichuan woman and has a newborn son.
The artist applied lacquer on a wide range of chosen materials, such as ramie fabric, gold leaves, Moso bamboo and used rice bags, exploring the endless possibilities of their combination with his ultra-simplistic aesthetic style.
"Unlike other objects, raw lacquer has life, and it is warm and dangerous (because it can cause skin irritation)," he said.
So infatuated with lacquer, he named himself Qi Wensen after this natural material in Chinese, combining "Wensen", a transliteration of his first name, with qi, the Chinese word for lacquer.
Born in Toulouse, France, Cazeneuve studied at Ecole des Metiers d'Art in Revel before opening his first studio specializing in the restoration of Western and Asian lacquer wares.
The history of Chinese using lacquer in daily life dates back to some 7,000 years ago in the Neolithic period. During the Shang Dynasty (1600-1046 BC), Chinese people developed highly sophisticated lacquer art. The Frenchman learned that Southwest China produces one of the best raw lacquers in the world. The longing to be a real artist pushed him to close his business in 2007 and travel to China at the invitation of a Chinese friend.