Relics resurrected from palace's ruins
Share - WeChat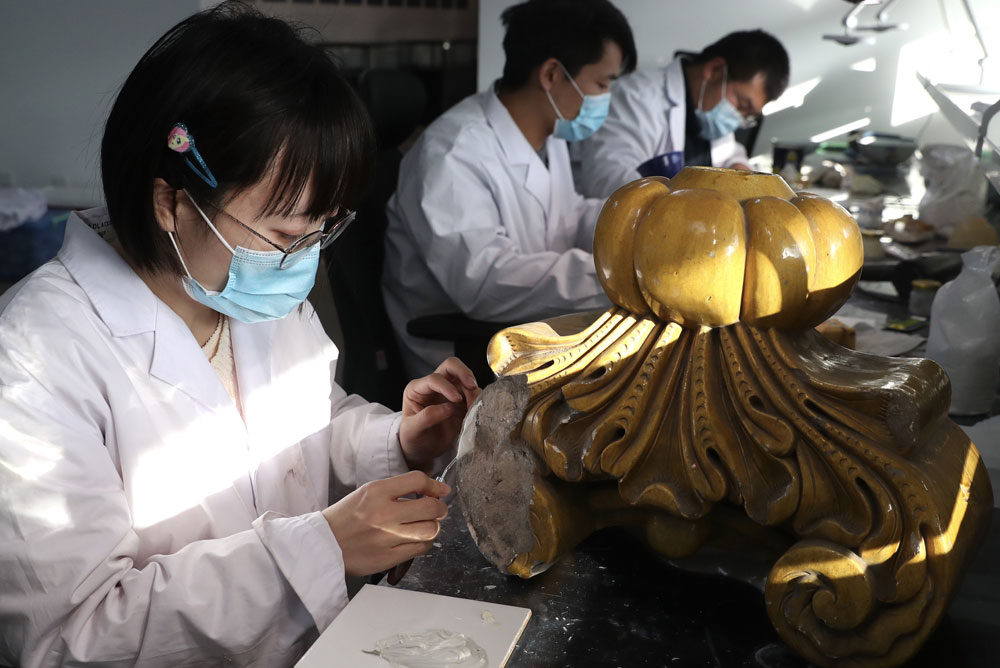 The worn appearance of glazed tiles and other decorative elements cannot hide the colors from within, which reflect the glories of a period of ancient history.
A new project to restore and display the tiles that were used at Beijing's Yuanmingyuan, or Old Summer Palace, is meant to provide a glimpse of the glories of the former Qing Dynasty (1644-1911) royal resort, which was looted and burned in the 19th century.
The administration of Yuanmingyuan Ruins Park announced on Thursday that the first restoration of the glazed items in the Xiyang Lou, or Western Mansions, area had recently started.
"They will help to reconstruct a colorful gardening scene and thoroughly change the public's impression of Xiyang Lou as simply gray stones," said Chen Hui, director of the park's archaeology department.
Yuanmingyuan is considered to have been the peak of Chinese gardening art. Built in 1707, it was renovated and expanded over the next century and a half, becoming a large complex of imperial gardens, palaces, temples and pavilions on 350 hectares.
The Xiyang Lou area, built from 1747 to 1760, had a unique appearance, with buildings combining the Baroque style from the West and traditional Chinese architecture. Glazed tiles were used on facades as decorations.
In 1860, the invading Anglo-French allied forces looted and burned Yuanmingyuan, and the resort fell into ruin in the decades following that.
But in 1873, a group of German photographers went to the ruined palace, and some of the structures in the Western Mansions area still stood, as their photos attest.
"The glazed pieces are clearly seen in pictures as key historical references for our restoration," Chen said. "Our restoration will also contribute to academic studies of Xiyang Lou."
Xiyang Lou is one of the few areas of the palace where ruins such as stone arches, columns and fountains are still visible above the ground.
Thousands of broken glazed tiles have been unearthed in Yuanmingyuan in archaeological excavations and have been stored in a warehouse, Chen said. The glazed pieces will not only be displayed themselves, but through 3D modeling, there will be online exhibitions showing where they would have been placed on buildings.
"It's a challenge to put the pieces together as the patterns of the glazed components are complicated," said Wang Mian, a leading restoration expert. They were scattered in a wide area, and many parts had long been missing."
Most Popular