Investors jump on healthcare bandwagon
Share - WeChat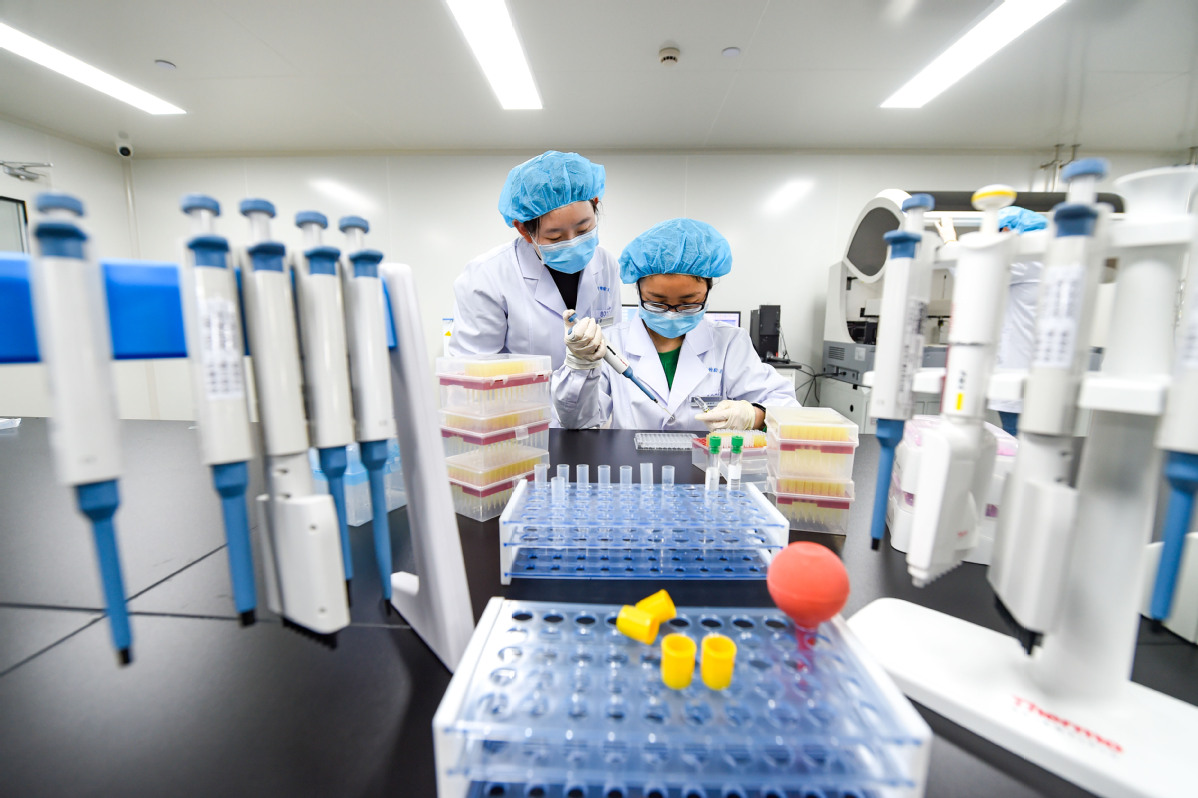 Research and development, commercialization of vaccines and antiviral drugs to boost spending on innovative projects
China's healthcare investment is booming as COVID-19 has led to a surge of interest in related sectors.
Hongtai Aplus, with two funds worth some 5 billion yuan ($765 million) targeting the healthcare sector, has already finalized three medical projects so far this year, with several others now undergoing due diligence.
Founded in 2014 by renowned entrepreneur Yu Minhong and veteran banker Sheng Xitai, the firm invested in three medical projects-two involving innovative drugs and one in testing procedures-from 2018 to 2019.
According to global consultancy McKinsey & Co, there has been a strong rebound of healthcare venture capital/private equity investment in 2020 after a decline in 2019.The total amount of VC/PE investment in the sector during the first half had already exceeded that for the whole of 2019.
"COVID-19 has had a profound influence on the economy and significantly propelled investment into China's healthcare sector," said Jiang Fei, managing director of Hongtai Aplus.
Due to the outbreak of COVID-19, need for protection and treatment has surged, benefiting medical devices and testing companies over the short term. And over the long term, research and development and commercialization of vaccines and antiviral drugs will also prompt spending on innovative drug projects, Jiang said.
More than 200 new drug projects have received investment so far this year, up one-third from 2019, among which are large-scale financing projects (including initial public offerings), with single-round financing in excess of 1 billion yuan being three times that were seen last year, Jiang added.
Li Gang, partner of private investment bank CEC Capital, said: "The pandemic has spurred interest in the healthcare industry among the public. This has led to increased supportive government policy measures and both public and private investments into new drug research, testing and protective gear production."
Projects that CEC Capital has completed so far this year are three times that of last year, with acquisitions and financing totaling 30 billion yuan, Li said.
EdiGene Inc-a Beijing-based startup developing genome editing technologies to accelerate drug discovery and develop novel therapeutics for a broad range of diseases-announced completion of a 450-million-yuan round of Series B financing in October.
The investment was led by 3H Health Investment along with other investors including IDG Capital, Lilly Asia Ventures, Huagai Capital and Green Pine Capital Partners. New investors included Sequoia Capital China, Alwin Capital and Kunlun Capital.
Founded in 2015, EdiGene has established four gene editing based platforms and is advancing its early-stage programs into clinical development for patients with congenital diseases and cancer.
The investment will enable the company to further scale up and transform its pipeline into the clinical stage, thus increasing its global presence, said EdiGene CEO Wei Dong.
Due to social distancing caused by the outbreak of COVID-19, financing activities in healthcare were affected for a short period in early 2020. But as soon as business and production were resumed, financing in the sector saw a strong rebound, Wei said.
While the disease has raised interest in China's healthcare industry, the sector has long been popular among investors eyeing the bulging domestic market due to China's large, aging population and increasing middle-income group, industry insiders said.
Jiang said Hongtai Aplus sees a promising future in the healthcare sector.
The fact that China lags far behind developed countries in biotechnology and medical devices and that China's healthcare industry accounts for a relatively low share of the nation's gross domestic product with a wide range of unmet clinical needs indicates great potential for the healthcare industry and abundant related investment opportunities, Jiang added.
In 2019, healthcare-related expenditure in China equaled about 6.6 percent of GDP, compared with 17.7 percent in the United States in 2018, according to official data from the two countries.
Hongtai Aplus is most interested in biotech and medical devices because of the huge technology gap between China and developed countries. Therefore it is possible to have huge flagship firms dominate the two sectors due to China's huge domestic market, if experience from foreign markets is any guide, Jiang said.
The three investment projects the company has completed this year involve pharmaceutical companies with impressive pipelines of innovative drugs.
One is Shenzhen TargetRx Inc, a biopharmaceutical company founded in 2014 focusing on developing international cutting-edge cancer drugs that block the growth and spread of tumors by interfering with specific molecules. The company currently has several products in the pipeline for lung cancer and leukemia, among other maladies.
The second is Hinova Pharmaceuticals Inc, a high-tech innovative drug development company founded in 2013. The company's prostate cancer drug is undergoing phase-three global clinical trials as a promising candidate for a $10-billion annual market sector globally.
The company has also invested in a Shanghai-based company that owns an original drug candidate for type-2 diabetes. China has 114 million people living with diabetes, accounting for about one-fourth of the global diabetic population, according to the International Diabetes Federation.
Both Li and Wei attributed the popularity of China's health sector among investors to the sector's prospects amid an aging demographic shift and the country's deepening reforms.
CEC Capital's Li said accelerating reforms in China's capital market, including a registration-based system for IPOs and lower financial listing requirements, have provided investors clear exit strategies and thus have injected new momentum into healthcare investment.
As the world's second largest economy, China's biotechnology industry is also rising as domestic companies have expanded into almost all sectors of biomedicine.
The healthcare industry is countercyclical, and the popularity of the sector among investors will continue for at least 10 years in China, with changes in both supply and demand.
China's society is aging and undergoing consumption upgrades amid demand for more quality healthcare products and services. Meanwhile, progress in science and technology will lead to industrial upgrades and enhanced user experiences, he said.
The aging society, growing incidences of certain diseases among youth due to lifestyle changes and the ongoing pandemic have jointly raised people's awareness of health and disease management to new heights, leading to greater demand for related products and services, Wei said.
Progress in science and technology also brings more possibilities for disease care such as genetic and cell therapeutics for diseases that were once considered untreatable, he added.
Regulatory reforms in medical products starting in 2015, regular updates to the national reimbursement drug list and growing ranks of domestic talent have jointly injected new momentum into the healthcare industry, making the sector increasingly popular among investors, which in turn propels development, Wei said.