JV to pioneer in-flight Wi-Fi innovation
Share - WeChat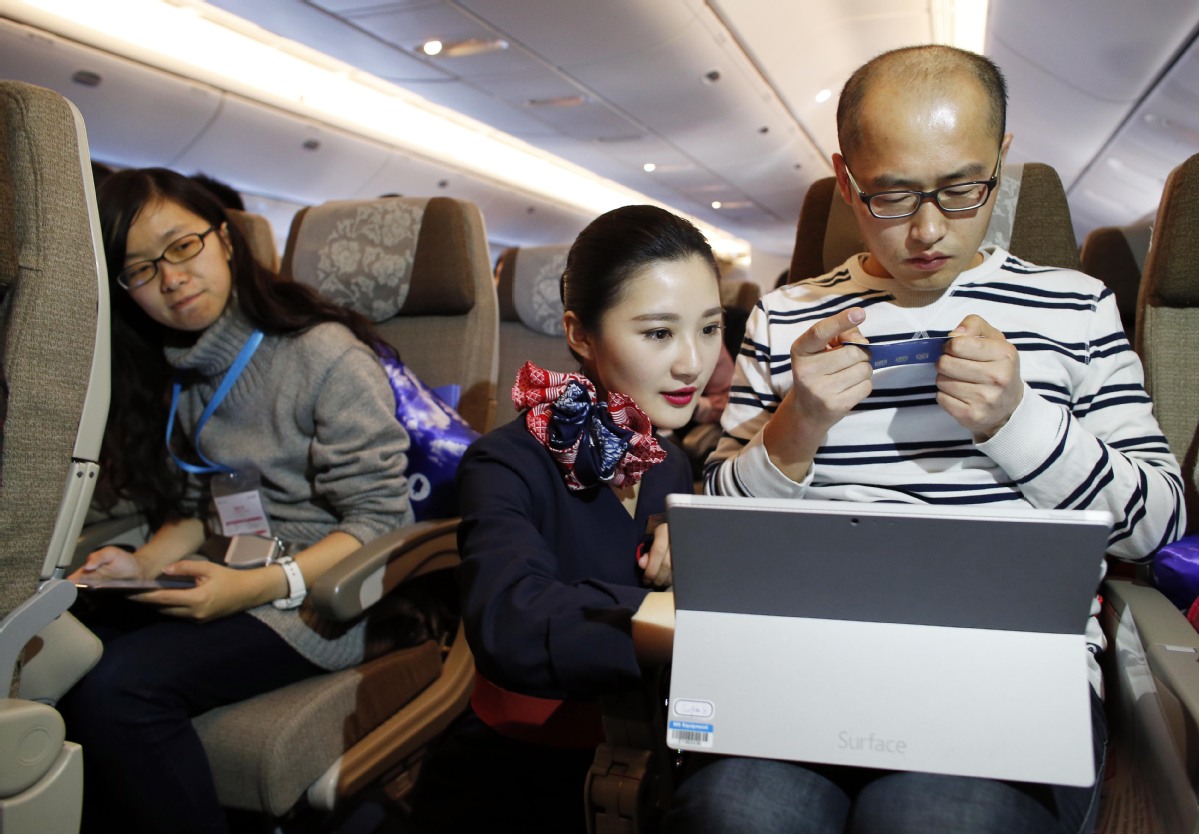 KDlink Technology Co Ltd, a joint venture based in Shanghai, is seeking to exploit the emerging field of internet connectivity in civil aviation, with a view to provide air travelers faster and value-added in-flight Wi-Fi services.
KDlink Technology is the world's first firm of its kind, created via equity participation between two aviation firms-China Eastern Air Holding Co Ltd and Juneyao Airlines-and a telecom operator (China Telecom).
KDlink Technology said it specializes in providing air-ground interconnection service and will innovate its technology products and business model to excel in the emerging field.
Both China Eastern and China Telecom own stakes of 42.5 percent each in KDlink whose registered capital is 200 million yuan ($30.54 million). Juneyao Group holds the remaining 15 percent, according to a report in National Business Daily.
Some 4,000 aircraft comprise China's civil aviation fleet. Equipping an aircraft with Wi-Fi capability entails investment of several million yuan.
Ever since the Civil Aviation Administration of China eased the restrictions on in-flight portable electronic devices in 2018, 506 aircraft operated by 19 airlines have introduced in-flight Wi-Fi services. More than 8.55 million passengers have used the service so far, according to the CAAC.
China Eastern operates 94 aircraft equipped with in-flight Wi-Fi. With Juneyao Airlines, the two carriers will now provide travelers Wi-Fi in more than 100 jets.
Li Zhengmao, president of China Telecom, said the internet service provider will develop various value-added apps with other airlines through KDlink, so as to form an ecosystem of aviation internet industry.
Wang Junjin, chairman of Juneyao Group, parent of Juneyao Airlines, said he expects KDlink to become a role model of high-quality development in the field of communication in civil aviation.
Zhang Chi, general manager of KDlink, said the firm is open to the idea of accepting more shareholders and doing business with other airlines in the future. KDlink will also explore apps for in-flight first aid and for making cabins intelligent, he said.
Li Yangmin, general manager of China Eastern, said KDlink is an example of State-owned enterprises' efforts to diversify their ownership structure with other SOEs and private companies.
Like their international counterparts, China's three largest airlines have equipped most of their wide-body jets with in-cabin Wi-Fi capability, according to Yu Zhanfu, partner and vice-president for China unit with consultancy Roland Berger.
In-flight internet connectivity creates a new channel for information, be it for emergency situations like medical rescue or crash scenarios or to check email, use social media or enjoy online entertainment, said Yu.
According to thepaper.cn, a Chinese-language online news outlet based in Shanghai, all Chinese in-flight Wi-Fi services are free of charge.
In-flight Wi-Fi has room for development as a value-added, paid-for service, like in other advanced countries, said Yu, adding that airlines should explore more profitable and feasible business models.
Agreed Li Yangmin of China Eastern. "KDlink can be an important support as China Eastern is undergoing a transition of digitalization to being an airline with intelligent or smart aircraft."
China Eastern and China Telecom, pioneers of domestic in-flight Wi-Fi, conducted China's first trial on commercial flights way back in 2014.
China is ranked second in the world in terms of aviation-related internet development, only after the United States, and has 362 million active users of the IPv6 protocol that is used for the purpose.
Emirates Airlines offers in-flight Wi-Fi in all of its A380 jets as well as some of its B777 aircraft. Its passengers can buy the service at prices ranging from $2.99 to $19.99, depending on data or duration needs.
Since introducing in-flight Wi-Fi in 2016, Cathay Pacific's service has been available in all cabin classes on all of its A350 aircraft, and 80 percent of its B777s. The carrier is progressively rolling out Wi-Fi on its A330 aircraft and cost for accessing internet via the equipped devices in the cabin at or above 10,000 feet is between $9.95 and $19.95.