Christmas comes early for some exporters
Share - WeChat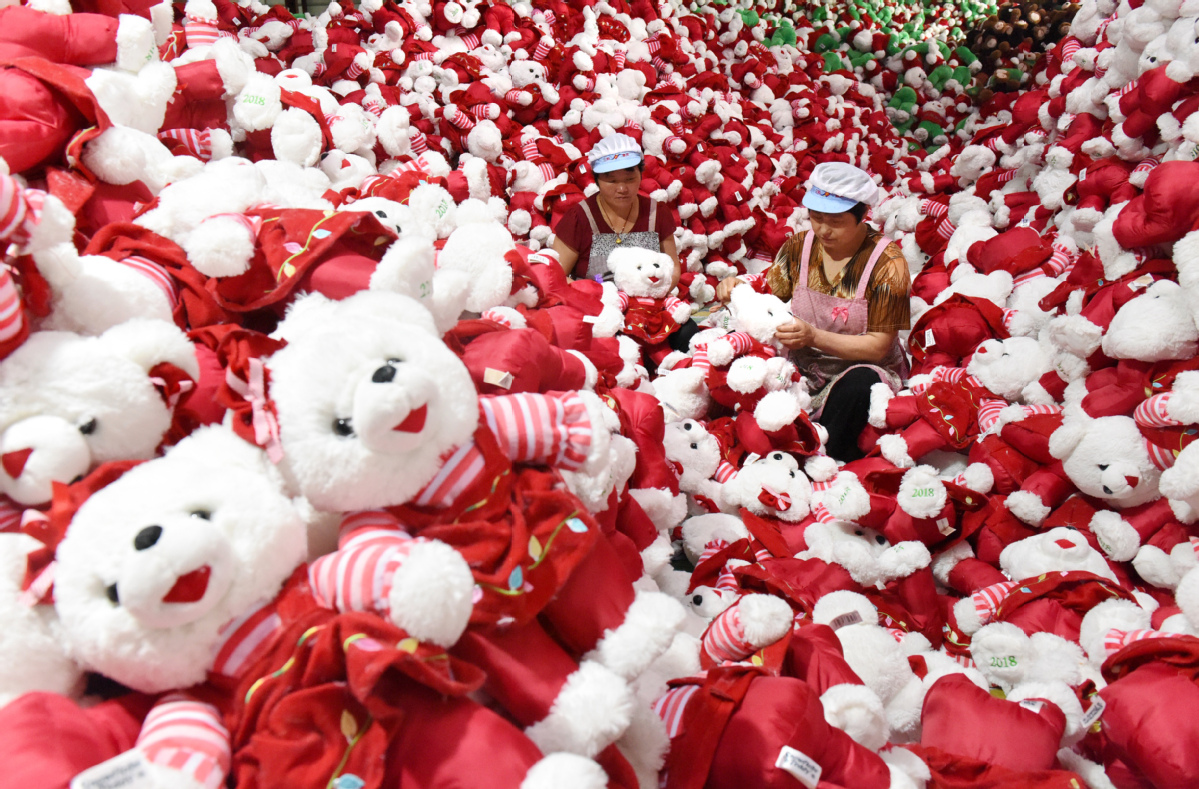 COVID-19 has driven tree, ornament sales online as trade shows take hit from lockdowns
While Wang Quan doesn't celebrate Christmas, the year-end holiday season usually kept him busy in previous years as his artificial Christmas tree export business in Dongguan, Guangdong province, remained robust as each year drew to a close.
This year, as the COVID-19 pandemic halts offline international trade fairs and other face-to-face marketing platforms-venues via which Wang normally secured orders-Wang has had to find alternative ways to keep his company's 200 million yuan ($30.56 million) annual revenue flowing.
However, demand this year via online platforms appears to be higher than ever as overseas buyers look to chase away pandemic blues and start the season earlier.
"I read from the news that people overseas want the trees so badly but access to them is a headache as many local marketplaces are closed," Wang said.
The combination of low supply and high demand is propelling Wang to turn from bulk sales inked at trade shows to cross-border e-commerce, and that includes selling to both businesses and individual customers.
Inquiries regarding the trees via AliExpress, the Chinese business-to-consumer site marketing to overseas buyers, began to rise since as early as August, Wang recalled, and sales volume peaked during November when nearly 90 trees were sold.
But this is a far cry from his overall tree order volume in years past.
"While there's an obvious gap between the 700 to 800 trees being exported during typical Christmas seasons, it's still a burden-reliever in terms of my balance sheet," he said, adding that the average selling price stands at $230 and the most extravagant trees run for up to $2,000.
What set this year apart from previous seasons is the speed of delivery, albeit much lower sales overall.
"Because we normally sell in a B2B format, it typically took us two to three months for complete shipments.
"Now that cross-border e-commerce enables much faster transportation, demand can be addressed instantaneously," he said.
AliExpress, the online retail service Wang relies on, now supports delivery of large Christmas trees to European customers within three to five days.
Trees and ornaments weren't the only big sellers over the past few months.
Sales of mugs with Christmas elements on AliExpress expanded three times compared with the same period last year, while Christmas tableware sets more than doubled.
Also riding the seasonal boom is Li Yuling, head of Shenzhen Fengrui Science and Technology Co Ltd.
Banking on AliExpress' bonded warehouses overseas, Li is now able to guarantee a three-to-five day delivery of Christmas trees with a height of up to 1.5 meters within Europe. "We've unexpectedly seen sales of Christmas-related products expand 250 percent year-on-year to France and sales nearly doubled to Spain over the same period last year," she said.
Li said she began feeling the enthusiasm since the Nov 11 shopping gala, an Alibaba-led discount campaign that has already expanded to a growing global audience. Despite the pandemic, gross merchandise volume during the period was 1.6 times that of last year, whereas overall transaction volume contributed by overseas warehouses claimed over one-fifth of the total.
Wang said: "I think people overseas are looking for a safe and affordable way to create special memories with holiday parades and festivals canceled. I would be more than happy to lend a helping hand."
Christmas trees-along with wreaths, lights and other decor-are in high demand this year as many holiday celebrants turn to the year-end festivity as a way to take their minds off rising coronavirus cases.
Gross merchandise value on Alibaba.com, AliExpress' sister platform for B2B sales, surged 185.3 percent year-on-year as demand for Christmas ornaments has been rising since July, Alibaba said.
Zhejiang province's Yiwu, a city which produces and exports 80 percent of all Christmas supplies worldwide, is enjoying an earlier-than-expected peak selling season.
"In the past, it was not until September that customers began to place orders. This year, orders started to roll in July and August through to November, and the volume kept growing," said Xu Shuyue, who oversees the online shop of Yiwu's Weixing Department Store on Alibaba.com.
The platform said it has also developed a customization plan that allows professional buyers to come up with unique designs in online question and answer functions, and then find qualified merchants to produce according to their needs.
Alibaba.com also launched its"10 Billion Yuan Ecological Investment Fund" initiative to empower small and medium-sized export-driven companies to find more business leads and save on costs.
Wu Miaomiao in Shanghai contributed to the story.