On their toes
Share - WeChat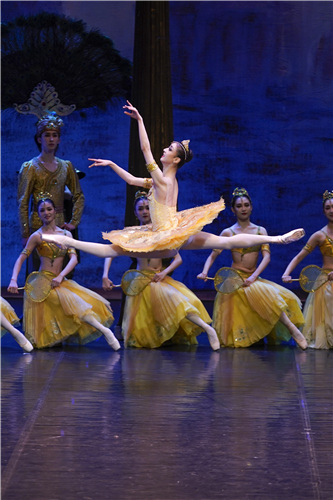 The National Ballet of China has been busy revving up for its winter season.
The National Ballet of China will premiere its latest production, Yimeng, from Dec 26 to 28 at Tianqiao Theater in Beijing to celebrate the 100th anniversary of the founding of the Communist Party of China next year.
The work, which is based on the company's classic piece, Ode to the Yimeng Mountain, tells stories with scenes adapted from real events with such titles as Bridge Under Fire, The Virgin Bride and Passions of Yimeng.
In May 1973, the company premiered Ode to the Yimeng Mountain as a tribute to residents of Yinan county in East China's Shandong province who supported Communist troops during the War of Resistance Against Japanese Aggression (1931-45) and the following War of Liberation (1946-49).
The local women, known as the "Red Sisters", not only helped these soldiers by making shoes and clothes for them but also sometimes sacrificing their lives to protect them. Ode to the Yimeng Mountains was adapted into a film in 1975 by the People's Liberation Army's August First Film Studio.
"With its original music, choreography and touching stories, the ballet piece has been part of the National Ballet of China's repertoire for decades," says the group's head, Feng Ying.
"It's a great piece to reproduce and introduce to audiences, especially young people. By restaging this classic, we can look back at the country's development and show our respect for those contributed to it," Feng adds.
The composer, 80-year-old Liu Tingyu, wrote many songs for the piece in 1973, including the folk ballad, Yimeng Tune, which depicts China's beautiful natural scenery.
Liu has added such elements to the new production as Chinese drums and erhu (a two-stringed fiddle). Under the baton of conductor Huang Yi, the symphony orchestra of the National Ballet of China will perform the songs featured in Yimeng.
Feng says that all the original songs from the 1973 production will be featured in the upcoming Yimeng.
The show's director and choreographer, Xu Gang, danced in the lead role in 1995.