Germany in lockdown as UK warned of risks
Share - WeChat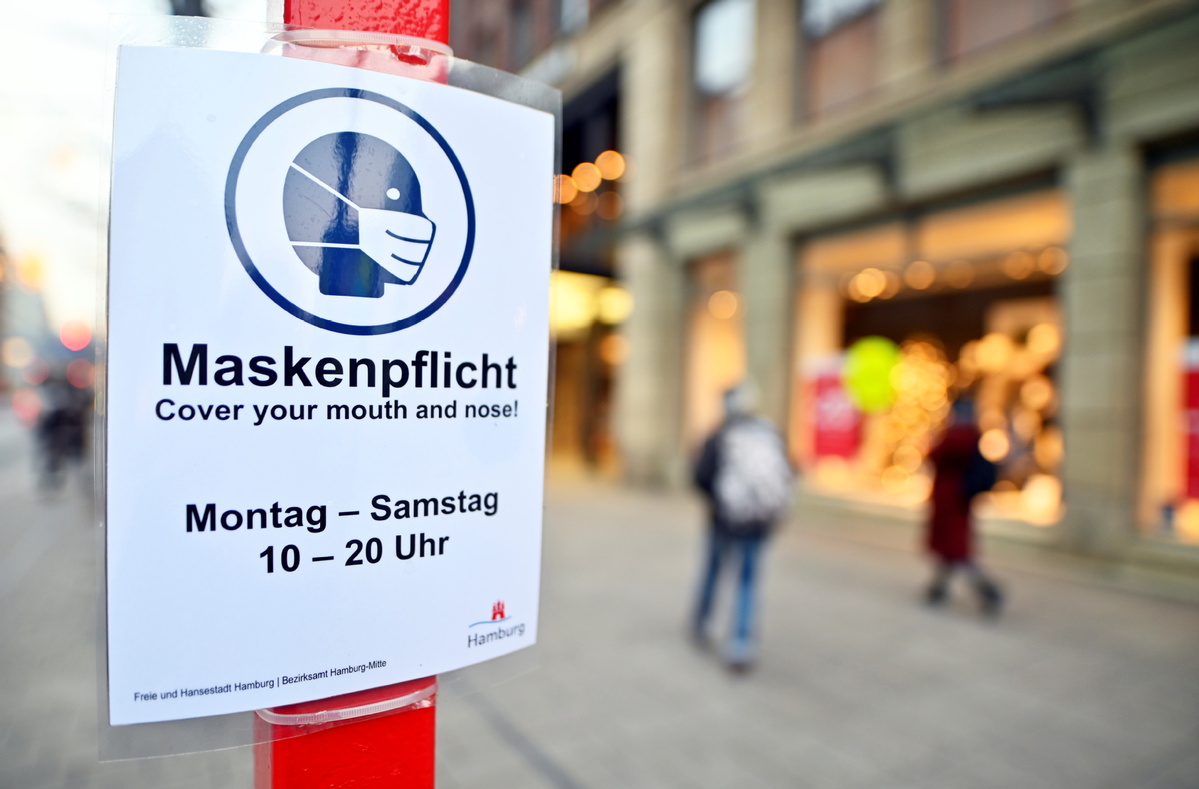 Downing Street resists pressure to enforce stricter Christmas gathering rules
The United Kingdom government has resisted pressure to change its decision to relax COVID-19 restrictions for five days around Christmas as Germany began a new lockdown on Wednesday in an effort to control a second wave of the novel coronavirus that has dimmed the spirit of the festive season across Europe.
Health officials and politicians had urged Britain's Prime Minister Boris Johnson to reevaluate plans to allow families in the UK to gather for a short period around Christmas, but the leader is hesitant to enforce strict rules, and is suggesting that people should instead judge the risk and make their own decisions.
Germany reevaluated its plans for the festive period with Chancellor Angela Merkel ordering another nationwide lockdown, which closes its schools, shops and popular Christmas markets, as COVID deaths and infections continued to climb.
The nation reported a record 952 deaths on Wednesday, the country's highest daily death toll since the start of the pandemic.
The new controls in Germany run to Jan 10, and while five people from two households are still permitted to gather, the rules will be eased for two days on Dec 25 and 26, when family members from multiple households can come together.
A second lockdown began in the Netherlands on Tuesday, which will last for at least five weeks, and Italy is reported to be considering stricter measures. France lifted its national lockdown on Tuesday, but severe measures remain in place as infection rates continue to be high.
On Tuesday, two influential medical journals made a joint appeal for the UK's relaxation policy to be scrapped, and politicians from the Labour Party and the Conservative former health secretary Jeremy Hunt called for it to be reviewed.
In a meeting with leaders of the devolved administrations of Wales, Scotland and Northern Ireland on Wednesday morning, the UK's Cabinet Office Minister Michael Gove agreed to keep the relaxation policy.
The four nations were expected to later issue their own separate strong advice for people to be cautious during the festive period. The BBC reported that it is understood that some parts of the UK would toughen their guidance on household mixing.
Johnson reminded the House of Commons on Wednesday that "one in three coronavirus transmissions is asymptomatic" and urged households to be "extremely cautious" over the holidays.
A government source quoted in the Daily Telegraph said: "We've set out the rules, people know what they are, it would be wrong to change them this close to Christmas when people have made plans."
Britain's Communities Secretary Robert Jenrick told Sky News on Wednesday that some people might want to delay family gatherings until the spring and that "Easter can be the new Christmas for some people".
He said: "This is a virus that thrives on social interaction, so bringing more people together, even over this short period of time, is not cost-free. It will have consequences in terms of increasing the rate. It will rise."
He also told the BBC that "it's not for government to tell people exactly how to handle this situation".
A coronavirus testing system launched by the UK government to allow travelers to reduce quarantine from 10 to five days made a poor start on Tuesday, with providers saying they were overwhelmed by orders and had run out of tests.
The program had been welcomed by the airline industry as a way to encourage travel. The Financial Times reported that some providers' websites were crashing under the demand and that others were not ready to receive bookings.
Rupert Channing, senior commercial adviser at testing provider Chronomics, told the newspaper that since the program launched, demand had been "above expectations set out" by government. "Even the most optimistic guide they gave us, this is way outside it," he said.
Meanwhile, the European Union's drug regulator has brought forward the date to make a decision on approval of the BioNTech-Pfizer vaccine.
The European Medicines Agency, or EMA, has moved its expert panel review meeting on the vaccine to Dec 21, eight days sooner than its original deadline of Dec 29.
Politicians and media in Germany had asked why the nation was still waiting for a vaccine developed by German scientists two weeks after it was already approved by the UK. The United States and Canada have also released it.
Peter Liese, a member of the European Parliament and health spokesperson for the European People's Party, said the "careful" EU approval process had its "advantages". He was quoted in DW News as saying the EMA is "reviewing more data" and "going into more depth" when checking its effectiveness and side effects.