Dear Tagesspiegel, 'pitchfork' is not 'power'!
Share - WeChat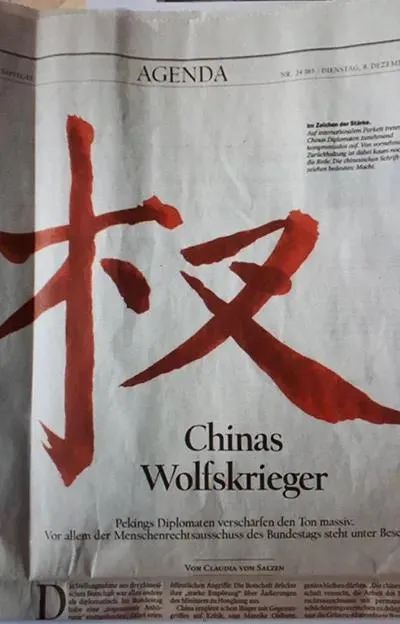 On Monday, the German media outlet Tagesspiegel published a report that blamed China for so-called "wolf warrior diplomacy".
Ostensibly, in order to consolidate their rigid impression about China, they used a Chinese character in their design, explaining that it represents "power". However, they used the wrong character, "杈", which is different from the real Chinese character for power by one Chinese calligraphy dot stroke.
And the meanings of the two are drastically divergent from one another. The character "杈" means the pitchfork commonly used with hay in rural areas, while "权" really means power.
Andreas Guder, a professor at Berlin Free University, tweeted: "Has anybody intentionally shafted the Tagesspiegel? Or how could this happen? Tragic. It won't surprise me if this faux pas becomes a hot spot in China: The West cannot distinguish human rights from a fork."
The two characters are on the list of primary school textbooks and any pupil around the age of 10 in China knows the difference. Had Tagesspiegel interviewed one single Chinese person, they would have avoided humiliating themselves in such a shameful way. But obviously they did not ask any Chinese one single question while doing this report about China.
Tagesspiegel's error serves as an apparent symbol of how some Westerners lack the most basic knowledge about China, yet are so confident in blaming this country they know little about.
China is open and does not reject different views from the outside world. However, if they mean to comment about China, please learn some ABCs about China first so as to avoid not knowing what you're talking about.
In May this year, Seoul-based freelancer Raphael Rashid famously listed how to become an expert on Korean studies on Twitter:
No need to speak Korean;
No need to live in Korea;
No need to have ever been to Korea;
No need to ask actual Koreans;
Preferably male/white.
The same applies to China, Japan and any other country that's not located in Europe or North America.
Literally, Tagesspiegel means "Daily Mirror". It is ancient Chinese wisdom that one should look into the mirror every day to check whether one has wiped the dirt from one's face, so as to avoid hurting one's own image.
Maybe it's time for the editors of Tagesspiegel to learn something from this ancient Chinese wisdom, and avoid repeating the mistake again in the future.
Most Viewed in 24 Hours
China Views