Corporate hospital on wheels spreads vision
Share - WeChat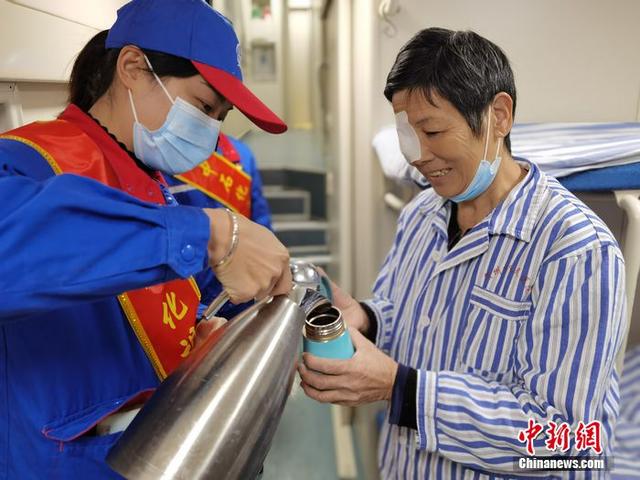 China Petroleum and Chemical Corp, the world's biggest fuel refiner, has donated more than 180 million yuan ($27.5 million) since 2004 to help cataract patients in 18 provinces with eye surgery.
The company, better known as Sinopec, first set up a mobile ophthalmic hospital called the Sinopec Lifeline Express on a special four-car railway train in 2007 to offer eye surgery training for cataract removal. After some decades of development, the hospital on wheels has provided free medical care to over 46,000 poverty-stricken cataract patients, it said.
The Sinopec Lifeline Express has traveled to Hezhou, the Guangxi Zhuang autonomous region, earlier this month. It plans to offer eye surgery services to 1,000 local patients during its three-month stay.
Luo Haixue, a 3-year-old girl with congenital cataracts, received a free surgery earlier this month. She was born with cataracts. But, her family could not afford the surgery to help restore her vision. Luo always hoped that one day she could see the world clearly.
Her dream finally came true with the surgery, which also made her the youngest patient to have recovered from surgery onboard the mobile hospital.
According to the Chinese Ophthalmological Society of the Chinese Medical Association, in 2018, the morbidity of cataracts reached 80 percent in those aged 60 to 89, and 90 percent of those aged above 90 in China.
The Sinopec Lifeline Express is well equipped with medical facilities, including clinics, laboratories, surgery rooms, sterilizing rooms, patient rooms and inpatient wards. For surgeries, its well-trained medical team uses the most advanced intraocular lens whose success rate is up to 99.99 percent.
It invites eye experts from across the country's top hospitals to provide patients with the most professional and advanced medical services, it said.
According to Sinopec, before COVID-19 struck, the express train used to travel to three poverty-stricken regions every year for a three-month stay at each stop.
It treats 3,000 patients each year on average and also conducts professional medical training with local hospitals to enhance the professional level of ophthalmology in diagnosis, surgery and treatment.
As the pandemic comes under better control, the hospital on wheels is rolling again. To ensure more patients receive treatment, the company has publicized information about it through various platforms. It has also taken advantage of its retail network countrywide to spread the news.
The Sinopec Lifeline Express is part of the larger Lifeline Express charity project of the Chinese Lifeline Express Foundation. The project comprises four train-based mobile ophthalmologic hospitals that have treated more than 210,000 patients in 28 provinces and municipalities. The Sinopec Lifeline Express is the only one built entirely with donations from domestic enterprises.