Local govts turn to NEV sector
Share - WeChat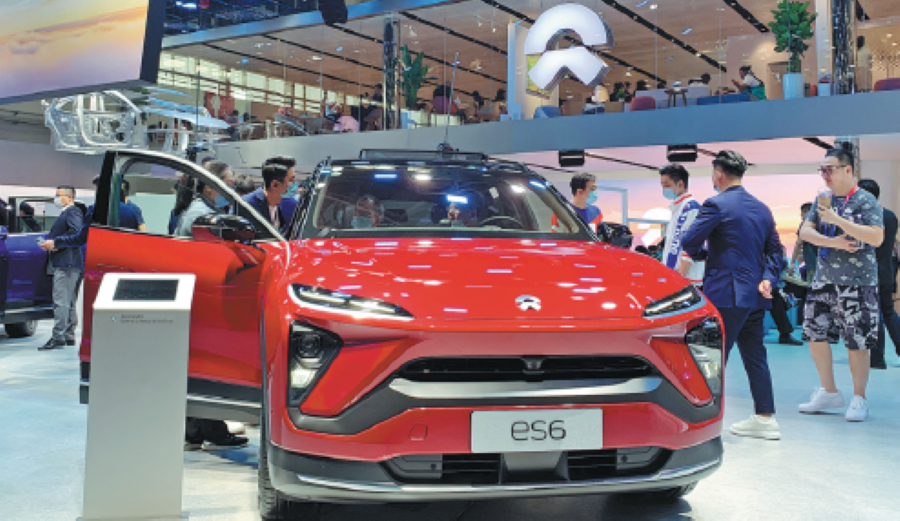 Shanghai district known for its financial services industry embarks on all-electric car project
Pudong New Area government has become one of the latest authorities vying to expand its new energy vehicle industry by recently teaming up with SAIC Motor to develop a new, premium electric vehicle brand called Zhiji Motor.
Zhiji Motor is jointly funded by the Pudong New Area government, SAIC Motor and multinational technology company Alibaba.
The new company is to be based at the Zhangjiang Hi-Tech Park in Pudong, and has raised around 10 billion yuan ($1.53 billion) in its initial round of financing.
Zhiji Motor will be a user-centric technology and innovation company dedicated to becoming a player in travel in the "intelligence era", according to SAIC Motor.
SAIC Motor, with its more than 60 years of vehicle manufacturing experience, global marketing network, capital reserve and advanced technologies will provide strong support for the new company.
Alibaba is expected to equip Zhiji Motor with the latest digital technologies such as its big data and cloud ecosystems.
Zhangjiang Hi-Tech Park, opened in 1992, has developed into a world-class high-tech industrial cluster and a core area for technology resources such as AI and chips.
According to its development plan, by 2025, Pudong will have an automobile industry with a total output value of 450 billion yuan, with a sales volume of new energy vehicles accounting for 30 percent of its total.
It has been reported that Zhiji Motor will locate its intelligent driving center, user operation center and brand operation center at Zhangjiang Hi-Tech Park.
The park will provide support for Zhiji Motor in terms of introducing professionals, supporting policies, public services and support facilities.
Pudong New Area is more well known for finance, science, technology and services, than automobile development and production, so the move comes as a bit of a surprise considering Shanghai's Jiading district is home to most of the city's auto industry players, insiders said.
Besides Pudong, an array of cities and regions nationwide are turning toward the NEV industry. Among them is Hefei, capital city of East China's Anhui province.
Last month, the Hefei government released guidelines to further accelerate the development of the NEV industry, outlining that by 2025 the city will become an important NEV industrial base in China, with a production capacity of 1 million vehicles and an industry scale exceeding 100 billion yuan.
Hefei has already become a highlight of China's NEV industry, after Nio, one of the country's leading NEV players, inked a deal with local investors to create a 29.3-billion-yuan joint venture in late April.
The investors, led by Hefei Construction Investment Holding, are to invest 7 billion yuan in cash for a 24.1 percent stake in the partnership, called Nio China.
According to the agreement, Nio China will establish its headquarters in the Hefei Economic and Technological Development Area for its business operations, research and development, sales and services, and supply chain and manufacturing functions.
"The cooperation between Nio and Hefei is a very positive case in the development of the NEV industry," said John Zeng, managing director of consulting firm LMC Automotive Shanghai.
However, Zeng added that investment in the NEV industry requires local governments to establish a professional and qualified working team, which can offer scientific project evaluation and investment suggestions, to avoid aimless development.
Nio joined hands with Hefei-based JAC Motors in 2016 to build a manufacturing base with a production capacity of 100,000 vehicles per year.
Hefei is also home to China's third-largest lithium battery maker, Gotion High-Tech, which has injected strong momentum into the city's NEV industry.
In May, German auto group Volkswagen inked a deal to pay 1.1 billion euros ($1.34 billion) to acquire a 26-percent stake in Gotion, becoming its largest shareholder.
Gotion said the strategic cooperation relationship with VW China benefits both sides by complementing each's advantages in technology and resources.
To ensure the development of the NEV industry is strategic and targeted, Chinese authorities are taking action to curb redundancy and overcapacity.
The National Development and Reform Commission launched an investigation into NEV projects nationwide, requiring local development and reform commissions across China to report carmakers' investments in NEVs by Nov 18, reported the China Business Network.
The investigation would look into the project status, construction progress and annual production status of all registered newly-built NEV plants since 2015.
Data shows that from 2015 to the first half of 2017, there were more than 200 NEV production projects launched in China. They involved a total investment of 1.03 trillion yuan and a planned production capacity reaching 21.24 million vehicles.