'Wolf warrior' jab unfounded, official says
Share - WeChat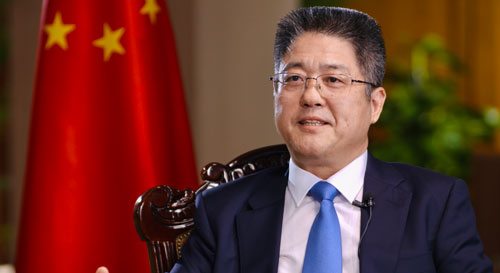 Vice-foreign minister: Label ignores Beijing's 'circle of friends' growing
Vice-Foreign Minister Le Yucheng has dismissed criticism that Chinese diplomats engage in "wolf warrior" diplomacy, saying the term is just another version of the "China threat theory" and a rhetorical trap aimed at preventing China from retaliating when its dignity and interests are harmed.
The label shows misunderstanding of China's diplomacy, Le told a forum at Renmin University of China on Saturday, adding that China has never taken any provocative actions against others.
"Now that they are coming to our doorstep to flex their muscles, interfering in our internal affairs, constantly insulting and tarnishing us, we have no choice but to firmly defend our national interests and dignity", he said.
At the forum, Le rejected the view that China makes enemies all around the world, saying that, on the contrary, it has been making friends widely.
Some major countries attempt to suppress and contain China by coercing other countries to take sides, but even under these circumstances, China's "circle of friends "has grown, not narrowed, he said.
Many developing countries and friendly people have withstood pressure in order to cooperate with China and have spoken out in support of China on international occasions, he added.
So far, nearly 170 countries and international organizations have participated in the joint-building of the Belt and Road, he said, and the member nations of the Asian Infrastructure Investment Bank have increased to 103.
The United Nations resolution on dealing with the COVID-19 pandemic, backed by China, was adopted by a vote of 169 to 2.
As a responsible country, China has always been a champion of the international order and a contributor to global governance as well as a provider of international public goods, Le said.
The international community should have a clear view of who is withdrawing from the international organizations and agreements, and who is pursuing unilateralism and hegemony, he said.
The "coercive diplomacy" label cannot be pinned on China, he repeated. It is not China that is coercing others, but the countries that accuse China of engaging in "coercive diplomacy", he said.
They undertook various ways to suppress China by illegally arresting Chinese citizens, groundlessly oppressing Chinese enterprises, searching and questioning Chinese journalists for no reason, wantonly meddling in Hong Kong and the Xinjiang Uygur autonomous region as well as other domestic affairs of China and threatening and bribing other countries to forge an anti-China alliance.
These practices are aimed at forcing China to give up its legitimate rights and interests, abandon socialism and take an erroneous path and accept their systems, which is the real "coercive diplomacy", he said.
Joint tasks pending
Regarding China-US relations, Le said, Washington should respect the Chinese people's choice of their own social system and development path, instead of thinking about changing China.
The US should also respect China's core interests and stop interfering in China's internal affairs, he added.
Noting that China and the US face joint tasks including overcoming the coronavirus crisis, boosting economy and dealing with climate change, Le said that there is no reason for the two countries to refuse to cooperate.