Maintaining a sense of normality despite unexpected COVID-19 outbreaks
Share - WeChat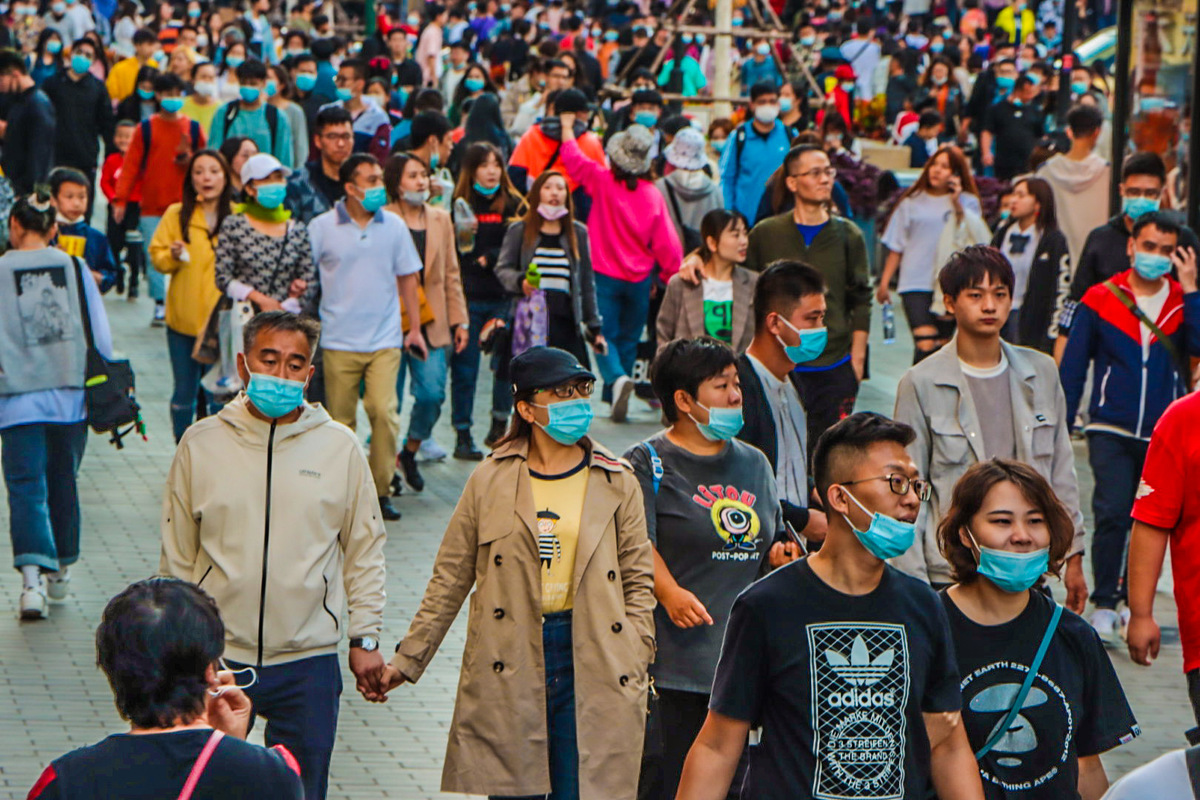 Looking back over 2020, one issue will surely be remembered - COVID-19. It has certainly been a factor here in China affecting us all in differing ways, Recently in Tianjin I was talking with friends, some working with large domestic and international organizations. None of us knew of anyone who actually had contracted the disease since its emergence in January. However, we have experienced it influencing our daily lives for we have all lived through these unprecedented times Our behavioral norms have changed and will remain so for a significant time to come.
I wrote several features on my experiences, observations and moments, earlier this year. Since then I have watched closely China's evolving approach in keeping COVID-19 under control. Today the country's rapid high-tech response has successfully prevented any local outbreaks from developing into a more grave scenario. It has been many months since any fatalities have been recorded, an outstanding achievement in itself. A fear of the unknown, prevalent during the early stages in China, has to some extent dissipated.
In January I headed down to Tianjin from Beijing for the upcoming Spring Festival holiday. Within days of arrival, what initially I perceived as a local issue centered around Wuhan, had become national. Everything changed so quickly. From an easygoing, festive atmosphere, it went quiet, planned travels were canceled, mask-wearing became universal, and temperature checks were the norm. Having been in China during the 2003 SARS outbreak I felt this new virus would somehow be similarly contained yet there was much unknown. There were times I confess of apprehension, almost a paranoia of being near any other people. With familiar cafes, restaurants and attractions in Tianjin closed, I walked the eerily empty streets photographing a city where it felt everyone was staying indoors, protecting themselves from an unseen threat. It was not a lockdown, as happened with Wuhan, but instead a more localized shutdown.
In those early days, the technology so effective today for tracking and testing was not in place. It was a case of just sitting it out, following the same behavior patterns of social distancing, wearing masks indoors and outside, properly washing hands and so on. A simple strategy, yes, but it worked. Universal compliance, of course, proved vital in reducing the spread. Gradually a "light started appearing on the horizon". Many cities and provinces across the country were recording few if any new infections.
A major breakthrough I felt was the successful introduction of personal QR health codes, updated daily and displayed via our smartphones. First developed in Hangzhou before countrywide utilization, it has became essential for using transport, entering restaurants and so on, allowing much more certainty for people.
Returning to Beijing in early March, I was rediscovering the city, one where a "new normal" lifestyle became evident. There was general compliance in wearing masks, having the increasingly ubiquitous QR codes ready to display. It was spring, the city bathed in its beautiful seasonal colors, felt relaxed, those earlier anxieties edging away. Schools were reopening. Intercity travel become much easier, and I was preparing to return back to Tianjin in late June.
Quite unexpectedly, as can so easily happen with this virus, an outbreak emerged within a large wholesale food market, Xinfadi, in western Beijing's Fengtai District. That outbreak, for a short period, would affect the routines and plans of many across the city. If it had spread beyond that relatively compact locality, the effects both for Beijing and beyond were potentially very serious. The situation, handled with professionalism and speed, was helped by an online public meeting where several officials explained clearly the extent and location of the problem. They announced immediate implementation measures to be taken, much more pinpointed, focusing exactly where the problem was than the wider shutdowns of earlier days. Urgency was important for effective containment. Closure and intensive disinfecting of the market, lockdown of residential compounds where carriers had lived followed by rapid, extensive testing worked. COVID-19 can spread very rapidly when people are in close proximity. Tests were then extended out to many workers across the city including staff involved in restaurants and shops, for example. This allowed businesses to work, as near as normal, to help keep the economy going. QR health codes and temperature checks again proved beneficial in allowing people to go out to places they enjoy, to meet friends (although I did make sure that we would keep a safe distance apart even in our favorite cafes). I watched how staff would meticulously maintain hygiene standards, cleaning table tops, door handles and more. It was all reassuring although I would have to wait until an "all clear" had been declared for Beijing and my QR codes would show no problem for traveling before I could return to Tianjin.
Again I observed widespread compliance with what was required, people acted together in helping contain the outbreak. Consequently, it was a relatively short time before restrictions were lifted, the effects thankfully minimal.
Outbreaks of COVID-19 would suddenly flare up affecting various locations across the country. A similar approach as I had witnessed in Beijing, was taken, in rapidly locating carriers and their contacts, preventing spread out from initial core areas, of saving lives. In recent months China has had few, if any fatalities while locally transmitted cases have been kept very low.
Sadly this has not been the case in many countries overseas with dramatic surges being recorded. In response, strict measures were introduced for anyone wanting to enter China from any hot spot. After the country's success with suppressing the contagion within its borders, there was no wish to allow a re-emergence through arrivals via international airports. Rigorous testing and quarantine measures have been applied, picking up potential cases. However, such measures have prevented people like myself and others from making brief visits back to our countries for the time being. This is something we have just had to accept because after all we have been living "near normal" lives here for many months and understand the dangers of potentially becoming carriers bringing COVID-19 back here.
I did appreciating the time and opportunity to start photographing again some of Beijing. However, I also wanted back to Tianjin, a case of being "torn between two cities" thankfully only 30 minutes apart.
August was hot in Tianjin, gone were the cold, dark days of January when the Haihe River was frozen, the normally busy riverside eerily quiet, people then indoors. My first afternoon, back along by the river, fishermen, swimmers, people walking their dogs, joggers - yes, the local life I associate with that area -- was back. Restaurants were busy. Visitors were returning to the city's hotels, and indeed some were confident of reaching 100 percent bookings for the upcoming October National Holiday.
I spent my initial time photographing the same areas I recorded through the lens months earlier. Pedestrianized Binjiang Dao shopping street was brimming with vibrancy. Many young people walking, nibbling local savory snacks while clutching bags filled with their consumer purchases. This was the Tianjin I have been so familiar with. I walked and walked with no feeling of concern. There had been no reported cases of COVID-19 since February apart from an isolated incident connected to Beijing's earlier Xinfadi outbreak.
Despite a seeming normality, there were checks to make sure nobody was carrying the virus. At metro stations and shopping malls temperature checks continued. Showing updated QR codes was mandatory. My Beijing QR then was fine for Tianjin. The metro system still required wearing of masks by all passengers.
After a period back in Beijing I returned to Tianjin in early November. Going through Beijing South Station was efficient. Temperatures checked via digital television cameras meant there was no stopping for individual checks by handheld scanners. Straight through and into a coffee shop where I scanned via my WeChat its QR sign.
I had been invited back to photograph a couple of popular charity events in the city. I was enjoying my return when unexpectedly reports emerged of a localized virus outbreak in the city's extensive Binhai New Area. Home to over 2.5 million people, it also boasts one of China's largest deepwater ports and location of several leading international industrial and high-tech organizations. I was staying in the downtown Hedong District, a long way from Binhai but connected directly by Metro Line 9.
My initial thoughts were of "here we go again". Thankfully it was not to be. I was staying in the same hotel as in January but the atmosphere totally different. The daily routine went on as normal, visitors came and went. Hedong was a low-risk area although people were again careful about wearing masks. Temperature checks were increased, hand sanitizers reappearing in restaurants. QR codes were checked carefully, and I was advised to download the dedicated Tianjin app to avoid any confusion. Interestingly, before returning to Beijing I had to update information for my Beijing health app about which city districts I had visited during my time in Tianjin. My code came up as normal, free to travel back whenever I wanted.
However, the response in Tianjin, just as in the rest of China, to the virus reemergence was swift and decisive. The living areas of confirmed and suspected cases rapidly identified, several apartment blocks went into temporary lockdown to allow for full checking and thorough disinfecting. Then, over a three or four day period, comprehensive testing of all residents along with those working in the Binhai area was carried out. Around 2.6 million test conducted, all returned negative so allowing risk levels to be lowered. Entire vast factory units were also checked, again all negative.
Meanwhile, life continued more or less as normal across Tianjin - shops and businesses functioned as usual; transport such as the citywide metro and bus services were not affected. No disruption to intercity train schedules. Even along the Haihe, people fished while some swam in the waters as they do every day. Tianjin daily life as I know it.
Some days I would chat with international friends, whose countries like mine had been badly affected by COVID-19. We discussed the approach in China reaching generally the same conclusions. At the everyday level, people were almost all universally compliant with what the authorities were asking them to do. It had worked in the past and there was the general feeling it would all come fine in time if they just complied such as with wearing face masks.
Also what greatly helped was the application of big data analysis in quickly identifying locations of possible carriers and their contacts. The technology resulted in rapid track and test - vital in stopping the virus reproduction. Similarly the development of QR codes nationwide and very important, quarantine for carriers was compulsory and monitored as opposed to more easily flouted arrangements elsewhere that sadly increased the potential for virus contact. Speed, decisive action with clearly provided information and instructions which people trusted gave confidence across China. The people followed what they were required to do. By coming together they helped halt the spread of the virus in its tracks while ensuring life was able to go on as normal as was feasible.
Most Viewed in 24 Hours
China Views