Black Friday shoppers forgo lines for online
Share - WeChat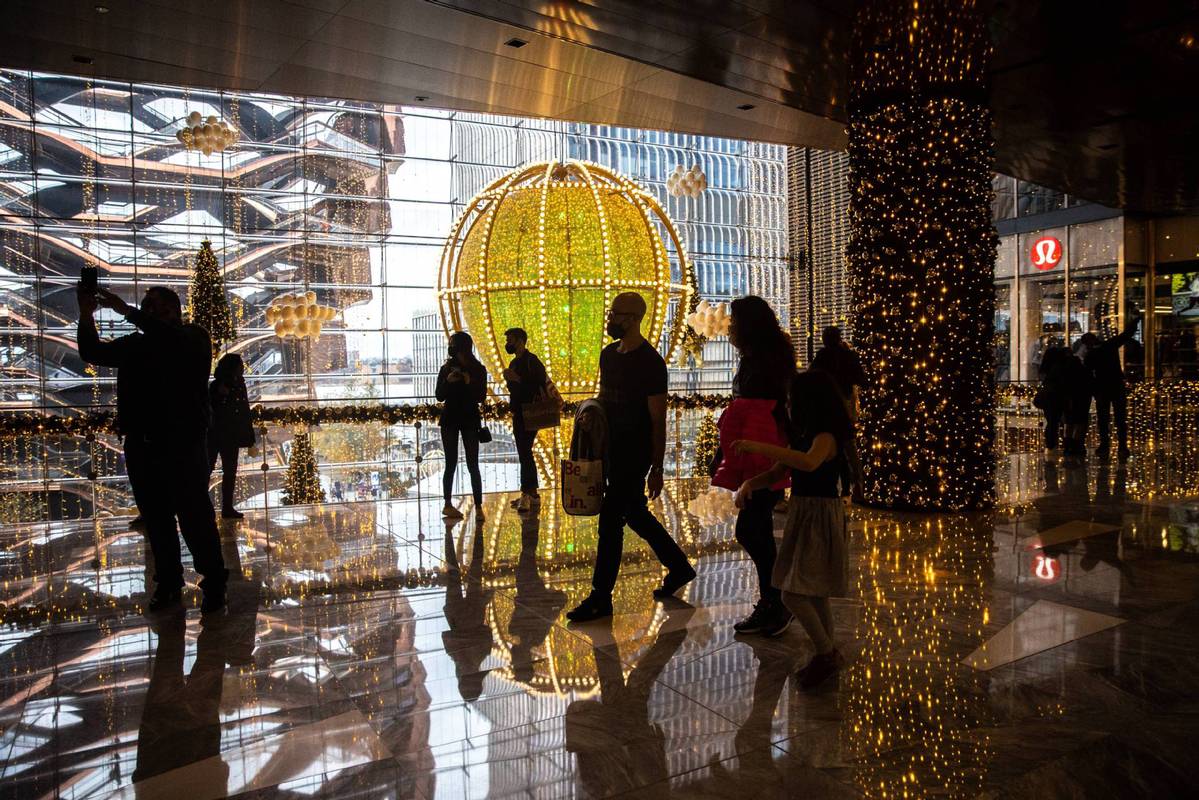 Instead of standing on line for hours for Black Friday retail deals, many shoppers stayed home and went online in this pandemic-pressured year.
Adobe Analytics expects Black Friday and Cyber Monday 2020 to be the two largest online sales days ever in the US.
Online sales hit $9 billion on the day after Thanksgiving, up more than 21 percent over last year, according to Adobe Analytics, which analyzes website transactions from 80 of the top 100 US online retailers.
It was the first time that web shoppers outspent in-person gift-seekers on Black Friday, making it the second-largest online spending day in US history, behind last year's Cyber Monday.
And that record is likely to be broken on this Cyber Monday — the Monday after Thanksgiving — with spending estimated to be between $10.8 billion and $12.7 billion, around 35 percent more than last year.
US consumers made $3.6 billion in purchases through their smartphones (a popular shopping method in China), a 25 percent increase over last year, making up 40 percent of total online spending. Curbside pickup of merchandise increased 52 percent, according to Adobe.
Black Friday looked a bit different this year, due to the pandemic. Many stores skipped the traditional opening on Thanksgiving night, instead offering some of their best sales online for the past couple of weeks. The changes were made to help prevent shoppers from milling inside stores, potentially spreading the coronavirus.
Adobe also noticed a change in what was being bought.
"New consoles, phones, smart devices and TVs that are traditional Black Friday purchases are sharing online shopping cart space this year with unorthodox Black Friday purchases such as groceries, clothes and alcohol, that would previously have been purchased in-store," Taylor Schreiner, a director at Adobe Digital Insights, said in a statement.
Top-selling electronics included Apple AirPods and Watches, Amazon Echo, and Samsung TVs, Adobe said. Other products in demand were Hot Wheels, hoverboards and Lego sets.
Thanksgiving Day itself also was busy online, said Kristin McGrath, an online shopping expert at Ziff Media Group and editor at BlackFriday.com, the New York Post reported.
"Even in past years we've seen a lot of online shopping on Thanksgiving," she said. "This year we saw even more."
Gaming consoles, televisions, kitchen equipment, smart speakers and office gear like laptops and printers were on the Christmas lists for families staying at home more this winter, the Post reported.
With millions more working from home due to the COVID-19 pandemic, the prospects for online retailers to cash in has grown exponentially.
Meanwhile, the number of shoppers who ventured into retail stores on Black Friday dropped 52 percent, according to Sensormatic Solutions. Foot traffic also was down 45.2 percent for the week compared with last year.
"Due to COVID-19 and social distancing requirements, shoppers were more purposeful in their in-person Black Friday shopping, causing significantly less crowds than we've seen in the past," said Brian Field, senior director of global retail consulting at Sensormatic. "This was compounded by retailers not offering as many in-store doorbusters and the increasing adoption of e-commerce."
On Nov 19, the Centers for Disease Control and Prevention (CDC) deemed "going shopping in crowded stores just before, on, or after Thanksgiving" as a high-risk activity.
The National Retail Federation predicted online sales would grow at least 30 percent for the season, to $218.4 billion.
The NRF forecasts overall US holiday retail sales will increase between 3.6 percent and 5.2 percent over 2019 — from $755.3 billion to $766.7 billion.
Masked shoppers turned up in smaller numbers at major US retailers including Macy's, Walmart and Best Buy on Black Friday as early online deals and concern about the increase in coronavirus cases deterred trips to the local mall.
Retailers overhauled the traditionally busy shopping day; Walmart opened stores at 5 am Friday, directing shoppers to turn right upon entering and to proceed along main aisles to shop deals before paying at registers surrounded by plastic barriers.
Best Buy opened at 5 am, employing workers in orange vests to direct traffic. Others offered temperature checks and "grab-and-go" merchandise, including toys, bicycles and kitchen appliances to discourage crowding in store aisles.
At Macy's New York flagship, Asuncion Peralta, 77, said she was not afraid to shop because she had COVID-19 antibodies.
"I've been waiting for this day for a long time to buy towels and sheets, everything else that I need," said Peralta. "These prices are not Black Friday prices. I came here two days ago, and the deals were better."
Target employee Seth Schaffer, 22, from Lufkin, Texas, said shoppers in his store appeared less concerned about taking precautions to prevent the spread of the virus.
"Deep east Texas isn't the type of place where you'll see everyone respecting mask policies or avoiding close contact," he said.
Reuters contributed to this story.