China, South Korea relations move from strength to strength
Share - WeChat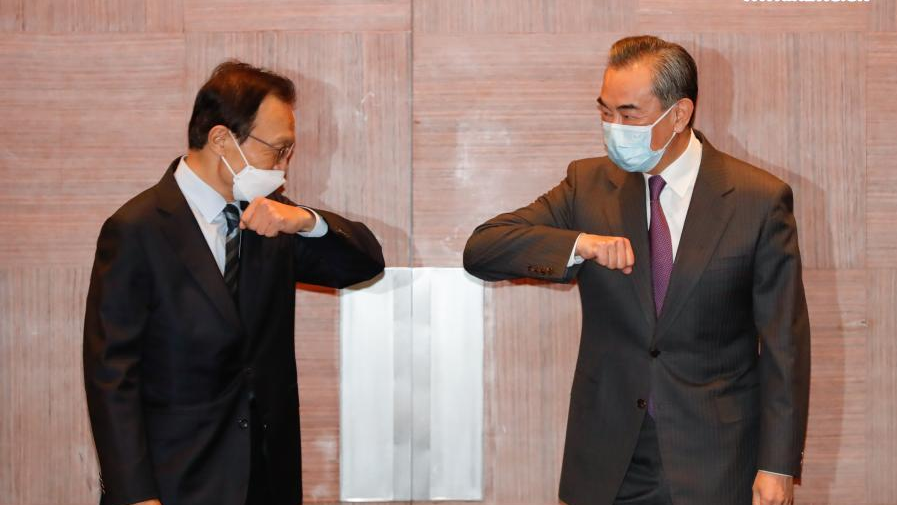 Editor's note: Hannan Hussain is a foreign affairs commentator and author. He is a Fulbright recipient at the University of Maryland (U.S.) and a former assistant researcher at the Islamabad Policy Research Institute. The article reflects the author's opinions, and not necessarily the views of CGTN.
November 27 marked the end of Chinese State Councilor and Foreign Minister Wang Yi's three-day visit to South Korea, where a multi-pronged agenda for strengthening cooperation took center stage.
A ten-point consensus, ranging from COVID-19 prevention and free trade advancement to peace imperatives in the Korean Peninsula, underscored the value of joint cooperation between Seoul and Beijing, and the centrality of this relationship to regional peace at large.
On the pivotal question of upholding denuclearization imperatives in the Korean Peninsula, both sides committed to a constructive template for long-term stability. "ROK and the DPRK are indeed the true masters of the Korean Peninsula. Therefore, the fate of the peninsula should be given to the two countries," said Wang during his meeting with the Speaker of South Korea's National Assembly Park Byeong-seug.
Beijing's support for a constructive peace process rests on the furtherance of dialogue between Seoul and Pyongyang, affording the process continuity and ownership among both parties – free of external interference.
Open endorsement of communication on the Korean Peninsula is also an important service to the cause of regional peace, as this makes it possible for Seoul to formally communicate its determinants of regional denuclearization to Pyongyang, and consider Pyongyang's reconciliation imperatives in the same diplomatic spirit.
China's neighborly proximity to both partners speaks to its long-standing support for negotiated political settlements in the region, and its understanding with South Korea to keep the Korean peace process inherently constructive.
On bilateral trade and diplomacy, both countries take a panoramic view of future opportunities.
Consider their decision to constitute a committee on the future development of China-South Korea relations, ahead of their 30th anniversary of bilateral relations.
The platform is an important step to reinforcing the value of forward-looking diplomacy in the coming decades, especially when respective pillars of growth such as China's Belt and Road Initiative (BRI) and Seoul's New Deal development vision demand integrated engagement beyond a short-term focus.
In the same context, opting for the Regional Comprehensive Economic Partnership (RCEP)'s early entry into force offers a contemporary reading on win-win cooperation in East Asia.
It serves as a lucrative access point for third-party markets and emerging industries as envisioned by both leaderships during the visit.
Moreover, as two countries wishing to maximize their contributions to "free trade and multilateralism," RCEP's foreign direct investment (FDI) trends alone render South Korea and China's advocacy for its early implementation as vital.
This investment impetus is captured in a November global investment report by the United Nations, where FDI contributions to RCEP have increased by almost "every year during the last decade."
The same report points to Beijing and Seoul's contributions in powering intra-regional investment under RCEP through their capital-exporting growth models.
As a result, agreeing to maintain such favorable trade trajectory during the pandemic is a reason for optimism on several other fronts, such as seeking to advance trilateral free trade agreement negotiations with Tokyo, concluding the phase-two of the China-South Korea Free Trade Agreement (FTA), and getting a headstart on the much anticipated Joint Plan for China-South Korea Economic and Trade Cooperation (2021-25).
Interestingly, to further deepen bilateral cooperation between both countries, Wang's trip to Seoul also developed a promising context for Chinese President Xi Jinping's prospective state visit, which is well in line with South Korea's ongoing fight to contain its COVID-19 surge.
"My visit to South Korea… is intended to show the importance we attach to China-South Korea relations through actual action and to show confidence that South Korea can prevail in its fight over COVID-19," assured Wang, before formally endorsing a dedicated platform for health and epidemic prevention in Northeast Asia.
The same spirit of deepening cooperation took on immediate priorities, captured by the launch of the "2+2" dialogue on diplomatic and security affairs.
This exercise spotlights the power of traditional, direct diplomacy in accurately gauging official positions on peace and security challenges, without allowing bilateral intent to be characterized through the "strategic alignment" lens.
On top of these diplomatic gains, a mutually agreed opening for maritime dialogue and high-level foreign ministry interactions, qualify as a major plus to furthering the spirit of collective cooperation.
Ultimately, Wang's Seoul visit – in the midst of a COVID-19 surge – speaks to the vitality and resilience of China-South Korea relations at a time of global uncertainty.
The success of both leaderships in navigating geopolitical transitions, committing to a rules-based order, and reciprocating each another's sovereign expectations on development, serves as a model for practical diplomacy across the region.
Most Viewed in 24 Hours
China Views