Guarantee for better eldercare
Share - WeChat When expanding the pilot program for long-term care insurance regional differences need to be considered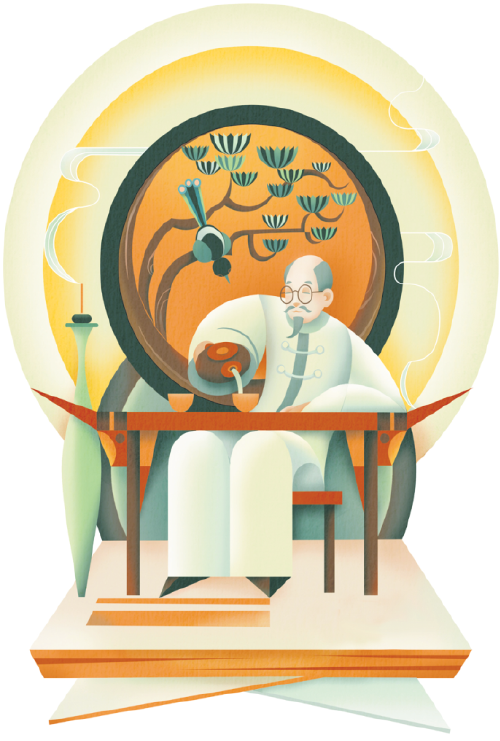 The fast-growing economy, better living standards and improved medical technologies have enabled changes in China's demographic landscape. The country is aging rapidly with a lower birthrate, lower mortality rate and longer life expectancy. In 2019, the birthrate hit a record-low while the percentage of people over the age of 65 reached 12.6 percent.
Greater longevity means more old people in the population and an increasing demand for services and expenditures related to healthcare. Health risks run high for the old, especially for the physically or mentally impaired ones who may put themselves and their families through a lot of suffering and under enormous financial strain.
Living at home, as the mainstream senior care model across the world, is facing grave challenges. To start with, falls among the elderly is the third most common reason for disability, according to the World Health Organization. About 13.5 percent of senior citizens in urban areas have had falls within a year, according to the Fourth Survey on Chinese Senior Citizens' Life. Over half of these tumbles have happened in a home environment, be it a courtyard, a living room, a bathroom or a dining room.
In July, the Ministry of Civil Affairs, National Development and Reform Commission, the Ministry of Finance and six other ministries, jointly rolled out measures to improve the safety and quality of life of the stay-at-home elderly by improving the home environment for them. In September, the Guidance on Expanding Long-term Care Insurance Pilots was issued, adding 14 cities and districts to the list of current pilot cities and districts. It has been hailed as a major breakthrough since China initiated long-term care insurance in 2016.
The LTCI is often referred to as the sixth insurance in China, next to pensions, medical insurance, unemployment benefits, work-injury insurance and maternity insurance. It insures people who are unable to live alone, covering basic home nursing costs in old age. It eases the financial burden of the insured and their families. According to the guidance, the LTCI covers 70 percent of the basic expenses, although not all expenses.
As a result, the LTCI will attract more capital and enterprises to the eldercare industry. At present, the shortage of nursing staff is acute. According to the statistics published in March by the Ministry of Civil Affairs, about 2 million senior citizens have moved to 40,000 long-term care facilities, but there are only 370,000 members of staff and the number of skilled caregivers is just 200,000. In other words, one careworker in China has to attend to 10 seniors in nursing homes or assisted living facilities. Nowadays it is hard to recruit and retain people in the industry, because the job is demanding and the pay is poor. The LTCI is expected to enable more people to access better and more affordable care services. It will drum up money for the cash-strapped senior care industry and assuage people's fears about the ailments and disabilities that could await them in their twilight years.
However, after four year's trial, four key questions concerning the implementation of the LTCI are still pending.
First, qualification. Under the current LTCI policy, eligible applicants must be diagnosed with an inability to perform activities of daily living for at least six months. Meanwhile, qualified policyholders are entitled to differentiated services, according to the LTCI assessment. To promptly provide LTCI to elderly people in need, a national standard should be established to ensure consistency in eligibility and services.
Second, insurance scope. Both hospice care and respite care are covered in the existing LTCI arrangement; however, their definitions remain blurred. Hospice care in hospitals, clinics or sanatoriums is more focused on medical treatment, while respite care often seen in nursing homes or adult day service centers is more oriented toward daily care. Should the LTCI prioritize one over the other? Or should there be more specific provisions about the percentages of the two?
Third, source of funding. The LTCI systems in Germany and Japan are suffering financial crunches as the aging of their populations shows no sign of easing. China, with a confirmed aging trajectory, is likely to face a similar money crunch. In 2016, when the LTCI trial first started in a handful of cities, it mainly withdrew money from the medical insurance fund. Inevitably, with the number of pilot cities increasing, China will have to get to grips with inadequate funding. In response, the guidance proposes independent operation and implementation and a multichannel fundraising mechanism.
Fourth, regional differences. Because economic development, fund-raising capacities and insurance needs vary from region to region, the guidance urges cities to adapt their LTCI policies to their local realities. Since 2016, many pilot cities have extended their insurance coverage. For instance, Nantong, a coastal city in Jiangsu province, has covered the expenses of healthcare aids. Severely impaired seniors aged over 80 in Guangzhou of Guangdong province, if eligible, are provided with commercial eldercare insurance. Such practices have benefited the local people, but also undoubtedly increased the expenses for local governments. When promoting the LTCI nationwide, policymakers need to consider the rural-urban divide and different development stages of regions.
The author is deputy director of the Pangoal Institution Aging Society Studies Center. The author contributed this article to China Watch, a think tank powered by China Daily. The views do not necessarily reflect those of China Daily.
If you have a specific expertise and would like to contribute to China Daily, please contact us at opinion@chinadaily.com.cn, and comment@chinadaily.com.cn.
Most Viewed in 24 Hours
China Views