RCEP to pave way for trilateral FTA
Share - WeChat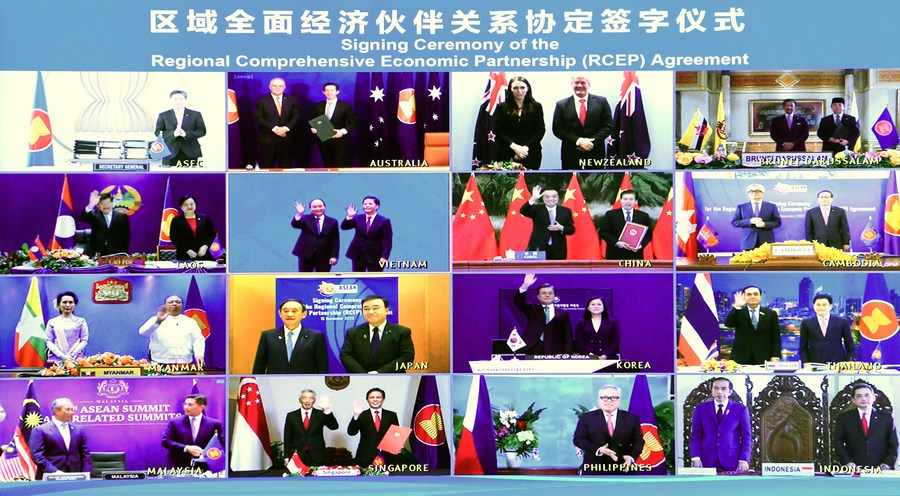 The signing of the Regional Comprehensive Economic Partnership agreement will help remove the obstacles in the ongoing negotiations for a trilateral free trade agreement between China and its partners, experts said on Thursday.
Following the sealing of the world's largest free-trade agreement by 15 Asia-Pacific economies, many countries will pay attention to the ongoing talks for several other free trade and investment deals, including the China-Japan-Republic of Korea free trade agreement and the China-European Union comprehensive agreement on investment, said Ma Yu, a senior researcher at the Beijing-based Chinese Academy of International Trade and Economic Cooperation.
The RCEP deal has created convenient conditions for accelerating negotiations on the China-Japan-ROK free trade agreement, said Gao Feng, a spokesman for the Ministry of Commerce.
Gao said that China is willing to work with Japan and the Republic of Korea to actively overcome the COVID-19 effect, make full use of existing resources, maintain consultations and exchange views through video conferences and other means to accelerate the progress of the trilateral FTA talks.
Starting in 2012, the three countries to date have held 16 rounds of FTA negotiations. They had an in-depth exchange of views on issues such as trade in goods, trade in services, investment and regulations, and made positive progress, according to the ministry.
After the 34th round of bilateral talks between China and the EU held earlier this week, Gao said the two sides are accelerating the negotiation pace and achieving positive results through continuous and intensive negotiations in accordance with the consensus reached by their leaders to complete the talks within this year.
The China-EU CAI will further deepen business ties between the two sides, he said.
Gao Yan, chairwoman of the Beijing-based China Council for the Promotion of International Trade, said that due to the global economic down trend, it is important to promote the liberalization and facilitation of global trade and investment, as well as sustainable development of the global economy.
"The RCEP is a very welcome set of news reflecting multilateral cooperation, openness and free trade, and is expected to have a positive impact on global economic growth for years to come," said Paolo Tavolato, head of Asia-Pacific at TMF Group, a Netherlands-headquartered provider of administrative support services for international business expansion.