Christmas may 'fuel infection fire'
Share - WeChat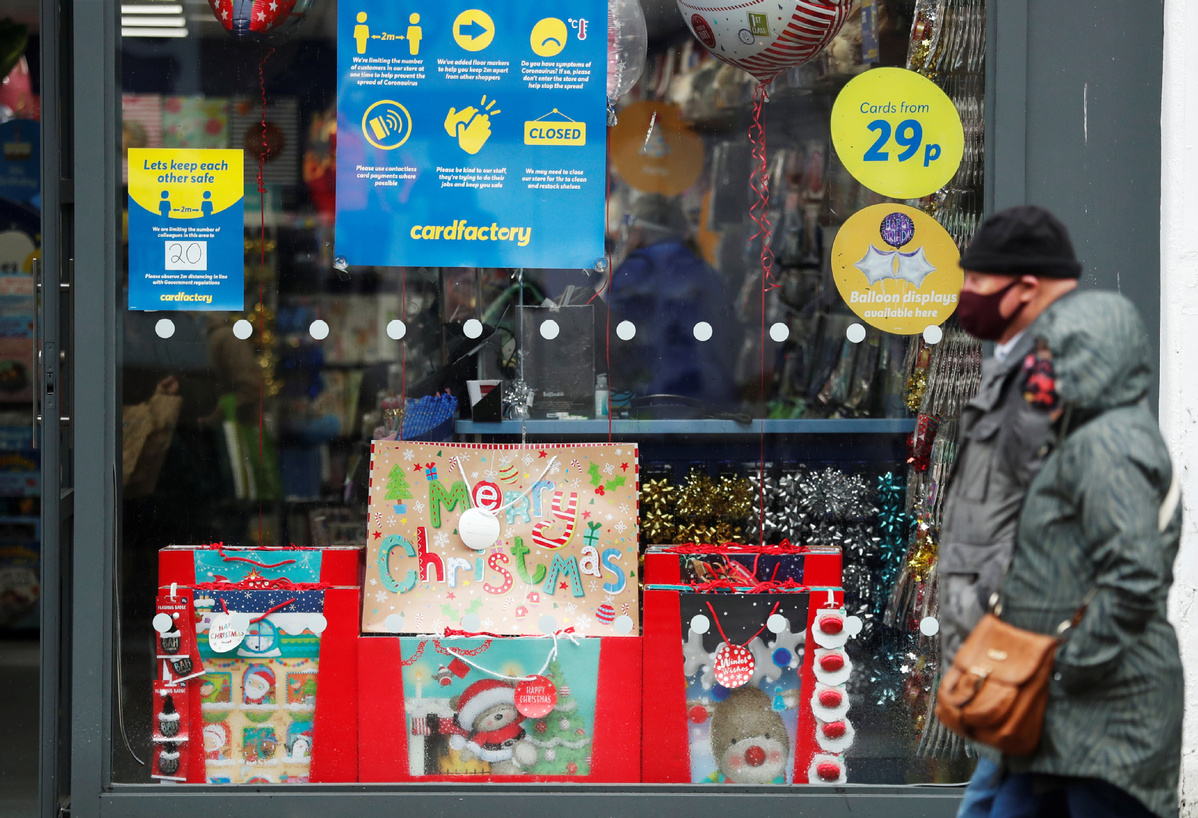 Efforts to give the British public a "normal" Christmas during the pandemic risk "throwing fuel on the fire" of infection, a leading scientist has warned.
The current lockdown period ends at the start of next month and it is unclear what measures may be in place after that, but there has been widespread speculation in national newspapers over some sort of trade-off of restrictions briefly being lifted around Christmas but reimposed for longer in the new year.
Andrew Hayward, a professor of infectious disease epidemiology at University College London and part of the government's Scientific Advisory Group for Emergencies, known as SAGE, told the BBC Today program this was a gamble not worth taking. "Mixing at Christmas does pose substantial risks, particularly in terms of bringing together generations with high incidence of infection with the older generations who currently have much lower levels of infection and are at most risk of dying if they catch COVID," he said.
"My personal view is we're putting far too much emphasis on having a near-normal Christmas…we know respiratory infections peak in January so throwing fuel on the fire over Christmas can only contribute to this."
Meanwhile, the Guardian newspaper reported that rollout of potential vaccines will see large numbers of retired doctors and medical staff rehired for what would reportedly be the largest vaccination program in English history.
Many of them were previously called back to work in the first wave of the pandemic, and the Local Government Association has confirmed that there are on-going talks about the role health visitors and district nurses can play.
Inexperienced staff may also be given specialist online training for them to help with the sheer logistics of such a huge operation.
"We recognize the workforce challenges in having sufficient numbers undertaking vaccinations so there may be professionals who do not normally vaccinate who will have to be trained to do this," said Ruth Rankine, director of the primary care network at the NHS Confederation.
"We have been assured that the online training is sufficient. This would be for clinical commissioning groups to assure themselves that this is the case."
The continued toll on the morale and fortunes of business has been highlighted by newly-published figures from the Office for National Statistics, showing that one in seven companies fears it could go out of business in the next three months.
The survey was carried out between Oct 19 and Nov 1, before the latest lockdown was imposed, and unsurprisingly, just ahead of a period that is usually one of its most lucrative times of the year, the accommodation and food service sector was found to have the highest levels of anxiety, with 34 percent of respondents saying they had no or low confidence in their survival chances.
This comes on the heels of another poll, carried out by industry bodies the British Beer and Pub Association, the British Institute of Innkeeping and UK Hospitality, revealing that seven of out 10 UK pubs fear they could have to close next year because of being financially unviable.
A spokesperson for the three organizations said the figures showed the "devastating, long-term impact the government's restrictions are having.
"We recognize that local restrictions will need to be based on local risk levels," the statement continued, "but to ensure our sector can bring people together properly this Christmas and beyond, the tier system should be fine-tuned."
Elsewhere in Europe, the prime minister of Finland has warned that the on-going absence of a coherent continent-wide strategy to contain the pandemic could encourage the rise of populist parties.
Finland has the lowest infection levels of any country in the European Union, and speaking days after Hungary and Poland vetoed an EU economic and COVID-19 recovery plan, Sanna Marin told the Financial Times that continued lockdown came at a political price.
"It's a breeding ground for populist movements across Europe," she said. "When you're closing an economy and people's workplaces, it will cause political instability. Populists come with easy answers to difficult problems, but their solutions are rarely the right ones.
"This is not a competition," she continued. "We all need to be successful to be safe.. . In Finland, the situation is more stable, but still we are also more at risk if the virus spreads in other countries."