At home, online workouts taking off with livestreaming
Share - WeChat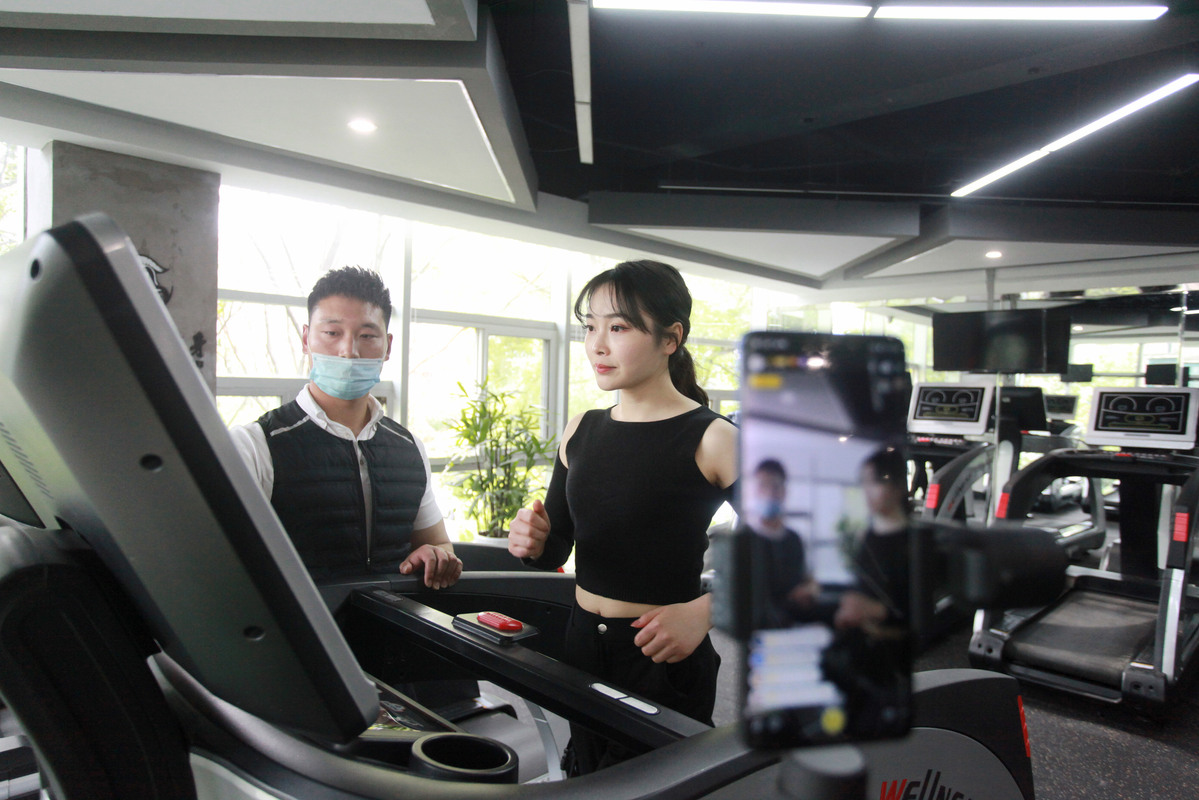 Social distancing demands, growing physical fitness awareness driving trend
Zhang Yujia, an engineer at a Beijing software company, bought a yearlong membership at online fitness platform Keep last month.
"I have turned to online workout classes instead of going to gyms to keep fit since the COVID-19 pandemic. The mobile fitness app Keep provides livestreaming training courses several times a day. Purchasing the membership lets me take 30 live broadcasting lessons free of charge," Zhang said.
Annual membership costs the 33-year-old white collar worker 218 yuan ($32.5) and also gives her access to tailor-made exercise classes, prerecorded workout videos and some fitness instructions. Doing exercises at home to burn calories through mobile fitness apps is now becoming a new trend.
As livestreaming has seen a big boost in China since the COVID-19 outbreak, a string of fitness platforms are exploring potential business opportunities in the burgeoning segment.
Keep launched several livestreaming courses in June, including yoga, Zumba, calisthenics and spinning classes, each of which lasts about 30 to 50 minutes. Users need to pay 18 yuan for each course they participate in.
The mobile app has made some innovations for livestreaming classes including establishing a scoring system that shows real time rankings and different musical selections for various training sessions. The livestreaming aims to make users feel a sense of authenticity and individuality while taking the classes by creating an immersive experience.
Zhu Yue, head of livestreaming at Keep, said the company has been committed to building a livestreaming fitness system since the first half, which covers recruiting and cultivating trainers as well as designing related training courses to provide high-quality content and services to users.
The livestreaming is considered a long-term trend in the fitness industry and users are exhibiting increasing demand for online fitness content, Zhu said, adding that Keep aims to cultivate a batch of trainers into star fitness leaders akin to internet celebrities like Li Jiaqi, a top-tier livestreaming host who endorses beauty products.
Zhu said Keep is now offering a series of systematic and vocational training programs for online trainers who should also possess acting abilities when cameras are rolling and also be able to operate fitness-related content and attract new users.
"We have a comprehensive team, which is responsible for promoting these coaches, designing their personal images and handling clothing and makeup, as well as taking photos and shooting videos for them. We will also help these coaches obtain diversified income by allowing them to sell or promote sales of sporting products and fitness equipment when they provide live broadcasting courses," Zhu said.
He added that the arrival of the 5G era will bolster development of livestreaming in various industries, such as e-commerce, online education and sports.
"The COVID-19 outbreak has accelerated live broadcasting in the fitness sector. Many offline gyms closed down during the peak of the pandemic, and many coaches stayed at home and chose to offer livestreaming courses."
In the first half, Keep closed an $80 million round of financing, and based on industry estimates, the valuation of the company has exceeded $1 billion. So far, it has 6 million daily active users and 40 million monthly active users.
Data from Quest Mobile, which tracks the mobile internet space, showed the number of domestic active users of sports and fitness apps skyrocketed to 89.28 million in February, an increase of 93.3 percent on a yearly basis.
Online livestreaming fitness platform TT has also witnessed a surge from users who watch virtual workout videos. The company said livestreamed fitness courses maintained a compound 20 percent daily growth of user subscriptions since late January.
Gyms were among the hardest-hit businesses in China due to lockdowns. Many fitness clubs also took advantage of livestreaming services to host live events online to engage clients quarantined at home.