Fosun looking to post-contagion tourism boom
Share - WeChat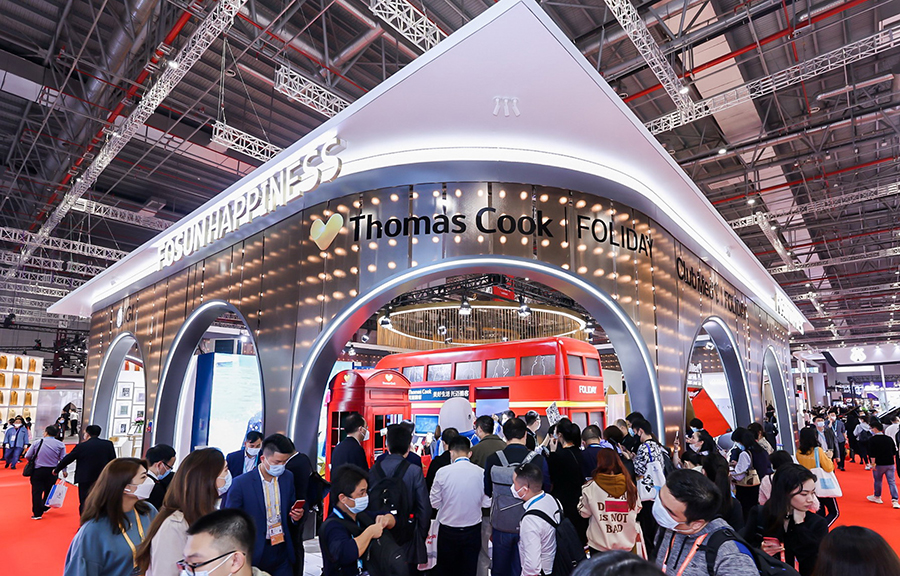 A red double-decker bus and a virtual reality interactive winter sports activity experience zone were highlights at the Fosun Tourism Group booth during the recently concluded third China International Import Expo in Shanghai, with the booth promoting internationally renowned tourism brands including Club Med, Atlantis Sanya and Thomas Cook.
"The CIIE itself gives us confidence and hope, a chance to share the future of the tourism sector and to achieve a win-win for enterprises at home and abroad," said Qian Jiannong, chairman and CEO of Fosun Tourism Group.
The group had seen recovery in the third quarter, with year-on-year revenue growth exceeding that of last year, said Qian.
To bring more popular international tourism brands to local consumers and to showcase more diversified lifestyles are incentives for Fosun's participation in the CIIE, boosted by strong recovery in the domestic tourism sector.
The group has continued to enhance its Club Med brand-the world leading all-inclusive holiday experience provider-through an emphasis on winter sports activities in light of the upcoming 2022 Winter Olympics in Beijing.
According to the group, during the eight days of the Golden Week holiday between Oct 1 and Oct 8, revenue of Atlantis Sanya grew 34 percent compared with a year ago. Its three Club Med Joyview resorts' average occupancy rate was 95 percent. Occupancy rates at five Club Med resorts in China reached nearly 90 percent, up 6 percentage points year-on-year.
Fosun Tourism re-launched Thomas Cook as an online travel agent this year. The United Kingdom brand with 179-year old history was acquired by Fosun Tourism Group last year.
The new move is aimed to further strengthen the group's development and the creation of tourism product diversification in order to form the Thomas Cook Lifestyle Platform.
Meanwhile, brands under Fosun Tourism, which include Club Med, Casa Cook and Cook's Club, will be incorporated into Thomas Cook's online product portfolio in the United Kingdom to create synergy.
The group is expected to develop a new corporation, independent from Thomas Cook, to lead several hotel brands under Thomas Cook in order to target segmented leisure tourism markets.
The COVID-19 pandemic has had a massive impact on the group's international businesses, which take up about 83 percent of its total revenue. The domestic business has grown quickly from 1 percent in 2017 to 13 percent this year.
Qian said the pandemic almost brought cross-border tourism to a halt and it will take some time to achieve full recovery. But the focus of the tourism recovery relies on large-sized regional markets, he added.
The domestic market has since recovered to year-earlier levels. In the first nine months, the group achieved 29 percent year-on-year growth.
Meeting consumer demand for healthier medium to high-end tourism products is Fosun's priority. The key is to develop a more segmented market to serve various needs from customers, he said, adding that about 140 million tourists from China are now traveling domestically, creating more opportunities for top-level tourism products such as Atlantis Sanya and Club Med.
Short-route leisure tourism products, particularly in and around major cities, will allow more urban residents to enjoy leisure lifestyles in urban areas.
"Consumers are willing to spend more money on safer products with better quality to benefit their health," Qian said.
"We are seeking how to control costs in our international businesses and seek more creative and safe measures to protect our consumers so as to relaunch our resort businesses in some regions where COVID-19 is under better control."
The CEO added: "We are optimistic about the growth prospects and market restructuring opportunities of the global leisure and vacation industry after COVID-19."