Digital currency gaining acceptance in more sectors
Share - WeChat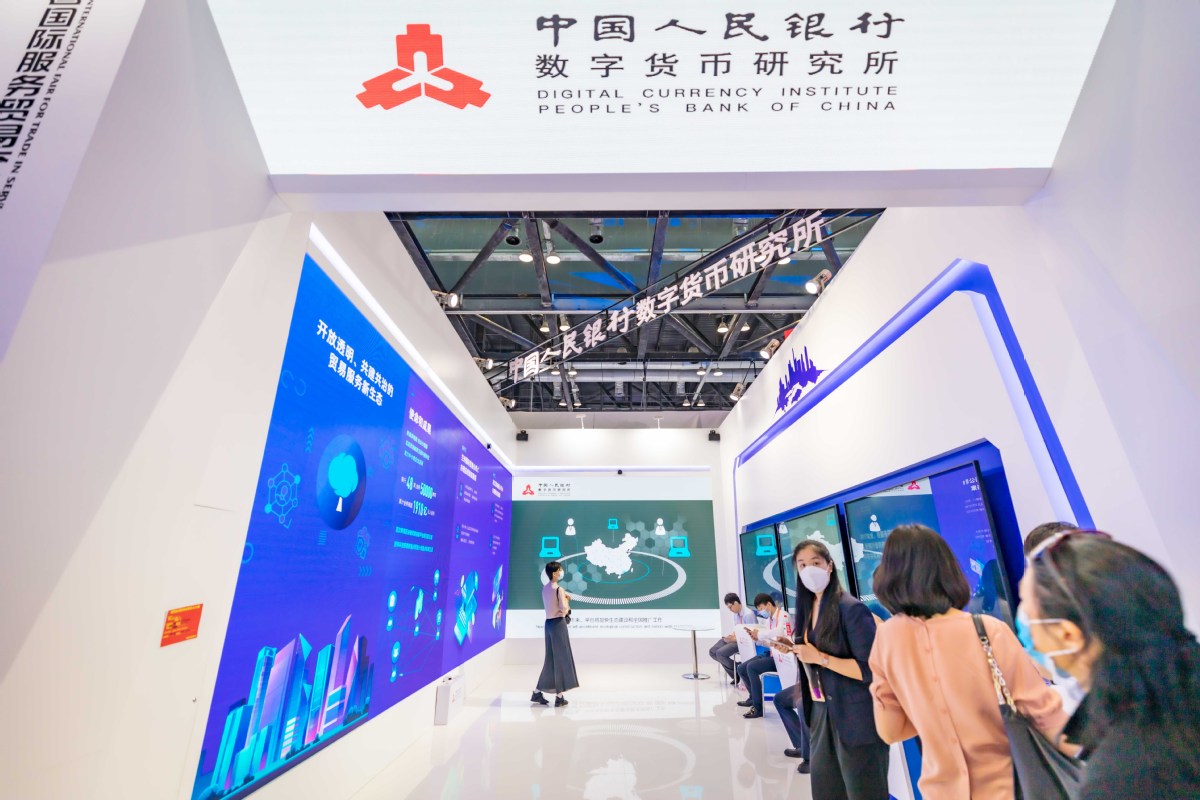 Trial program involving tens of thousands of consumers in Shenzhen during October gives public a rare chance to experience virtual payment method
From shells and gold to metal coins and paper, forms of currency have been evolving alongside economic advancement. Nowadays, sovereign digital currency is increasingly attracting the attention of central banks worldwide.
The new currency form refers to central bank-issued digital money-a new variant of central bank money distinct from physical cash or central bank reserve account monies.
It has become a new arena that financial movers and shakers worldwide are eyeing as a way of restructuring the international settlement system. According to a survey released earlier this year by the Bank for International Settlements, 80 percent of central banks globally are engaged one way or another with digital currencies.
The report also said about 10 percent of them have developed pilot projects, and 40 percent have progressed from conceptual research to experiments or proofs-of-concept.
China also recently lifted the veil on its sovereign digital currency regime during a large-scale digital yuan test in Shenzhen, Guangdong province, which has been positioned to promote international cooperation in digital currency modalities.
The trial program, which involved tens of thousands of ordinary consumers in Shenzhen in mid-October, provided the general public a closer look at digital currency. A total of 10 million yuan ($1.49 million) of digital renminbi was distributed to 50,000 users in the form of "red envelopes".
Approximately 2 million residents applied for a lucky draw, and winners were excited not only because of the monetary bonus but also the privilege of trying out the new currency at more than 3,000 businesses such as restaurants, supermarkets, gas stations and barber shops.
More service providers and stores are continuing to make forays into the new arena after the week-long trial run, which aims to bring about the digital yuan's wider application in the future.
Liu Haoliang of Shenzhen said he was very excited to be selected via a drawing of lots because he was curious about what the digital yuan looks like and eager to try it out.
He showed that in the e-wallet application "digital renminbi", virtual images of the currency look like authentic paper 100 yuan notes, and he can swipe up to pay or swipe down to receive money.
His first trial was in a bookstore, which offers 15-percent discounts for digital yuan payments. Liu said the process is easy and he would like to transfer more money for digital use after funds in his red envelope are used up.
Users can pay by QR scans or placing phones close to point-of-sale machines. It is worth mentioning that neither payers nor receivers need internet connections during payments.
If winners of the drawing of lots choose to continue using the app, they can transfer money via the four major State-owned commercial banks-Industrial and Commercial Bank of China, Agricultural Bank of China, Bank of China and China Construction Bank-but a bank account is not a must to set up a digital yuan account.
From Oct 12 to 18, more than 62,000 digital yuan transactions were made, and many users have also transferred funds from their own bank accounts after spending all the money in their red envelopes.
The pilot program in Shenzhen is significant for the development of digital yuan and marks China's mainland's trial program expansion from closed to open tests, said economist Song Qinghui. The central bank also established a fintech subsidiary in the city two years ago.
The payment experience is similar to that of WeChat Pay and AliPay-two dominant players in the industry-but Song pointed out they are fundamentally different.
He explained that digital yuan is a kind of legal tender, and the platforms or stores can't trace consumers' personal spending trends of data.
Shu Tao, a professor of finance at the Chinese University of Hong Kong, Shenzhen, and associate director of the Shenzhen Finance Institute, said "it represents the digital version of China's physical currency, essentially no different from the cash we use, but AliPay and WeChat Pay are instead payment channels."
Shu said the functions of payments overlap, and therefore competition actually is unavoidable. One of the digital yuan's strengths is that no extra platform fees or interest payments are charged for both users and business owners.
Third-party payment platforms usually rake in a fee of about 0.6 percent from stores and service providers and about 0.1 percent for people-to-people large-amount fund transfers.
Zhu Guanming, a restaurant owner in Luohu district, Shenzhen, welcomed the new payment method, saying: "I certainly prefer to use digital currency in order to save on platform fees."
Another advantage is that it can increase transaction efficiency, Shu added. A manager surnamed Yi at a bookstore in Shenzhen told China Daily that the monetary value of sales is deposited directly into the store's bank account and there is no need to operate another third-party account. However, Shu said customer choice dominates the future of the payment structure. As existing channels have covered nearly all consumption scenarios, the digital yuan needs to make breakthroughs for broader acceptance.
Shu believes the successful experience of Shenzhen is solid enough to be expanded to other major cities given the city's enormous economic volume and its role as a national model for market-driven economic reforms.
The Central Committee of the Communist Party of China and the State Council on Oct 11 unveiled an implementation plan of pilot reforms in Shenzhen to build it into a model socialist city with Chinese characteristics.
The plan will establish a fintech innovation platform in the city to promote the application and international cooperation of digital currency.
Positioned as the new engine of the development of the Guangdong-Hong Kong-Macao Greater Bay Area and situated close to the two special administrative regions, the city is poised to take the lead in cross-border trial schemes using the digital yuan, Shu said.
But he added that the transformation still depends on RMB internationalization progress and requires quite a long testing period.
The People's Bank of China, the central bank, started researching sovereign digital currency as early as 2014. So far, Shenzhen; Chengdu, Sichuan province; Suzhou, Jiangsu province, and the Xiongan New Area, Hebei province, have been approved for internal tests, along with pilot implementations during the 2022 Winter Olympics. Fan Yifei, deputy governor of the PBOC, said at a forum in September that a total of 113,300 private and 8,859 corporate "digital currency wallets" had been opened as of August.
Meanwhile, more than 6,700 trial scenarios have been launched nationwide in almost all fields related to people's livelihoods, including paying water, gas and power bills, government services and transportation. About 3.12 million transactions have been carried out involving more than 1.1 billion digital yuan, Fan said.