Delivery firms brace for 'Double Eleven' rush
Share - WeChat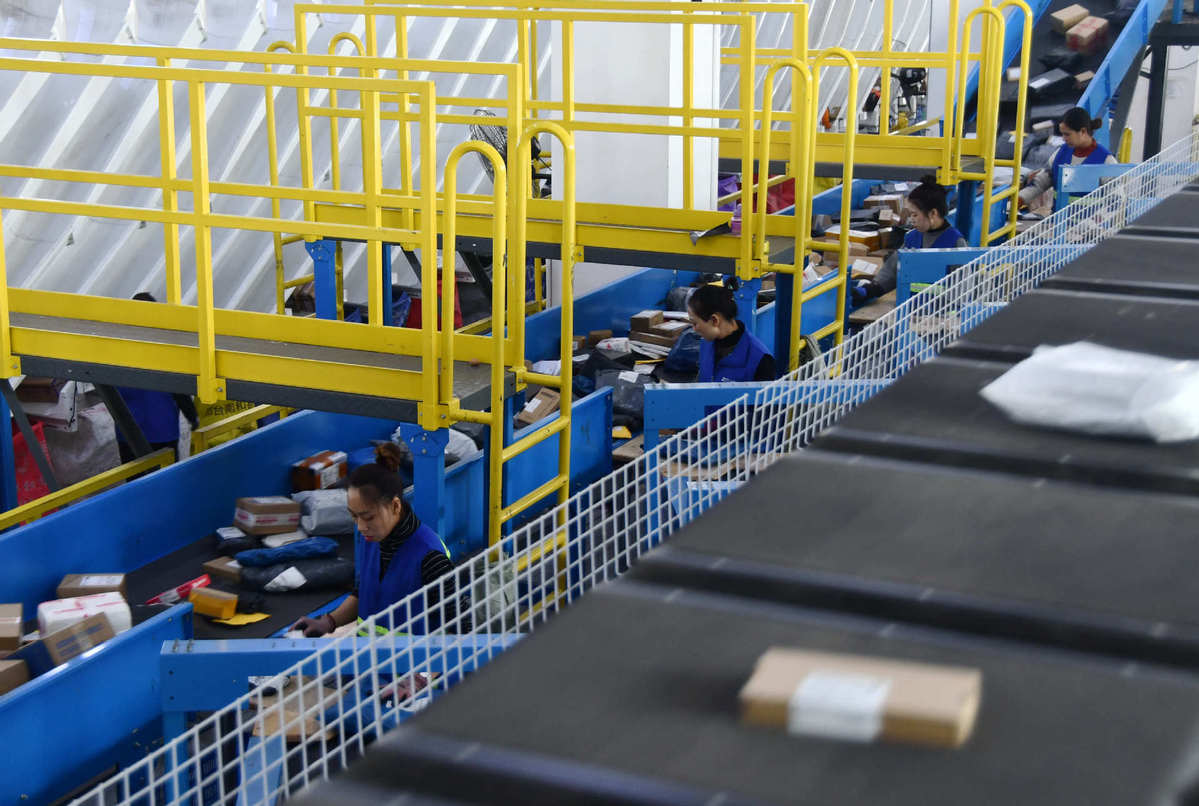 Express delivery companies in China have entered their busiest season of the year, judging by the huge number of online orders placed by shoppers during the Double Eleven shopping gala. Equipped with state-of-the-art technologies and green methodology, delivery companies are exploring options to guarantee the safe, timely delivery of all mail and packages generated during the period, said experts.
The State Post Bureau projected the peak for the Singles Day parcel deliveries to be between Wednesday and Monday, and the daily delivery volume would double from ordinary daily averages to 490 million units.
Due to the COVID-19 epidemic, more physical purchases are moving online this year, which will make Double Eleven shopping festival deal with an even greater amount of parcel deliveries, said Kuang Peiqin, an industrial analyst with Zheshang Securities.
To better deal with the "sweet burden", major express firms have prepared well by expanding their capacity and adopting automated and smart equipment in advance, said Kuang.
Based on its accumulated internet of things, cloud computing, big data, blockchain and artificial intelligence technologies, as well as its sufficient airplanes and high-speed train-based networks, SF Express is capable of handling more than double its daily parcel volume during the Singles Day peak days.
In addition to its 61 cargo aircraft and 863 high-speed train lines, SF Express is also equipped with unmanned aerial vehicles to enhance the efficiency of deliveries heading for islands and remote areas.
Best Inc enhanced its highly automated end-to-end solutions at major hubs and sortation centers across the nation ahead of the online sales peak season.
The Hangzhou-based express company has added 52 high-speed automated sorting lines, over 500 dimension and weight scanning systems, 6,000 swing arm sorting lines, along with various loading and sorting machines across its nationwide network.
Cutting-edge technologies from automated sorting to unmanned warehousing and robots are employed in JD Logistics' highly automated warehouses.
JD Logistics is an arm of e-commerce giant JD. Its "Asia No 1" highly automated logistic parks are expected to enhance logistics capacity, help handle the surging number of parcels in the country and deliver almost all first party orders on the same or next day.
YTO Express is also preparing for this year's Singles Day both digitally and sustainably. The Shanghai-based courier has expanded 36 of its distribution centers and upgraded them with automated facilities, to increase efficiency and lower costs.
In the meantime, YTO Express has also prepared 6.5 million recyclable bags to make the dispatch process more environmentally friendly.
According to ThePaper.cn, a Shanghai-based news portal, due to the large amount of express parcels, 93 percent of the growth in solid waste would be packaging waste in megacities.
ZTO Express has launched all-around sustainable measures including canvas sacks at distribution centers, degradable bags, new energy vehicles, and high capacity trailers.
Currently, more than 99 percent of ZTO Express' orders are placed online, and the paper documents saved throughout the delivery process every day have exceeded 1.8 million square meters of paper.
During the Singles Day, JD Logistics launched a new air cargo route from Wuxi, Jiangsu province, to Tianjin, and finally to Shenzhen, Guangdong province, using a Boeing 737-300F, which is the third all-cargo aircraft rented by JD Logistics for its air transportation business.
"The new Wuxi-Tianjin-Shenzhen flight will better meet the diversified needs of businesses and individuals for fast express delivery during the Singles Day promotion period," said Zhao Wanyi, head of express delivery products for JD Logistics' East China region.
JD has partnered with leading air cargo companies including China Southern Airlines, Air China Cargo and China Eastern Airlines. With more than 60,000 air routes between cities, air delivery services can be operated in 245 cities across the nation.
Chai Hua in Shenzhen, Guangdong, contributed to this story.