Unsung heroes
Share - WeChat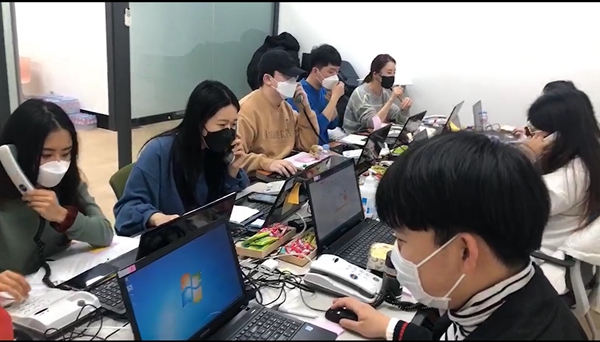 Good call
Wang Weijian, 24, flew back to South Korea from his hometown of Qingdao, Shandong province, on Feb 1, to take his senior year studies in hotel management at Kyung Hee University.
When he saw on WeChat that Li was recruiting student volunteers to help collect information for overseas students, he signed up right away.
He took a four-hour shift on weekdays for four weeks, making about 200 phone calls during each shift.
"We had two lists of standard questions to ask students, one for those who had already come back to South Korea and one for those who had not yet returned," Wang says. "For those who returned to their hometowns, we needed to record when they were coming back and their flight schedules so we could coordinate with university staff to send a school bus to fetch them from the airport."
Wang recalls that, at first, there were students who didn't welcome the daily phone calls. "There was one student who always seemed to be asleep whenever we called him, and I felt a bit bad for waking him up all the time," he says.
"Due to the pandemic, the orientation was canceled this year, so the newly arrived overseas students had questions about many things, such as how to select their courses.
"Some of them were really anxious just after they arrived that they even cried during our phone calls," Wang adds. After the routine check, he patiently answered their questions. He even made a video demonstrating how to select courses online and shared it with the students.
In August, Wang flew back to his hometown and is taking online courses this semester. He is looking for volunteer opportunities in Qingdao.
"After doing this volunteer work, I realize that wherever I go, and whether it is for our own compatriots or not, we have a responsibility to our local society," Wang says.
In Li's volunteer team, as well as the 42 Chinese students who communicated to fellow students in Mandarin, there were also four students from the United States, Norway, Uzbekistan and Indonesia.
Chung thinks that the volunteers also harbored fears about the pandemic, and faced difficulties themselves, but they've played a key role in providing support to Chinese students. "I sincerely appreciate the help from all of the volunteers," Chung says. "The volunteer group's work is an example of international cooperation.
"During this pandemic, it's important to have mutual understanding and active collaboration based on mutual trust."
Yoo Deok-yeol, mayor of Dongdaemun District Government, says: "The volunteers' work didn't only serve Chinese students, but was also an example of a win-win for all sides, including Chinese students and the South Korean government. "He thinks that, in the future, the universities, the government and the international students should communicate more often to be better prepared for a crisis like this.