Liuzhou focuses on improving its impressive industrial tourism
Share - WeChat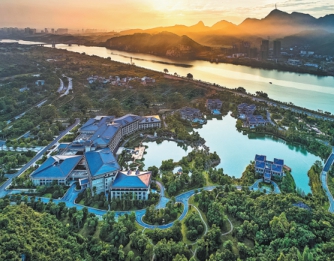 With solid achievements made in its heavy industry, Liuzhou in Guangxi Zhuang autonomous region is poised to integrate tourism to boost high-quality and innovative development of its local economy.
The city's development direction is in line with the autonomous region's general development plan, which is to develop innovative industrial tourism.
"Guangxi will innovate and develop industrial tourism and create a new 'business card' for Guangxi tourism," said Gan Lin, director of the Tourism Development Commission of the Guangxi Zhuang autonomous region.
A city well-known for its heavy industry, Liuzhou has become an important industrial powerhouse in western China and one of the largest industrial bases in Guangxi during the past six decades.
The city is also taking the lead in the transformation of industrial cities through tourism. By the end of 2020, the city is expected to have a total of 42 national 4A-level tourist attractions, according to the local government.
The culture and art innovation park, established at the former site of an air compressor plant in Liuzhou, is one of the city's key cultural tourism construction projects. It was developed according to the standard of national 4A-class scenic spots.
With a total investment of 1.1 billion yuan ($166.46 million), the innovation park will have a building area covering 210,000 square meters and is expected to be completed by 2022.
Inheriting the industrial atmosphere of the old air compressor plant, the cultural and art innovation park will integrate art production, leisure tourism, animation film and television with art training, becoming a new benchmark for Guangxi's cultural and creative industries and a state-level cultural industrial park, local officials said.
The park will effectively serve residents within five kilometers and communities within 23 km, becoming a new commercial and leisure center.