UK announces more lockdown support for people, businesses
Share - WeChat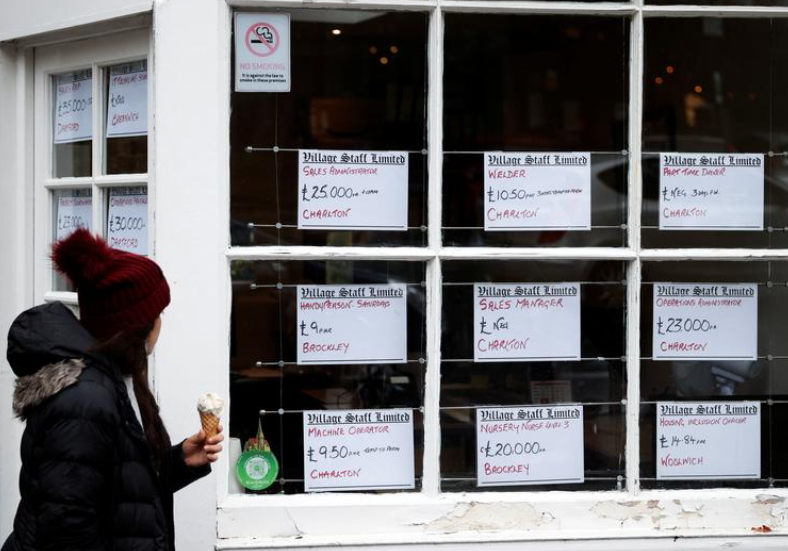 The United Kingdom's finance minister announced economic support on Thursday for businesses and individuals left out of pocket by the nation's strict new novel coronavirus lockdown.
The lockdown, which began on Thursday, calls for non-essential shops to close, people to work from home if possible, and most sporting and leisure facilities to be mothballed.
The Bank of England had earlier said the lockdown, while necessary to slow the spread of the virus and COVID-19 disease it causes, would lead to a slower, bumpier economic recovery, the BBC reported. The Bank predicted unemployment would rise sharply as a result, from the current figure of 4.5 percent to 7.75 percent, by the middle of next year.
With the UK economy predicted to contract by 11 percent this year, Chancellor of the Exchequer Rishi Sunak said in the House of Commons that he will do all he can to ease the nation through the difficult weeks ahead with "significant extra support to protect jobs and livelihoods in every region and nation."
Sunak said support for people who are self-employed will double, to 80 percent of their average earnings of the previous year, up to a maximum of 7,500 pounds ($9,800) a month.
He also said the furlough program, which had been slated to end this month, will be extended until March. It ensures employees who cannot earn a living because of the lockdown are paid 80 percent of their salaries, up to a maximum of 2,500 pounds a month. Around 9.6 million people have received payments through the program.
Sunak said he hoped his announcement would "give people up and down the country immense comfort over what will be a difficult winter.
"The security we are providing will protect millions of jobs," he added.
The difficult economic situation in the UK has triggered a spate of recent layoffs, with grocery giant Sainsbury's announcing on Thursday that it will cut 3,500 jobs by closing 420 outlets of its catalog retail business Argos, and by adjusting in-store meat, fish, and deli counters.
Simon Roberts, the company's chief executive, said it was responding to changing consumer habits, with more people now shopping online.
In addition, upmarket retailer John Lewis and Lloyds Banking Group announced this week that they too plan to cut jobs.
John Lewis said it will slash around 1,500 jobs at its head office while Lloyds will cut more than 1,000 through restructuring.
ITV News quoted Sharon White, chair of the John Lewis Partnership, as saying: "We must be agile and able to adapt quickly to the changing needs of our customers."
A Lloyds Banking Group spokesperson said: "These changes reflect our ongoing plans to continue to meet our customers' changing needs and make parts of our business simpler."
The Financial Times said services companies in Italy and Spain are also suffering as a result of restrictions there.
It said the IHS Markit flash services purchasing managers' index, a widely-watched business survey, fell in both countries, reflecting sharp declines in demand and activity.
The Spanish index fell 1 point, to a five-month low of 41.4 in October, while Italy's plummeted to a four-month low of 46.7. Numbers below 50 indicate a contraction in business activity from the previous month.
Maddalena Martini, an economist at Oxford Economics, told the Financial Times: "The worsening of the health situation and the reimposed restrictions will further impact the services sector."
The lockdowns in Europe were introduced because of sharply-rising rates of novel coronavirus infections, which have stretched hospitals.
Sky News reported on Thursday that NHS England has now moved to its highest alert level as a result.
Chief Executive Simon Stevens said "level four" reflects the "serious situation ahead".
"In many parts of the country, we're now seeing more coronavirus inpatients in hospital and in intensive care than we saw in the first peak in April," he said.
But Stevens added that he is hopeful a vaccine will be available soon.
"In anticipation of that, we're also gearing the NHS up to be ready to make a start on administering COVID vaccines before Christmas, if they become available," he said.
The Reuters news agency reported that Kate Bingham, chairwoman of the UK Vaccine Taskforce, told lawmakers on Wednesday she is hopeful that interim data will be good from trials of two high-profile vaccines.
"If I put on my rose-tinted specs, I would hope that we will see positive interim data from both Oxford and from Pfizer/BioNTech in early December and, if we get that, then I think we have got the possibility of deploying by the year end," she said.
But she added that the UK now only expects to receive around 4 million doses of any vaccination this year. Back in May, it expected the first 30 million doses to be delivered in September, out of the 100 million doses it had ordered.
"The predictions that were made in good faith at the time were assuming that absolutely everything would work and that there were no hiccups at all," she said.