Domestic firms inching ahead in vaccine R&D
Share - WeChat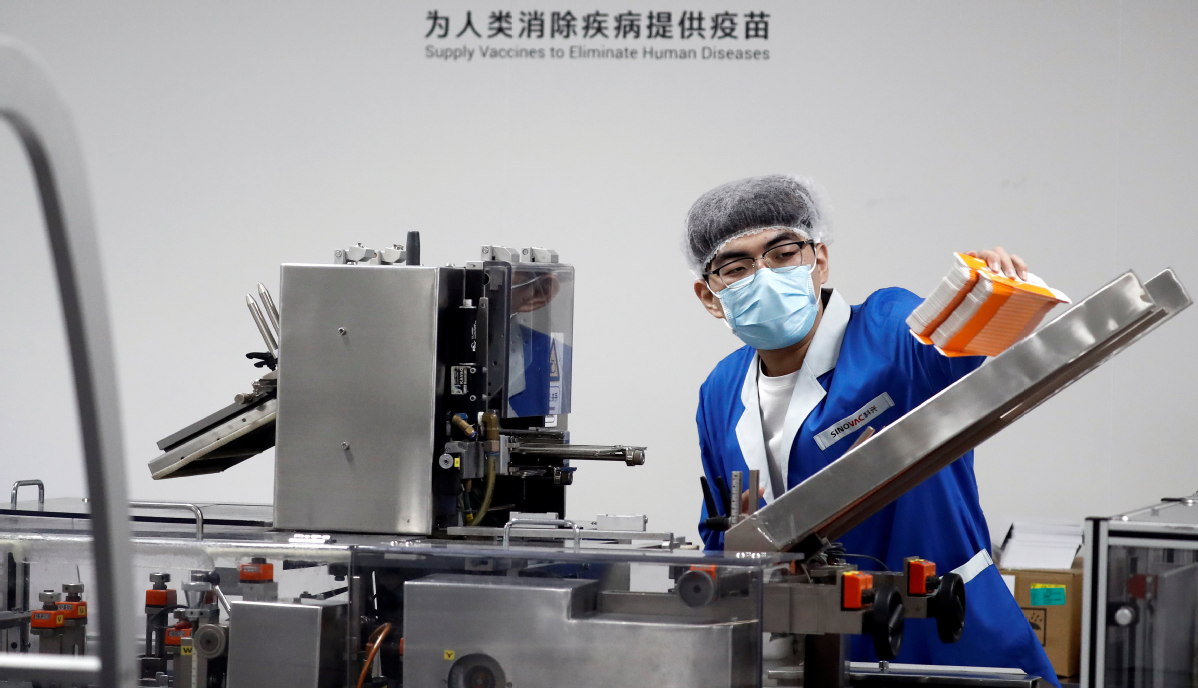 Chinese pharmaceutical companies are ramping up efforts in the development of vaccines for COVID-19, raising hopes for an ultimate solution to defeat the contagion.
Industry insiders said that their efforts and achievements have not only demonstrated Chinese vaccine makers' increased product research and development capabilities over the past few decades, but also underpinned China's open and inclusive attitude toward vaccine development, and its commitment to making COVID-19 vaccines a global public good to benefit people around the world.
Statistics from World Health Organization showed that a total of 44 candidate vaccines worldwide had entered clinical evaluations as of Oct 19, among which 10 were at the final phase of testing.
China currently has 13 vaccine candidates in clinical trials. Among these are three inactivated vaccines and one adenovirus vector vaccine in phase-three trials overseas.
One of the inactivated vaccines is from Beijing-based drugmaker Sinovac Biotech Ltd. China National Biotech Group, a unit of State-owned pharmaceutical giant China National Pharmaceutical Group (Sinopharm), is developing the other two inactivated candidates.
The Beijing Institute of Biotechnology and biotech company CanSino Biologics are jointly developing the adenovirus vector vaccine.
Shi Lichen, founder of medical consultancy Beijing Dingchen Consultancy, attributed China's leading position in COVID-19 vaccine development, both in terms of numbers and progress, to Chinese companies' R&D and manufacturing capabilities and fast response to market demand.
After the collection of safety and efficiency data during third-stage clinical trials, vaccine candidates can then apply for official review and approval for market launch.
"Chinese companies used to lag far behind multinational pharmaceutical companies in vaccine development and production, but have been gaining ground fast in the past few years," Shi said.
"They are also able to lead in the COVID-19 vaccine development because they took the risk to invest in vaccine R&D without much calculations on financial losses as soon as the disease outbreak began."
He also spoke of the country's efforts to contain the pandemic along with the international community.
"China has done its best, from sharing information on the virus and the disease to providing medical resources to foreign countries, and now it is committed to developing vaccines as a global public product, with actual action," Shi said.
The country has joined COVAX, a global initiative aiming to provide countries worldwide equitable access to safe and effective vaccines, even when China is leading the world with vaccine development and with ample production capacity, he said.
Zheng Zhongwei, an official from China's National Health Commission, said the nation's annual COVID-19 vaccine production capacity could reach 610 million doses this year and will expand further next year. He made the comment at a news briefing held by the Joint Prevention and Control Mechanism of the State Council on Oct 20.
CNBG said it has completed building high-level biosafety production bases with capacity totaling more than 1 billion doses for production next year to meet widespread vaccination demand.
Dozens of countries have contacted the company requesting the vaccine.
The company also has the largest population of vaccine recipients in trials among all the vaccine candidates under the same stage of trials.
Volunteers already incubated exceeded 50,000 as of Oct 20, covering more than 125 nationalities.
Zhang Yuntao, vice-president of CNBG, said the wide coverage of recipients from different countries also prepares a good foundation for the vaccines to be used globally once they get approved.
Gao Qiang, an executive at Sinovac Biotech, said at the briefing that all the company's partners in Brazil, Indonesia and Turkey have established comprehensive adverse reaction monitoring systems under internationally accepted Good Clinical Practice guidelines.
No severe adverse effects have been reported among recipients of its vaccine overseas, although there are sometimes some minor side effects such as fevers and pain at the injection site, Gao said.
He added that the company already has annual production capacity of 300 million doses.