Miyun answers call of fall with special offers
Share - WeChat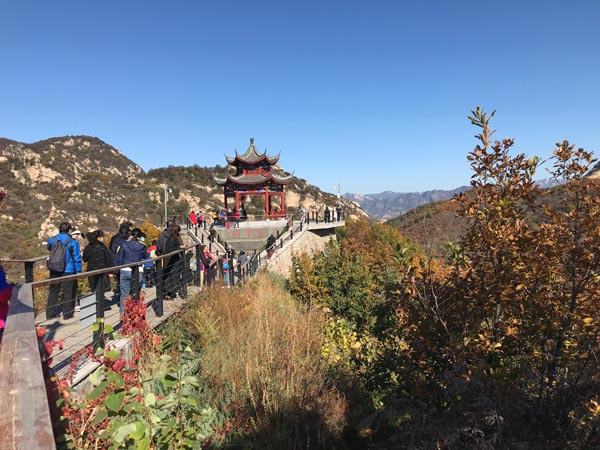 Suburban Beijing's Miyun district recently announced new autumn-travel routes, featuring folk customs, health, all-fish meals and fall leaves.
Beijing's autumn is short but beautiful. It's painted by colorful gingko, maple and persimmons trees.
This year's fall is colder than in previous years, which has heated up the seasonal colors' intensity.
Leaves have turned yellow and red at Miyun's Yunmeng Mountain scenic spot, where an autumn-leaves festival is running until mid-November. Visitors are encouraged to wear traditional Han clothes.
The scenic spot receives about 4,000 travelers a day during the National Day holiday and weekends, marketing manager Sun Yanli says.
The scenic spot's hotel that opened in September has also been fully booked, Sun says.
The festival features photography and hiking competitions.
About an hour's drive away, Beijing Wtown offers hot springs, boating, Han costumes and a night market.
Visitors can enjoy the mountains' colors while hiking the Great Wall's Simatai section.
About 5 kilometers away, Chateau Changyu AFIP offers wine-cellar visits, fruit picking and a walk through a European-style town.
Its all-fish feast is a distinctive experience for foodies.
Travelers can also sample such local specialties as chestnuts, buckwheat and vegetarian meals.
Local homestays have also rolled out customized menus and cycling services.
"We're fully booked for weekends, and customers need to make reservations two weeks in advance," says Liu Ning, who runs 18 homestays and a hotel in Miyun.
"Our homestay business has essentially not been affected by the pandemic since we opened in March."
She adds that the epidemic has predisposed travelers to seek more private and secluded environments, which her courtyard-style accommodation offers.
Liu's accommodation business has recovered by 80 to 90 percent since COVID-19 has come under control nationwide, she says.