Science education summit held in Beijing
Share - WeChat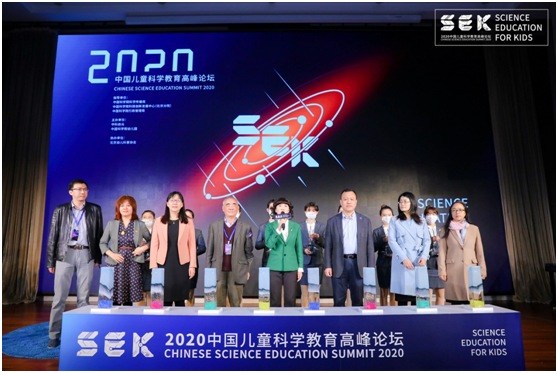 The SEK 2020 Chinese Science Education for Kids Summit was held in Beijing from Friday to Saturday, with various speakers set to share their insights about science education.
Based around making science education more attractive, the summit was held by Beijing CAS Ospire Educational Technology & Investment Co Ltd and the Kindergarten of the Chinese Academy of Sciences attracted more than 400 participants from all over China.
Several forums were planned during the summit, covering topics related to fields such as popular science, science education for children, research and practice of science education in kindergartens, innovative talent training and the integration of science education and information technologies.
At the forums held during the meeting, leading industry experts, scientists and entrepreneurs shared the status quo of science education for children and discussed future trends in the fields.
To improve teacher's science education capabilities and cultivate more talents for early education, a science teacher program called S-Plan was also unveiled during the summit.
The S-Plan will invest 200,000 yuan ($30,000) per year from 2020 on the training of preschool science teachers, and will spend at least one million yuan during the 14th Five-Year Plan period from 2021 to 2025.
According to the plan, 50 preschool teachers will be selected nationwide for the training, and it will cultivate at least 300 preschool science teachers during the 14th Five-Year Plan period.
Wang Jingxiu, academician of the Chinese Academy of Sciences, said popular science and scientific research are of great importance to speed up scientific research, calling for scientists' involvement in the work of popularizing science.
"Science researchers should serve the public, the country and the society, "Wang added. "As children's science education is key to future science development, researchers should participate in popularizing science knowledge and share their works with the children."
Pang Xiaoqin, vice-president of the Kindergarten of the Chinese Academy of Sciences, said children's science education aims to cultivate citizens with basic scientific literacy that will adapt to the technology society in the future and will help children use scientific methods to discover, think about and solve problems in daily lives.
Wu Caihong, director of the education and research center of the Kindergarten of the Chinese Academy of Sciences, said science education is a key part of children's early learning, and children's curiosity about the natural world as well as their need to make sense of the world is the foundation for them to explore science.
"Children are born scientists, with their natural curiosity and their strong need to explore the world. And early science exploration is of great importance for them to use and develop skills, laying a foundation for future sustainable development," she added.
Believing science is a key domain of early childhood, the Kindergarten of the Chinese Academy of Sciences is committed to providing high-quality education and nurturing, Wu said.
"The annual Chinese Science Education Summit will help us share high-quality resources and ideas. With various industry experts in children's science education, the summit provides fertile ground for cooperation and sharing, which will help us have better understanding of the topic."
After nearly 20 years' study and exploration of the science in early childhood, many problems also popped up, Wu said. "We are to make a big push to introduce high-quality talents and enrich their experiences in nurturing children. More efforts are also need to improve the scientific research abilities of the existing nursery teachers, such as providing some training courses."
Wu also called for a joint effort from the government, communities, parents and kindergartens, saying the whole society should pay more attention to kids' initiation science education.