Manufacturing gives economy timely 'power'
Share - WeChat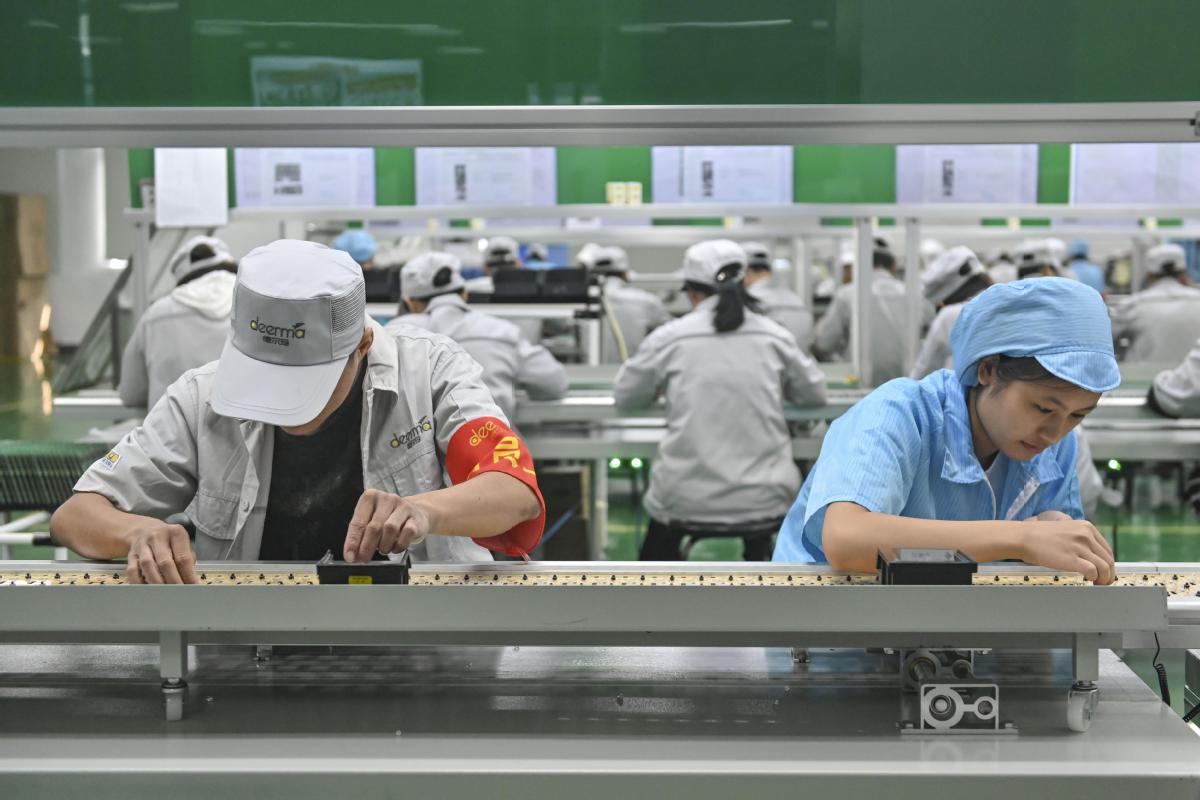 China emerges global leader in smart production, 5G network construction
China has outperformed other economies to become the largest manufacturing powerhouse in the world for 10 consecutive years, thanks to the impressive strides in technology innovation and industrial upgrade, regulators and experts said on Friday.
Wang Zhijun, vice-minister of the Ministry of Industry and Information Technology, said that the industrial output of the manufacturing sector hit 26.9 trillion yuan ($4 trillion) last year and topped other countries to account for 28.1 percent of the total globally.
From 2016 to 2019, the country's industrial output grew at an average annual growth rate of 5.9 percent, which was "much higher" than the world's average growth rate of 2.9 percent, Wang said.
Such achievements came as China made significant headway in its industrial sector during the 13th Five-Year Plan (2016-20) period. It has evolved into the global leader in a slew of industries like smart manufacturing and 5G construction.
"As China's industrial growth continues to lead the world, it has made significant progress in technology innovation, optimized growth structure, accelerated growth of enterprises and higher-level of industrial opening-up," said Wang.
"China is the only country in the world that has all 41 major industrial categories, 207 medium industrial categories and 666 industrial subcategories, according to the industrial classifications of the United Nations," he said.
To achieve the goal, the nation has been investing heavily in strategic emerging sectors such as high-tech manufacturing and frontier technologies like big data and artificial intelligence, with an aim of creating new growth engines, said experts.
"Over the past five years, strategic emerging industries such as 5G, the industrial internet, and smart manufacturing have played a critical role in the upgrade and optimization of the industry and supply chain," said Zhou You, a senior researcher with CCID Consulting.
"With such sectors gaining more attention and investment, the country's industrial chain will become more robust and enhance China's competitiveness in the global arena," said Zhou.
The ministry said on Friday that the research and development expenditure in major manufacturing companies accounted for 1.43 percent of the total business income, surpassing the planned target of 1.26 percent.
During the 13th Five-Year Plan period, 5G grid construction, in particular, has been a major achievement. The country has transformed from being a follower into 3G, then barely catching up with leading countries in 4G, to a pioneer of 5G applications around the world.
Wen Ku, head of the information and telecommunications development department at the ministry, said on Friday that despite the challenges due to the COVID-19 pandemic, China finished 5G network construction ahead of schedule this year.
"As of September, the country had already built a total of 690,000 5G base stations, which was earlier than scheduled, and basically achieved 5G coverage in prefecture-level cities," he said, adding that more than 160 million terminals had been connected to the 5G network by Monday.
"With major indicators continuing to improve, 5G is expected to have a more apparent role in the 14th Five-Year Plan (2021-25) period, especially in stabilizing investment, promoting consumption, driving industrial upgrade and cultivating new drivers of future economic development," he said.