Foldable screens all the rage
Share - WeChat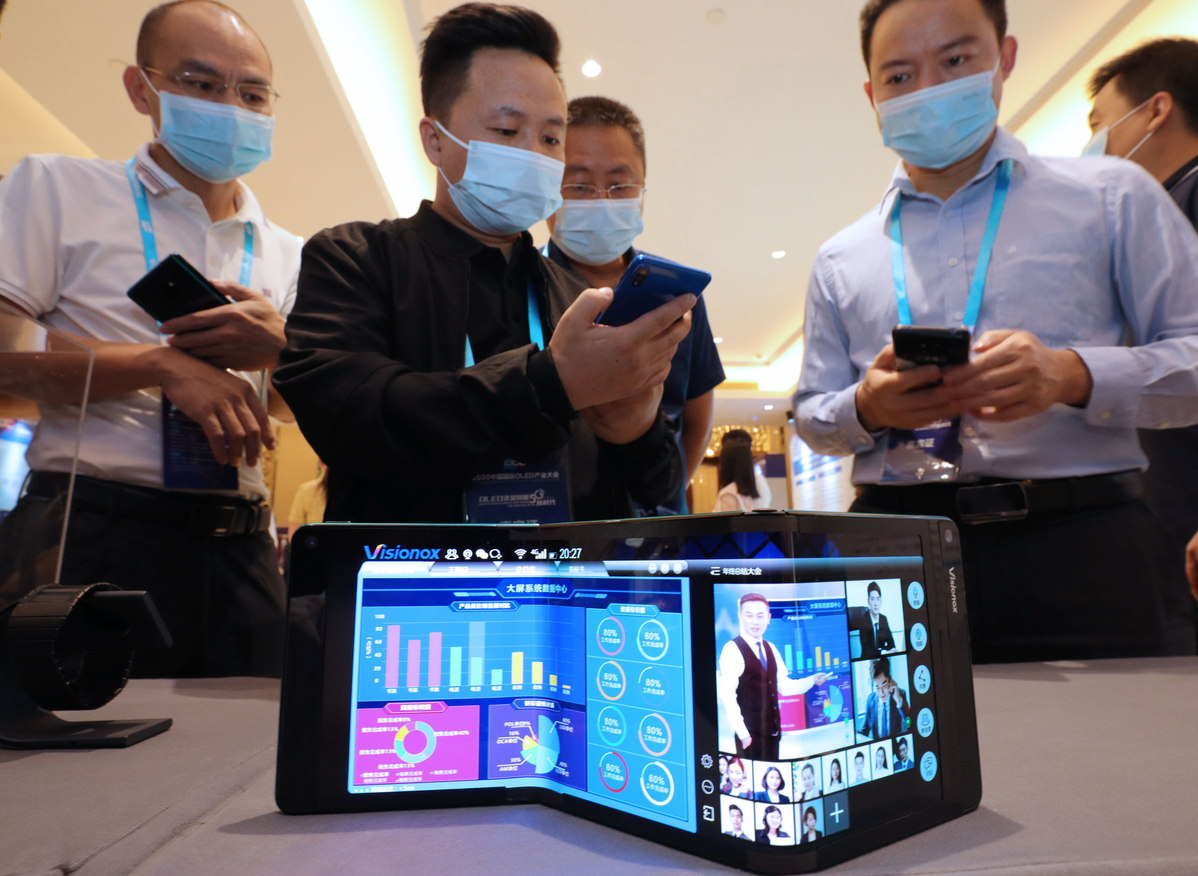 Innovative handset options helping revive sector amid challenging conditions
Smartphone makers are pushing harder to expand their presence in foldable screens that could be used either as tablets or as pocket-sized phones in a bid to revive a market mired in an innovation lull and sales slump amid a global pandemic.
The traditional smartphone market is relatively saturated, so handset makers are trying to provide smartphones with innovative eye-catching designs as they strive to bolster sales amid fierce competition, industry experts said.
However, they said companies may still face considerable challenges as steep prices and high production costs could affect business.
Neil Mawston, executive director at Strategy Analytics, said foldables pack a big screen into a small design, allowing users to surf rich content like video on larger displays, and then fold the device away neatly into a pocket or bag.
Global foldable smartphone shipments are expected to grow from under 1 million units last year to 100 million by 2025, the firm said in a recent report. Foldables will be the fastest-growing segment in the premium smartphone market in the next decade.
"Samsung was the world's leading foldable smartphone vendor last year, followed by Huawei," said Ken Hyers, director of Strategy Analytics. Every major phone maker, including Apple, should have foldables in their portfolios by 2025, he said.
The consultancy also said in the report that some factors holding back the foldables market are high prices, limited inventories and concerns over screen longevity, but these problems are expected to be addressed over the long term.
A string of manufacturers recently accelerated efforts to roll out foldable smartphones in a bid to grab a slice of the foldables pie in the world's largest mobile phone market. South Korea-based Samsung Electronics Co Ltd unveiled the Galaxy Z Fold 2 5G, its latest foldable smartphone, in China last month.
Priced 16,999 yuan ($2,483), the gadget serves as a 7.6-inch tablet when fully opened. It transforms into a phone when folded, with a 6.2-inch display that fits snugly in one's palm.
Choi Seungsik, president of Samsung Electronics China, said the smartphone boasts the most innovative foldable screen among the company's offerings, and provides an immersive watching and gaming experience for consumers.
Last year, Samsung launched the Galaxy Fold, its first consumer-ready foldable smartphone. In February, it also launched the Galaxy Z Flip.
Earlier this year, China-based Huawei Technologies Co also unveiled the Mate Xs, its latest foldable smartphone, which marks an important update to its first foldable smartphone Mate X unveiled a year ago.
Last month, US-based Motorola, which is owned by Chinese technology company Lenovo, rolled out its premium 5G-powered foldable mobile phone Razr, which can fold to the size of a wallet and fit in pockets or bags.
Priced at 12,499 yuan, the Razr is equipped with a 2.7-inch quick-view touchscreen display on the front, and a 6.2-inch organic light-emitting diode, or OLED, foldable display on the inside of the phone.
Meanwhile, Royole Corp, a Shenzhen-based startup developing flexible screens, launched its second-generation bendable phone last month. Priced at 9,988 yuan, the FlexPai 2 is the first 5G flexible phone to cost less than 10,000 yuan.