Haiyang nuclear plant furthers nation's green push
Share - WeChat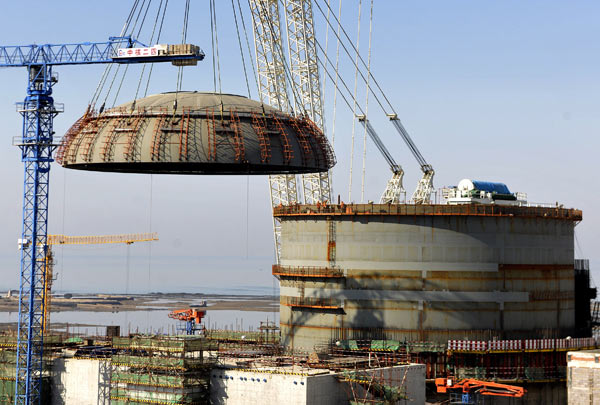 Haiyang nuclear power plant in Shandong province had generated more than 32.8 billion kilowatts of electricity by the end of September, according to its operator Shandong Nuclear Power Co, a subsidiary of State Power Investment Corp.
The plant's unit one facility began operating in October 2018 while its unit two facility began operating in January of last year.
Being the country's first commercial nuclear heating project, the plant's two Westinghouse AP1000 units, which extract non-radioactive steam from the facility's secondary circuit, have also provided heating to 700,000 square meters of housing since November 2019, including SNPC's dormitory and some residents of Haiyang, said the company.
A 300,000-metric-ton large-scale nuclear desalination demonstration project that provides clean water for residents and industries in the area will also begin operations this year, it said.
The facility's use of nuclear energy heating is expected to make unnecessary the use of 23,200 tons of coal annually.
The Haiyang nuclear energy heating project is expected to provide heating to all of Haiyang by 2021.
Shandong is aiming to become a major nuclear player in the country along with the provinces of Zhejiang, Guangdong and Fujian. And Shandong's Yantai city will become a center for nuclear development in North China.
An analyst said China's nuclear power plant construction in the coming years is expected to advance steadily, playing a more significant role in the country's energy mix and gradually replacing fossil fuels on a large scale.
Wei Hanyang, a power market analyst at Bloomberg New Energy, said the Haiyang plant is the first commercial attempt in China to supply heat from nuclear power.
"China is undergoing an approval process for a nuclear-based heat plant in Heilongjiang province, which will be the first inland reactor no longer associated with electricity generation,"Wei said.
"Both efforts in Shandong and Heilongjiang underscore China's resolution to decarbonize its energy-intensive heating sector," he said.
Wang Shoujun, council president of the Chinese Nuclear Society, said the country's nuclear sector has entered a new period of development and opportunity.
China has become one of the top players on the global stage for nuclear power generation, possessing an advanced nuclear power industry chain including uranium resources exploration, nuclear fuel supply, engineering design and development, engineering supervision, equipment manufacturing, operational maintenance and disposal of radioactive waste.
All of these have laid a solid foundation for the country's secure and efficient development of nuclear power, Wang said.
The State Council, the country's Cabinet, has approved construction of four homegrown Hualong One reactors: two as part of the phase one facility at San'ao plant in Zhejiang and the remaining two as part of the phase two facility at Changjiang plant in Hainan province, which insiders said they believe will reboot the country's nuclear power sector.
By the end of last month, China had 48 nuclear facilities in operation with an installed capacity of 49.88 GW, ranking third worldwide. Currently, 14 nuclear units are under construction with installed capacity reaching 15.53 GW, which in leading worldwide.
Nuclear projects in the country will focus on large-scale mass production of domestically developed third-generation reactors including Hualong One, which is already officially in mass production mode, according to the nuclear society.