Deaths from rain-triggered disasters top 110 in Vietnam and Cambodia
Share - WeChat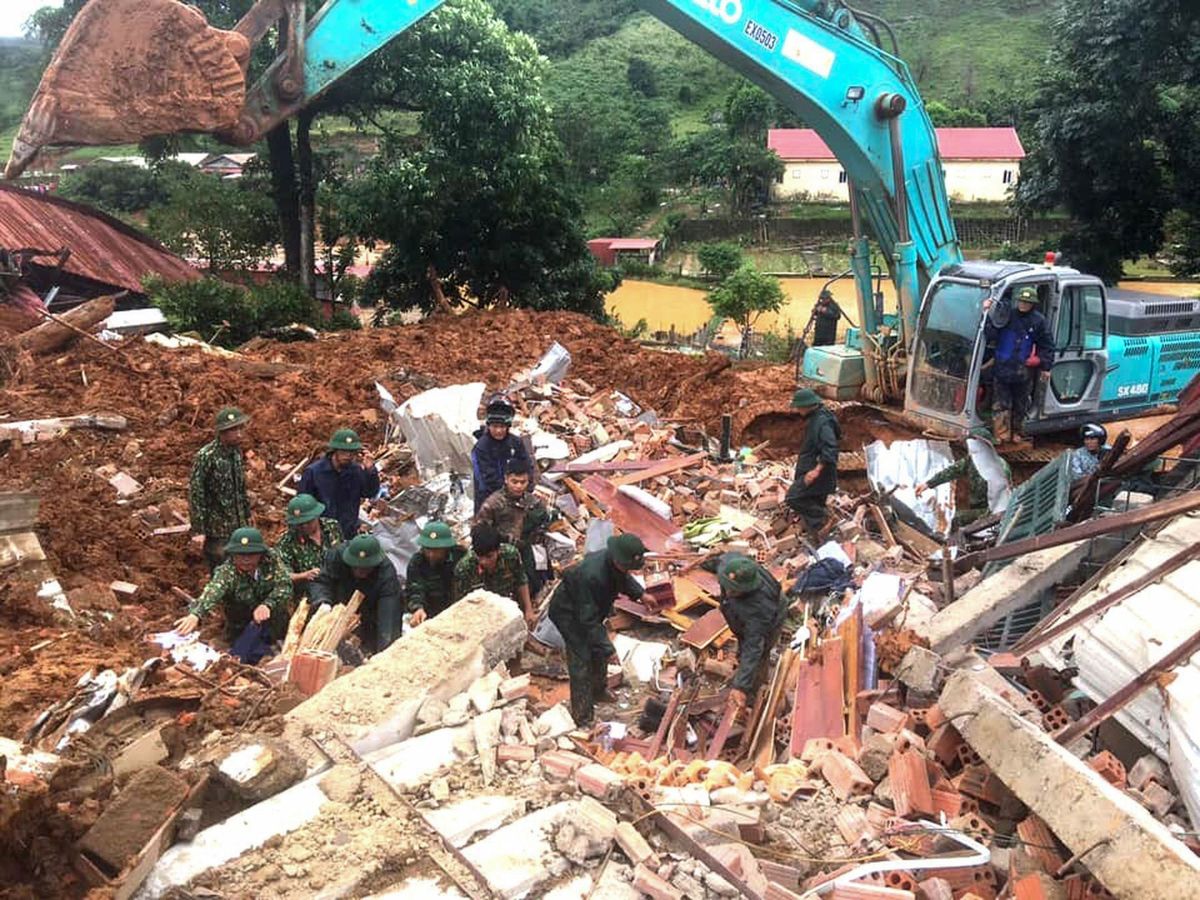 HANOI-The bodies of all 22 military personnel who were buried by a landslide in central Vietnam's Quang Tri Province have been found, the Vietnam News Agency reported on Monday.
Floods and mudslides during October have killed at least 93 people in central Vietnam and left 30 missing. The military has lost 29 servicemen to the adverse weather in what could be its highest number of peace-time casualties.
The landslide early on Sunday in Quang Tri buried the 22 soldiers and was the fourth incident of its kind in the space of six days in central Vietnam.
Heavy rains are expected to stay in central Vietnam until Wednesday, with rainfall expected to be over 600 millimeters in some areas, the country's Central Steering Committee for Natural Disaster Prevention and Control said on Monday.
The military, which plays a key role in Vietnam's disaster response, has sent hundreds of rescuers, heavy equipment and search dogs to help the mission as the government tackles some of its worst floods in years.
According to the latest report of the Central Steering Committee for Natural Disaster Prevention and Control, the more than 90 fatalities were mainly reported in the provinces of Quang Tri, Thua Thien Hue and Quang Nam.
Floods in the region have inundated more than 120,000 houses, cut off traffic and forced schools to close. State media showed images of people in long-tail boats next to houses with water at roof level.
During an urgent meeting held on Sunday, the committee issued a level-four alert, the second highest warning, over the risks of natural disasters in central Vietnam.
Since Oct 6, nearly 531,800 cattle and poultry have been killed or swept away. Natural disasters, including floods and landslides, also caused erosion and damage to several national highways and local roads, the committee said.
Schools in the central Nghe An and Ha Tinh provinces have allowed students to stay home starting from Monday to ensure safety given the complications caused by the natural disasters, the Vietnam News Agency reported.
Southeast Asia is prone to natural disasters and regularly suffers more than a dozen storms each year, often bringing flooding and landslides.
In Cambodia last week, flash floods left 20 people dead, including six children, and forced the evacuation of more than 26,600 people, Seak Vichet, a spokesman for the National Committee for Disaster Management, or NCDM, said on Saturday.
Tropical storm-triggered rains have caused floods in 19 of the kingdom's 25 cities and provinces since the beginning of the month.
Floods usually hit Cambodia between August and October. Last year, the Mekong River and flash floods claimed 30 lives, as storms killed eight people and injured 131 others, the NCDM said.
Agencies - Xinhua