China consolidates position as global leader in 5G technology
Share - WeChat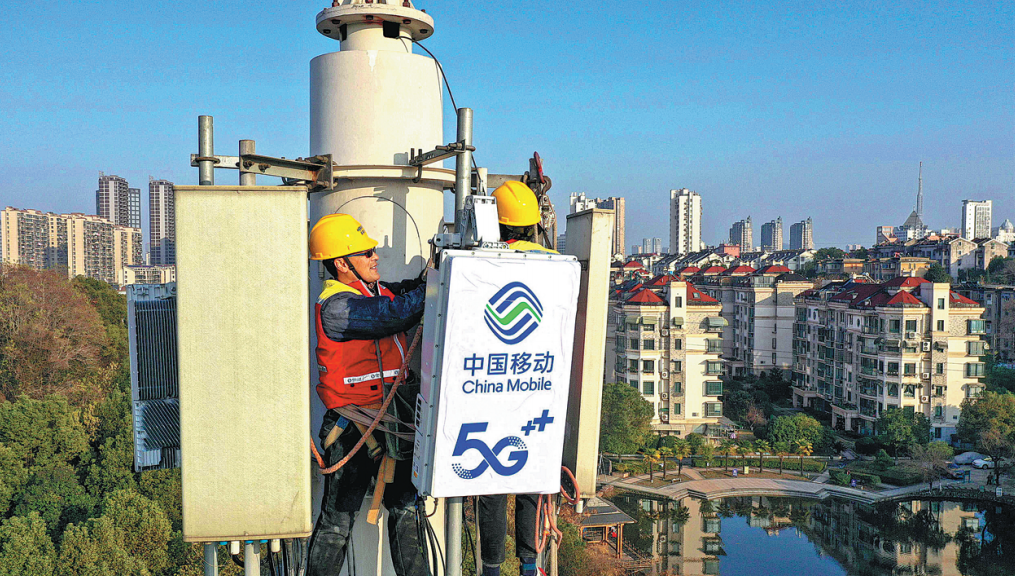 Editor's Note: China has made big strides in its tech industry during the 13th Five-Year Plan (2016-20) period. From a sound telecommunication infrastructure including 4G and 5G networks and thriving e-commerce platforms, to burgeoning artificial intelligence-enabled applications, China has emerged from a follower into a leader, with a tide of innovation rising within the nation. It has evolved from an "innovation sponge", absorbing and adapting existing technology and knowledge from around the world, into a global pioneer, spawning a wide range of homegrown cutting-edge products and services.
Country expected to have 450 million such high-speed connections by 2025
China is emerging as a pioneer in commercializing 5G technology as the nation makes strides in research and development of telecom products and services as well as applying wireless technologies to more areas in the past five years.
The progress marks a major accomplishment for China, which has evolved from being a follower into 3G, then barely catching up with leading countries in 4G, and now finally being able to pioneer 5G applications around the world, experts said.
Xiang Ligang, director-general of the Information Consumption Alliance, a telecom industry association, said China has gained more influence on the international telecom stage over the past five years as the nation strives to build a sound telecom infrastructure for consumers and businesses.
By the end of 2015, China had covered all townships in the nation with its 3G network. Later, the nation built the world's largest 4G network. And starting from June 2019, local telecom operators are working hard to expand 5G coverage and to commercialize the superfast wireless technology, Xiang said.
The latest data from the Ministry of Industry and Information Technology showed that China has built over 600,000 5G base stations so far. Also, more than 100 million devices have already been connected to the 5G network as part of the nation's broader push to accelerate 5G deployment.
Wen Ku, spokesman for the ministry, said Chinese companies have pioneered a wide range of applications, such as conducting a 5G-powered remote brain surgery, transmitting ultrahigh-definition television content through 5G networks and piloting the operation of self-driving buses and cars in some cities. Over the past five years, Chinese smartphone vendors, telecom equipment makers and telecom operators have also won global recognition. Now, Huawei, Xiaomi and Oppo have made their way onto the list of top five global smartphone vendors in terms of shipments.
Chinese companies have also gained a bigger voice in terms of setting international standards for wireless technologies. China Mobile, the nation's largest telecom operator, has outgunned foreign rivals to lead the global 5G System Architecture project, which determines the "structure of 5G networks".
Meanwhile, polar coding, a technology backed by Huawei, has also been approved as part of the global standard for 5G.
Fu Liang, an independent telecom analyst who has been following the sector for more than a decade, said: "The progress highlights Chinese firms' rising influence in the global telecom arena. It is a recognition of both their technological prowess and their brand influence."
During this year's COVID-19 pandemic, which disrupted many countries' 5G roll-out plans, Chinese telecom companies have been working hard to stick to their schedules after the outbreak was brought under better control in the nation. Such efforts have helped maintain the stability of the global telecom industry, according to a report from Swedish telecom equipment maker Ericsson.
Though the pandemic has impacted the roll-out of 5G networks and slowed down 5G subscription growth in some markets, setbacks were outweighed by other markets including China where 5G deployment is accelerating, Ericsson said in an industry report.
The Global System for Mobile Communications Association, the international association of mobile operators better known as GSMA, also said that despite the short-term headwinds from COVID-19, China has consolidated its position as a global leader in 5G, with the nation expected to account for 70 percent of global 5G connections in 2020.
China is also forecast to have 450 million 5G connections by 2025, the most worldwide, driven by significant operator investment and growing enthusiasm among consumers and enterprises, GSMA said.