Global executives reaffirm investment commitment to China
Share - WeChat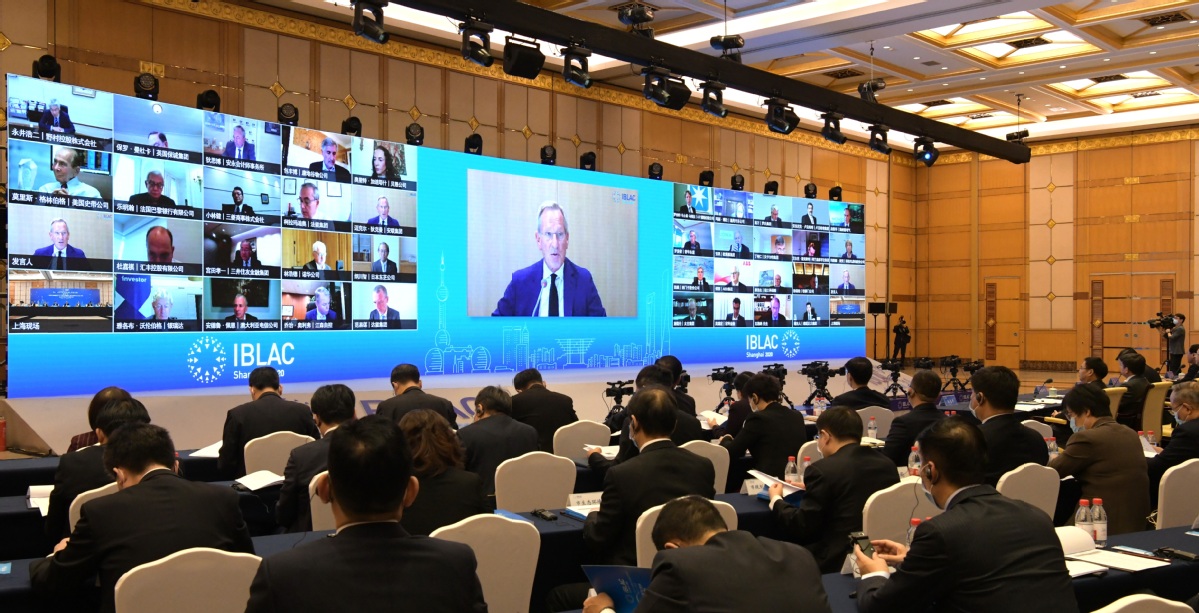 Chinese companies' digitalization expertise and the strong resilience shown by the nation since the COVID-19 epidemic have given multinational companies the confidence to be more deeply rooted in the country, top global executives said during a meeting of the International Business Leaders' Advisory Council in Shanghai.
The council, which is better known as the IBLAC, held its 32nd consecutive annual meeting for the Mayor of Shanghai on Sunday. Initiated in 1989, the council has grown into an international think tank for Shanghai where multinational companies' top executives gather annually to share their knowledge and experience, which will not only help facilitate Shanghai's development but also that of China in general.
L'Oreal Group saw its global sales revenue contract by 11.7 percent on a yearly basis during the first six months of the year due to the pandemic. However. it managed to post a 17.5 percent growth on a yearly basis in China during the same period.
According to the group's chairman and CEO Jean-Paul Agon, the "extraordinary performance" can be attributed to the consumption rebound in China, which was much faster and stronger than in the rest of the world.
Buoyed by e-commerce gains, the French cosmetics giant saw its sales recover in China as early as March, said Agon. Thanks to the more tech-savvy Chinese consumers and the country's favorable business environment, L'Oreal Group carried out most of the digital or e-commerce innovation in China and applied the successful experiences in its other markets. The company will bring more than 100 products to the 3rd China International Import Expo, which will be held in Shanghai in early November.
"The progress that we are making in China is very important for our global growth," he said.
Application of digital tools has also helped Swiss multinational pharmaceutical company Novartis to launch new drugs and maintain strong growth in China despite the COVID-19 epidemic, according to company's chairman Joerg Reinhardt.
Reinhardt said that Novartis has benefited from China's broader reforms and opening-up, which have become "an integral part of the Chinese economy". The country's continued efforts in healthcare reforms, and its economic resilience, which is especially noticeable since the epidemic, have provided Novartis adequate confidence to maintain its long-term strategy and commitment to China, he said.
Peter Voser, chairman of global industrial giant ABB Ltd, said more efforts can be devoted to the development of technology to keep people safe, enhance industry efficiency and productivity and reduce the effects on the environment, which is an important lesson learned since COVID-19.
"By incorporating smart technologies into urban infrastructure, manufacturing and services, we can remotely monitor the health and performance of essential equipment and take action preemptively to avoid service interruptions or shutdowns. Deploying advanced robotics and automation solutions allows us to keep factories and plants operational without exposing humans to health and safety risks," he said.
Carmine Di Sibio, global chairman and CEO of professional services provider EY, said the epidemic has accelerated the digitalization efforts of companies. It has been proved that companies that have transformed their supply chain by using technologies, digital tools or application of the internet of things have shown better performance during the epidemic.
Di Sibio said that companies with global businesses should become more digitalized. For the same reason, EY will hire more professionals with technology background in China, while the company promises to increase its head count across all businesses in China, including audit, tax, strategy, transaction and consulting.