Central companies stoke BRI cooperation
Share - WeChat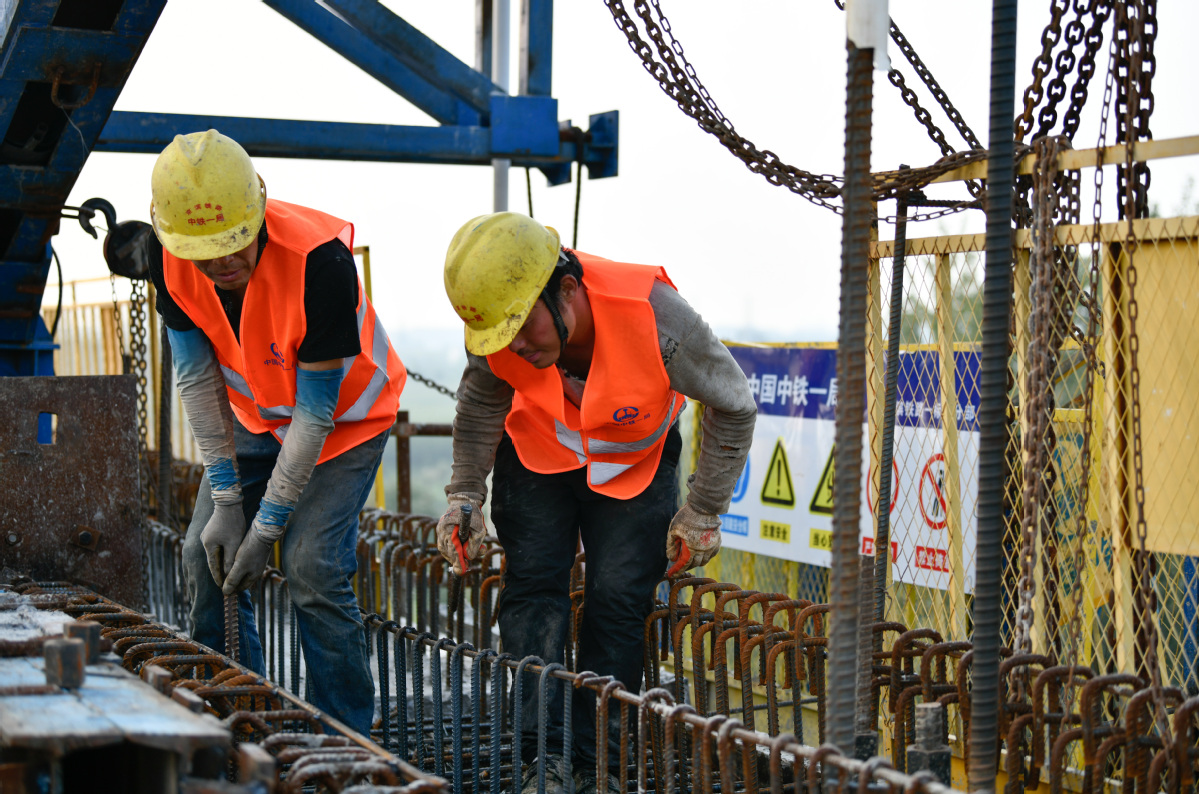 Firms ensure trade and investment flows, infrastructure connectivity and job creation
China's centrally-administered State-owned enterprises have become a major force in deepening cooperation among economies participating in the Belt and Road Initiative, said government officials and business leaders.
In doing so, SOEs are supporting China's innovation activities during the 13th Five-Year Plan (2016-20) period, they said.
Central SOEs have participated actively in the BRI over the last seven years. This has helped ensure trade and investment flows, infrastructure connectivity, people's well-being, power supply and job creation, said Peng Huagang, secretary-general of the State-owned Assets Supervision and Administration Commission of the State Council.
Central SOEs are very big companies or groups within the jurisdiction of the central authorities. Other SOEs are enterprises owned by governments at different levels like province and city.
To date, central SOEs have invested in and developed more than 4,700 projects in 138 countries and regions participating in the BRI.
Many of them were undertaken during the 13th Five-Year Plan (2016-20) period, accounting for more than 70 percent of their projects in global markets.
They have been promoting a number of key projects related to the initiative, such as Greece's Piraeus port, the China-Belarus Industrial Park, the Mombasa-Nairobi Railway and the China-Laos Railway.
"For further development, we will continue to focus on better outcomes under the BRI, by providing high-quality services during the construction of projects," said Peng.
China National Aviation Fuel Group Ltd, the country's largest aviation fuel supplier by sales revenue, plans to invest in equipment manufacturing and innovation in BRI economies over the next several years to expand its global presence.
The Beijing-headquartered central SOE will further diversify its sales channels and enhance its production and service networks to develop both home and overseas markets, said Zhou Qiang, its chairman.
The group will accelerate reform of its overseas business management system and related mechanisms, adjust its business structure and optimize its operational model to reinforce this strategy.
Company executives said they believe the strategy is a practical way to enlarge National Aviation Fuel's sales network to better serve airlines across the world.
Zheng Donghua, deputy director of the research center at the SASAC, said the BRI's new move to encourage third-party, or trilateral, cooperation among market players will further support the world's economic recovery during the post-pandemic era.
The trilateral cooperation initiative will likely drive the "sustainable industrialization and investment" program. Such cooperation will actively work with buyers as well as factories to improve global supply chains and attract more investors, he said.
This will help connect China's competitive production capacity with developed countries' advanced technology via the third-parties' vast growth demand, he said.
For instance, the cooperation model between China and Japan set an example for the cooperation and development of third-party markets.
The model can combine advantages of the two countries: China has a strong government, financing support, and large and efficient production capacity; Japan has rich overseas experience, developed technology and advanced risk management mechanism, according to a 2019 study by EY(formerly Ernst & Young, a global business services firm).
A growing number of central SOEs, such as China Energy Engineering Group Co and China Railway Rolling Stock Corp, have ramped up their efforts to develop overseas markets under the framework of third-party market cooperation, actively embracing the business opportunities offered by the BRI in recent years.
For instance, the Gibe-III hydropower project in southern Ethiopia has been contracted out to two foreign companies-Salini Impregilo Group, an Italian construction company, and Dongfang Electric Corp, a Chengdu-based central SOE specializing in power generating equipment manufacturing.
With a total installed power of 1,870 megawatt and an energy output of 6,500 gigawatt-hour per year, the project has boosted the national energy output of Ethiopia by 85 percent, meeting the rising demand for power grid construction and upgrading in the African country.
Between 2016 and 2019, central SOEs invested 1.97 trillion yuan ($288.35 billion) in research and development, accounting for 26.5 percent of national spending in this area, according to the latest data released by the SASAC.
Supported by 91 national key laboratories and 733 national-level R&D platforms, central SOEs have gained a number of breakthroughs in fields like aerospace, telecommunication, and high-end manufacturing during the three-year period.
Many central SOEs have raised their investments in sectors like new materials, cloud computing, big data, artificial intelligence, the internet of things, smart cities, mobile applications, and integrated circuits to stay competitive, as sustainable growth and digitalization have become key drivers of future growth, said Zhou Yuxian, chairman of China National Building Material Group Co Ltd in Beijing.