Carbon-neutrality pledge will reverberate globally
Share - WeChat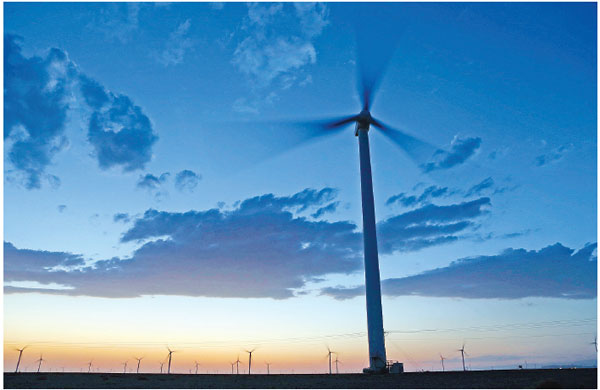 China's pledge to achieve carbon neutrality by 2060-that is, netzero carbon emissions-puts the country on a transformative development path.
Net-zero carbon emissions will be a ginormous turnaround in four decades and has to be done without too much negative impact on economic development.
President Xi Jinping's announcement at the United Nations on Sept 22 marked the first time China has set an absolute rather than a carbon-intensity target tied to GDP growth. In other words, it is much more ambitious.
The pledge by China, as one of the world's biggest carbon emitters, is just beginning to be digested around the world and will reverberate across energy, commodities and financial markets for a long time.
Its new pledge represents a leading bid in meeting the climate-change mitigation challenge.
The implications are profound.
The upcoming 14th Five-Year Plan (2021-25) will likely contain early indications of how China plans to achieve carbon neutrality by 2060. In fact, experts and think tanks have been crunching the decarbonization problem for some time. The challenge is surmountable but requires major, sustained efforts.
Xi promised "more vigorous policies and measures", which means China will deal with coal. Can China stop using coal in the coming decades? The answer is that it has to.
China has half of the world's coal-power capacity, and this high-carbon fuel still accounts for 58 percent of China's energy consumption and 66 percent of its electricity generation.
The central authorities will have to work out a deal with the domestic coal lobby, since they only recently lifted a moratorium on constructing new coal plants in coastal provinces, which is why there are 100 gigawatts worth of capacity under construction.
A sensible approach is to reimpose the moratorium, stop plants that are still on the drawing board, adjust incentives away from coal to clean fuel sources and retire old plants sooner, since the newer plants are more efficient, so China can phase down coal by 2060. The newest coal plants could remain for backup purposes.
Natural gas makes sense as a transitional fuel. It is a fossil fuel but emits less carbon.
At the same time, China must ramp up renewables and nuclear power, and push hydrogen-power development, as well as other forms of new fuels, such as biofuels. Developing new energy will spur economic growth and expand a new-technology industry.
Carbon capture and use or storage technologies are also being developed, which plays a crucial role across China's power and industrial sectors by sucking up carbon.
In aggregate, all those measures will enable China to decarbonize its electricity-production sector and electrify industries that are the biggest energy guzzlers, such as steel, cement, plastics and fertilizers.
Complementary efforts include electrifying transportation in order to reduce oil consumption. Trains, cars, trucks, vans and even ships will have to be powered by electricity, which represents another enormous transition.
Experts have different formulas for the transitional mix of fuels from decade to decade. With a clear signal that China will become carbon neutral by 2060, everyone has a target and timeline to work out the technological transitions alongside the policies and costs.
The costs are in the trillions, but China sees this as an investment in the technologies that matter for tomorrow. It is worth noting that a few days after China's announcement, Tsinghua University put forward a multitrillion dollar, 30-year road map to end the use of coal for electricity generation around 2050.
Energy conservation and the efficient use of energy must also form a big part of the picture.
Every unit of energy saved is a unit of energy-generation capacity that doesn't need to be built.
Thus, buildings must be made much more energy efficient. Insulation should be improved, building codes tightened, buildings better designed and the energy-efficiency standards for all kinds of electric appliances should also be improved. Indeed, existing technologies are affordable and available.
Xi also addressed the UN Summit on Biodiversity on September 30, where he called on the world to act together to reverse biodiversity loss.
Moreover, there is consistency in China's message, whether speaking on climate change or biodiversity-Xi called on countries to cooperate, share benefits and build capacity.
The stance of China and the United States could not be more different at the UN this year.
China chose to look forward and outline its dream of continuous improvement, while the US will formally leave the multilateral Paris Agreement on climate change on Nov 4, the day after the upcoming US presidential election.
The author is a former undersecretary for the environment and former member of the Legislative Council of the Hong Kong Special Administrative Region. She is also chief development strategist at the Institute for the Environment at Hong Kong University of Science and Technology. The views do not necessarily reflect those of China Daily.