Nanshan highlights role of talent in startups
Share - WeChat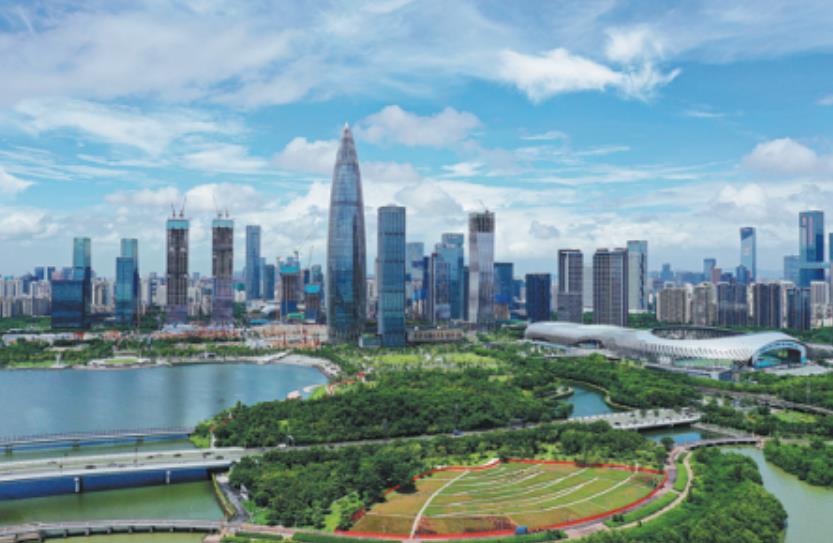 Liu Ruopeng, co-founder of Guangqi Group, which specializes in metamaterials, can't get enough of Nanshan, a district in Shenzhen, Guangdong province. "This is a place with the most Silicon Valley characteristics," Liu said.
Given the passion and drive of its entrepreneurs, Nanshan, a cluster of prominent high-tech firms, is often compared to Silicon Valley, Liu said.
Nine years ago, Liu and four other partners established Guangqi Group in Nanshan with a startup capital of 200,000 yuan ($29,880).
Since then, the company has grown rapidly and is now known globally. It showcases the quality of entrepreneurship in Nanshan.
The district's GDP was 610.3 billion yuan in 2019, earning it third place among all counties and districts on the Chinese mainland.
In the first half of this year, innovative development strategies helped boost Nanshan's GDP to 304.23 billion yuan, up 2.5 percent year-on-year, despite the impact of COVID-19 on the larger economy.
Just 40 years ago, when Shenzhen became home to China's first Special Economic Zone, Nanshan was no more than a barren piece of land covering 187.5 square kilometers. There were hills, paddies and mud flats.
In 1990, its GDP grew to 7.86 billion yuan. More than 4,000 State-level high-tech enterprises have achieved success in the district so far.
That attracted even the world's technology giants such as Airbus and Qualcomm to Nanshan, where they set up research and development centers.
As of August, 724,064 firms have been incubated in Nanshan. And 90 percent of its listed companies are of high-tech. R&D investment accounts for 5.87 percent of its GDP.
All along, Nanshan made talent key to its rapid and high-quality development. It is now home to more than 70 percent of top-end professionals in Shenzhen, including 28 academics from the Chinese Academy of Sciences and the Chinese Academy of Engineering.
The district boasts 397 patents for inventions per 10,000 people, almost four times that of the national average. And its Patent Cooperation Treaty has earned it international patent applications, which account for almost 13 percent of the country's total.
Yang Peng is a beneficiary of Nanshan's policies that support talent. He graduated from Peking University in 2019 with a doctoral degree, and started his career at Orbbec, a prominent 3D sensing company, in charge of 3D algorithm R&D.
He lives in an apartment provided by the local government. Other residents in the residential building are also top-end talent and fellow beneficiaries. "The apartment is just 10 minutes away from my company. Its rent is only one-third of the market price," Yang said.
The Nanshan district will disburse more than 500 million yuan toward talent subsidies this year, according to local officials.
"For top-level international talent, including teams, our district can offer at least 10 million yuan each year," said Wang Xiaorong, head of the organization department of the Nanshan district committee of the Communist Party of China.
The Shenzhen Talent Park in Nanshan was completed in 2017. Covering 700,000 square meters, it is the first talent-themed municipal park and a symbol of Nanshan's emphasis on talent.
To encourage entrepreneurship, the district government introduced reforms to improve its business environment. Administrative affairs are resolved in person at one go; its online operations can handle 499 issues at a time.
"The government helps promote the development of the market-based local economy, with the private sector playing a key role. We do our best to facilitate the development of high-tech industries," said Liu Shiming, chief of the science and technology innovation bureau of Nanshan.