Hengqin New Area sees bright future thanks to regional cooperation
Share - WeChat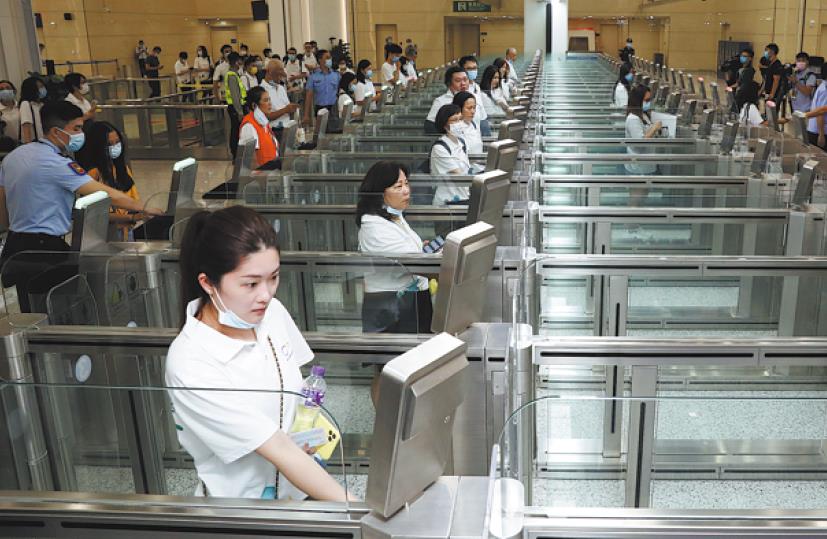 Hengqin New Area in the Zhuhai Special Economic Zone in Guangdong province is seeking a growth pattern based on joint construction and management with neighboring Macao to coordinate and support the industrial development of Macao special administrative region.
Meanwhile, Hengqin is expected to further strengthen the convergence and integration of policies, rules, livelihood projects and public affairs with Macao while enhancing infrastructure connectivity, injecting vitality into Macao's economic construction and widening the SAR's development space in the coming years, said Wu Chuangwei, deputy director of the management committee of Hengqin.
"Hengqin New Area is now striving for the preferential policies given to Macao in building an international tourism and leisure center to be gradually implemented and introduced in Hengqin as well," Wu said.
"Hengqin now allows tourist group guides and leaders from Macao to work on the island, which has been designed as a new green, health and tourism destination in the western part of the Pearl River delta," Wu said.
Legal practitioners and lawyers from Hong Kong and Macao have also been allowed to open law firms in Hengqin-one of the three zones of the pilot free trade area in Guangdong province, he said.
And Macao people have been allowed to buy individual medical insurance policies and social security plans in Hengqin, Wu added.
In addition to cross-border finance and logistics, Hengqin has given priority to developing its cross-border e-commerce, innovation, tourism and leisure, new and high technologies, culture, education, traditional Chinese medicine conventions and exhibitions, services and related environmental-friendly industries in cooperation with its Hong Kong and Macao counterparts in the coming years, Wu said.
Hengqin, located at the mouth of Pearl River, has established very close economic relations with Macao in recent years.
Despite the COVID-19 pandemic, Hengqin has seen rapid growth in attracting investment from Macao since the beginning of the year.
Hengqin has, so far, registered more than 3,100 enterprises funded by Macao investors, and the trend is maintaining strong momentum as the figure was only 2,200 by the end of last year.
Now Macao companies represent 58 percent of the total overseas investment in Hengqin, Wu said.
Many Macao residents who live in the SAR come to work in their companies in Hengqin after a new Hengqin checkpoint linking Hengqin to Macao officially opened to the public in August.
Operating 24 hours a day, the new checkpoint further strengthens integration between the two sides, Wu said.
Meanwhile, Hengqin allowed a total of 5,000 private cars with Macao license plates to operate in Hengqin last month. Previously only 2,500 Macao vehicles were allowed to operate on the island.
Wu said Macao residents have purchased more than 7,000 apartments in Hengqin so far.
Xu Mu, deputy general manager of Da Heng Qin Development Co Ltd, said a total of 299 companies, including 293 from Macao, have been established in Hengqin's "innovation valley", which mainly attracts young entrepreneurs from Guangdong, Hong Kong and Macao to start businesses, he said.
Chloe Wang, director of International Affairs with Bringbuys, a Macao-funded company in Hengqin, said Hengqin has introduced many preferential policies to attract investors from Macao in recent years.
"Therefore many Macao investors choose to set up their companies in Hengqin to explore the vast domestic market," Wang said.
Her company mainly focuses on cross-border e-commerce and now has more than 160 staff members, including about 80 from Macao. But the company had only 13 workers when it was established in 2016.
Hengqin is the largest island in the Zhuhai SEZ, which is now celebrating its 40th anniversary of establishment. The island, with an area of 106.7 square kilometers, now has a population of more than 100,000.