'Great Wall', China's largest tunnel borer, to weaken foreign firms' monopoly
Share - WeChat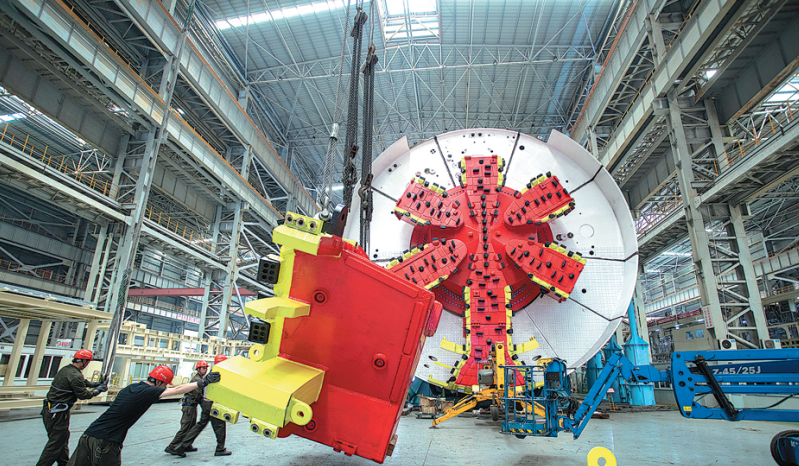 CCCC Tianhe Mechanical Equipment Manufacturing Co rolled out the Changcheng, or Great Wall, China's largest tunnel-boring machine or TBM, last week.
The monster machine measures 16.07 meters in diameter, and is 145 meters long and weighs 4,500 metric tons.
It marks a fresh breakthrough in the country's push for high-end machinery production in a world that has been dominated by developed countries.
CCCC Tianhe Mechanical Equipment is a subsidiary of China Communications Construction Co, a State-owned construction giant.
With a long-term operational life cycle, the giant machine is the largest in the domestic market, said Zhang Boyang, chairman of the Jiangsu province-based company.
TBMs are used to excavate tunnels, subway tubes and sewer lines. In comparison with traditional tunnel boring methods like rock drilling, blasting and hand mining in soil, the use of such giant TBMs could minimize the impact on the surrounding ground and produce a smooth tunnel wall, helping certain tunnel projects run through unstable geological conditions.
As many Chinese and global cities have increasingly deployed resources to improve their transportation infrastructure to boost coordinated regional development, commercial and service activities, the company is building eight large-diameter TBMs, Zhang said.
Orders have been placed until 2022.
While China has exported smaller TBMs, the global market has mainly been dominated by companies from advanced countries such as Germany, Japan and South Korea.
But the super-large Great Wall TBM shows the steady rise of China's manufacturing capabilities in this area, Zhang said.
The Great Wall TBM will be used in the reconstruction project of Beijing's East Sixth Ring Road. The project has a 9.2 km-long tunnel section, of which about 7.4 km will be constructed by TBMs.
The Great Wall TBM can achieve an ultra-long tunneling distance of 4,800 meters without changing the tool in Beijing's sand and gravel stratum, and has reached the world's advanced level in technical fields such as atmospheric tool change, automatic segment assembly and fiber optic wear detection, said Su Zimeng, executive vice-president of the China Construction Machinery Association in Beijing.
The reconstruction project of Beijing's East Sixth Ring Road will use two domestically made TBMs with the same diameter. They need to pass through the core area of Beijing's subcity center in Tongzhou district, CCCC Tianhe executives said.
In addition to the complex underground space, the route will intersect with several roads, rivers and railway tracks. The average overburden is 20 meters, and the deepest overburden is 45 meters.
"It is rare for an infrastructure project to adopt domestically manufactured TBMs," Su said.
Over the past decade, Su said, Chinese manufacturers have made remarkable progress in technologies, life cycle, equipment materials, service and other aspects in this area.
China's achievements not only break the foreign companies' monopoly in many segments, but will also cut the project costs for clients at home as well as abroad.
With around 30,000 precision components and mechanical engineering, electrical, sensing, information and new material technologies, a TBM is considered a gauge of a country's level of equipment manufacturing expertise.
TBMs support railway and highway projects. They are getting larger as tunnels become wider to integrate utilities such as water supply and drainage pipes, telecommunication and power cables, said Yang Hui, head of CCCC Tianhe's research and development unit.
The company's TBM project is supported by a team of more than 170 engineers, he said.
Sun Fuquan, a researcher at the Chinese Academy of Science and Technology for Development in Beijing, said the world's TBM demand will surge as many countries are seeking to create jobs and stimulate trade flows via big-ticket transportation and infrastructure projects, which require tunnels.
Many projects such as urban subways and railways that traverse mountains or waterways usually require the technical support of TBMs.
Backed by their products' durability, global service network and price advantage, Chinese engineering equipment makers are set to become some of the largest beneficiaries of the tangible growth of the Belt and Road Initiative, Sun said.
"It is critical for them to enhance brand recognition and a localization process to further compete with well-established global rivals such as Germany's Herrenknecht AG and Japan's Kawasaki Heavy Industries."