Sculpture exhibition stages sixth edition
Share - WeChat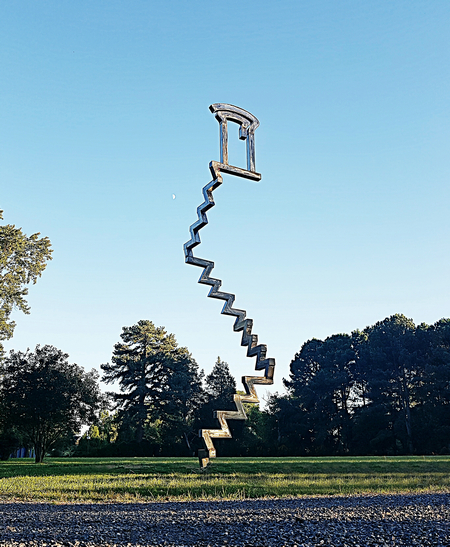 New sculptures from 10 countries have joined the display at Jing'an Sculpture Park, though most of the overseas artists did not manage to turn up at the sixth installment of the Shanghai Jing'an International Sculpture Project exhibition which kicked off on Sept 26.
This year, 29 artists, 13 of whom are from overseas, have created 33 groups of new sculptures for the event titled Reshaping Space. The exhibition will last through the end of the year.
This year, the JISP expanded its exhibition out of the Jing'an Sculpture Park for the first time, presenting sculptures at the nearby pedestrian mall on Wujiang Road, Plaza 66, as well as the campus of a primary school located across the street on Beijing Road West.
"We want to engage the public and interact with the communities as much as possible," says Dong Yu, head of the urban planning and resources administration of Jing'an district. To achieve this, the district has organized events such as painting competitions for students, online photography contests, music festivals and street performances that will take place throughout the exhibition.
Matt Hope from Britain was the only artist from overseas that attended the exhibition launch on Sept 26. Standing by his installations titled Air II and Air III, Hope invited visitors to touch his creations and step inside the works, which consist of three or more metallic globes joined together. Inspired by the molecular structure of air, Hope wants visitors to experience the sculpture as a space separated from the outside, and feel the sound of the wind, as well as witness the sunlight leaking through a series of holes on the globe.
Meanwhile, Spanish artist Juan Garaizabal has built an abstract stairway leading to a steel gate standing as high as 9.5 meters. "It was an intricate creation, handmade by the artist himself," says Yang Ju, a staff member of Purple Roof Public Art, an institution that has helped organize the JISP since the beginning.
"It was difficult getting a structure as high as this to stand firmly and safely on the ground,"Yang says. "Once it is done, you will find it blends perfectly into the landscape surrounding it."
Chinese artist Liang Shaoji brought his creation of a steel conch, which is displayed in the middle of a pond in the park.
"The work is exposed to the rain and wind, placed in a public space. People get really close, and touch it... experience art with the surroundings, including the sweetness of osmanthus blossoms and cats leisurely passing by."
If you go
8 am-10 pm, Sept 26-Dec 31. Jing'an Sculpture Park; 128 Shimen No 1 Road, Jing'an district, Shanghai. Pedestrian mall of Wujiang Road; Fengsheng Li, Plaza 66. Greenland Park at Fengyang Road crossing with Shimen No 2 Road; and Shanghai International Studies University Jing'an Foreign Language Primary School.
Most Popular