On Beijing subway, books take a seat and are captured in photos
Share - WeChat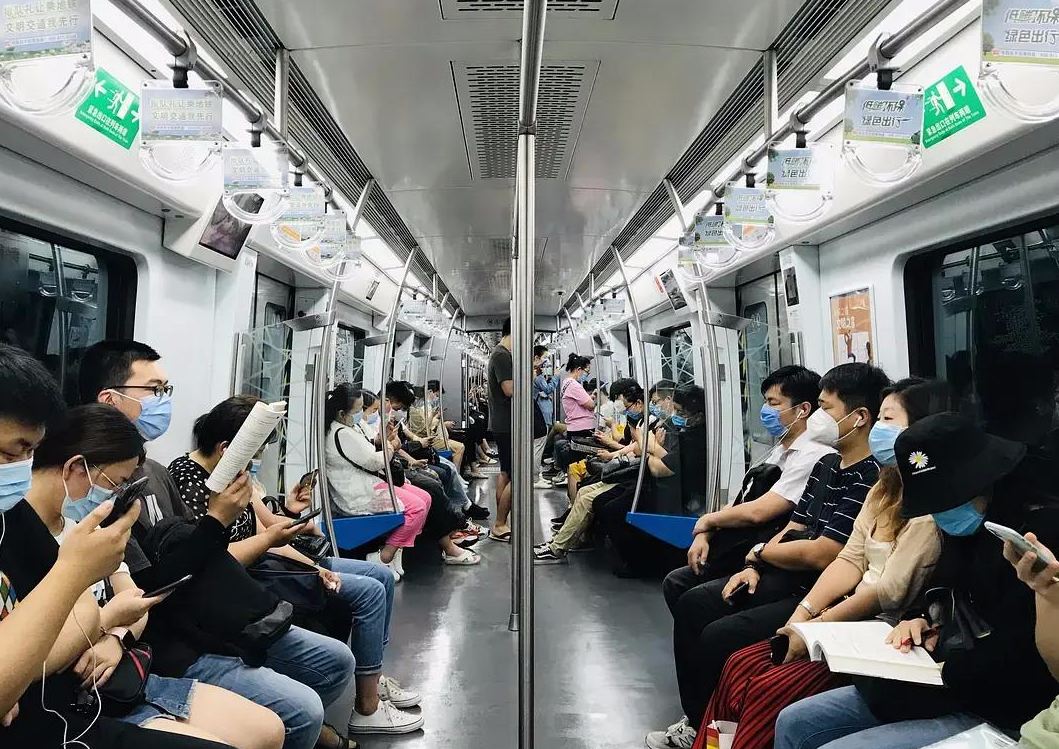 In the past 1,000 days, Zhu Liwei has taken more than 1,000 photos of people reading books on the subway in China's capital.
An editor at a publishing house in Beijing, Zhu says the photos are an answer to her question: "Are there still people reading paper books?" The question comes up often in the era of omnipresent smart phones.
The project started one day in February 2018, when Zhu snapped the first photo with her phone of people reading underground. It showed a young man perusing Zen and the Art of Motorcycle Maintenance.
Every weekday during her two-hour subway commute, Zhu reads. She says she has finished more books on the subway than anywhere else.
"I am a bookworm and I was curious about what books are being read by other commuters," she says. "When I started to pay attention to people around me, I found like-minded metro readers."
Zhu has been photographing people reading books on the subway ever since. After the first four months, she uploaded around 100 photos to an album she created on Douban, an online social platform focusing on books, movies and music. She titled it Readers on the Beijing Subway.
"No matter how crowded it is, book lovers always find their spiritual corner on the train," she wrote in the album.
To avoid privacy issues, Zhu's photos always focus on the book, rather than the reader. She intentionally leaves people's heads out of the frame or takes the photos from behind.
As a book editor, Zhu also tries to identify the titles in the photos, writing captions that include that, along with the date and sometimes a brief comment:
"Sept 3, 2020. Some people are always curious about the past. He is reading This Is What Tang Dynasty Really Was."
"April 17, 2020. The tome on her hand is Crime and Punishment. She is so ambitious and brave that she brings the soul of Russian literature onto the metro."
"March 20, 2019. In front of a man reading Othello, a high school student is working on his English test paper."
Zhu says that sometimes she discovers the title only when the reader flips the book. Sometimes it's printed in the page header. Sometimes a character's name on the page is her clue.
"When I cannot determine the book's name, I will post the picture in my WeChat moments, and there is always someone who knows," she says. "There are always people who have read books that you haven't."
She also created a booklist of subway reading, which now includes 183 novels; 359 nonfiction books in the humanities, social sciences and lifestyle genres; 123 self-help books; and preparation books for various exams and qualifications. And the list continues to grow.
"No matter what they are reading, the books in their hands seem to be shining with light," Zhu says. "It attracts me to take pictures."
For World Book Day in April, the data journalism studio of The Paper news portal studied the nearly 1,000 photos Zhu had taken over the past two years, and found a lot of interesting facts:
・ About 86 percent of the people on the subway read paperback books, while 13 percent read books on digital readers, such as Kindle.
・ The most popular book in Zhu's subway photo collection was the scifi trilogy The Three-Body Problem by contemporary writer Liu Cixin. But the classic novel The Dream of the Red Chamber by Cao Xueqin of the Qing Dynasty (1644-1911) was the runner-up.
・ American motivational writer Dale Carnegie's How to Win Friends and Influence People was also popular.
In her more than two years of chronicling subway readers, Zhu has encountered various personalities.
Once it was late and few passengers were aboard. Zhu found an old man holding a magnifying glass to read a book. She approached him, followed his magnified words for a moment, took a photo and posted it to social media. A friend told her the book was by a popular Japanese novelist, Osamu Dazai.
For a period of time, Zhu frequently encountered a young woman reading at the same place and time almost every weekday at 8:10 am-on a bench in the metro station. The reader had finished four books in one month.
In March, with the coronavirus pandemic raging, Zhu photographed a woman reading while wearing a mask and gloves. The book, A Global History, by Stavros Stavrianos, is a classic in the field of world history.
"This is the precious memory of subway readers during that special time," Zhu says, adding that after the Beijing subways returned to their normal, busy state, she found even more people engaged with literature.
"Maybe literature is a kind of cure for the illnesses in people's hearts," she says.
Some people were inspired by Zhu and suggested that she photograph readers on the subways of other cities-maybe Shanghai, Nanjing or Hangzhou. Zhu liked the idea and said she will make the online photo album an open space in which anyone in another city who is interested can upload photos of people reading.
Many who have seen her album have left comments. One says: "It is just like seeing myself reading during my 2 hour and 40 minute commute, which is a time everyday that I can be immersed in my own world."
Another says: "I choose to live some distance away and take the metro to work, so that I can have some time to read and make it a habit for daily improvement."
Some people have shared photos taken by foreign photographers of readers on the London, New York, and Moscow subways. They inspire her to continue photographing readers on the Chinese subway.
"When I open those albums, it's like meeting a confidant," she says.
Gu Yuhan contributed to this story.
Most Popular