New York to close schools in 9 virus 'hot spots' in city
Share - WeChat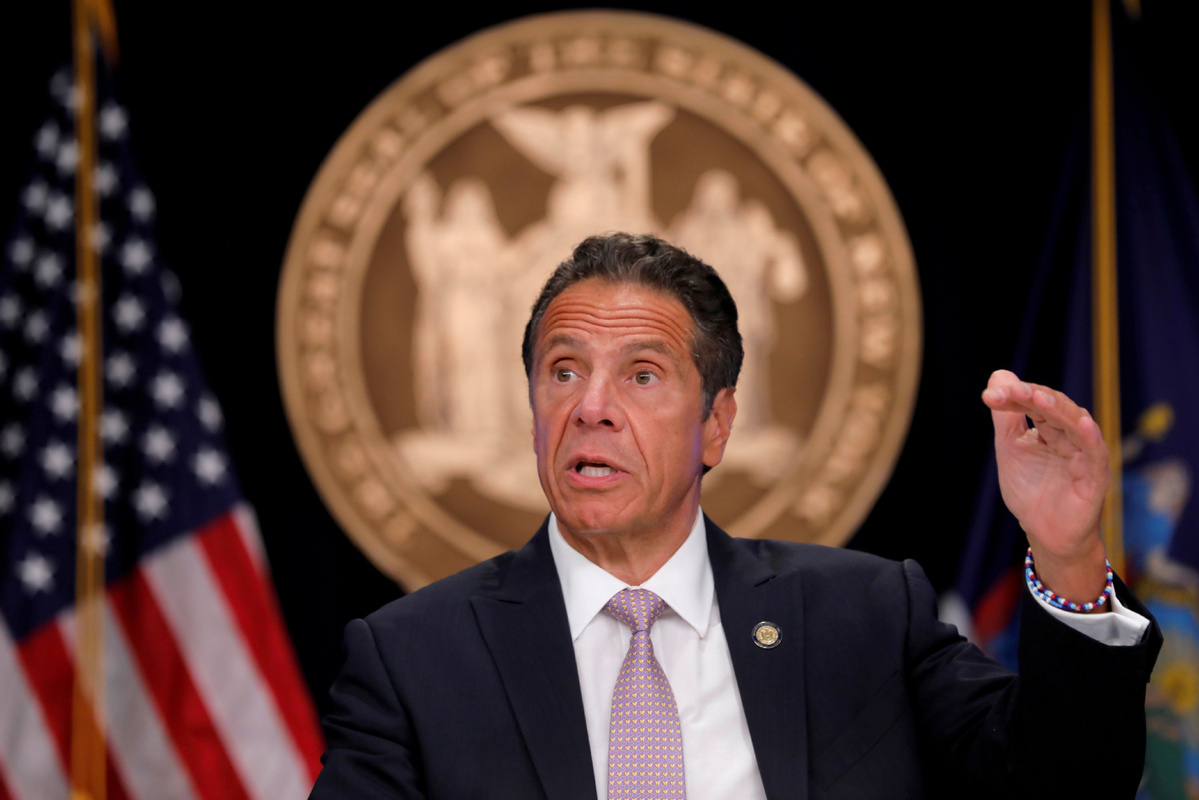 New York Governor Andrew Cuomo announced Monday that he has ordered hundreds of public and private schools in nine New York City ZIP codes where novel coronavirus cases have jumped to close for in-person instruction on Tuesday.
"Better safe than sorry," Cuomo said Monday at a news briefing in announcing he had approved a request by Mayor Bill de Blasio to close 108 public and 212 nonpublic schools.
"I would not send my child to school in a cluster that has not been tested. I am not going to recommend or allow any New York City family to send their child to a school that I wouldn't send my child," Cuomo said.
But Cuomo said he wouldn't agree to the mayor's request to close nonessential businesses and dining at restaurants in the nine areas without further study. He said the mayor's use of ZIP codes was an imperfect way to identify neighborhoods that should have restrictions. ZIP codes have been used by the US Postal Service since the 1960s to improve mail delivery.
Cuomo said he gave his approval to close the schools following a "good, collaborative" conference call with the mayor, city Comptroller Scott Stringer, City Council President Corey Johnson, and Michael Mulgrew, president of the United Federation of Teachers union. The mayor had asked that the schools be closed on Wednesday.
"These clusters have to be attacked," Cuomo said. "Stamp them out immediately and dramatically."
The school closings come just a week after schools in New York City — the largest public school system in the nation with 1.1 million children — reopened for in-person classes.
The nine areas have seen more than a threefold increase in cases in the past several weeks. They are in Brooklyn and Queens, have at least 500,000 residents, 7 percent of the city's population, and all are large Orthodox Jewish communities that have been slow to wearing masks. The mayor said 11 other ZIP codes that have seen a rise in cases could face new restrictions if things don't improve.
During the summer, there were widespread outbreaks in those areas leading many residents to wrongly believe that they had become immune to catching the virus due to herd immunity.
The closing announcement drew criticism.
"Announcing this in the middle of a Jewish holiday shows City Hall's incompetence and lack of sensitivity toward the Jewish community," tweeted Daniel Rosenthal, a state Assembly member representing Queens.
The New York State Catholic Conference also voiced criticism of closing Catholic private schools, saying rather than close all schools in the neighborhoods, the city and state should focus only on those that have seen a surge in infections.
Cuomo said he plans to meet with Orthodox Jewish community leaders in the city on Tuesday and those in Rockland and Orange counties, north of the city, where outbreaks also are occurring but where schools remain opened, to "see if they will agree to abide by the rules".
He said he was prepared to close synagogues if the use of face coverings and social-distancing practices were not being followed.
"We're not going to make the same mistake twice," he said.
Later Monday, de Blasio said at a news conference that the city was prepared to go forward on Wednesday in shutting nonessential businesses in the nine areas. The restrictions would likely last for two to four weeks, he said.
"Until there is a different plan, we are prepared to implement this plan," said de Blasio. "If the state comes back with a modification, we will follow that modification."
Cuomo said that the state would take over enforcement of COVID-19 regulations in the hot spots after expressing dissatisfaction with the city's response. He said that the Department of Health and the state police would issue summonses for violations.
"I'd rather you be alive and angry at me than have people happy with me," the governor said. Criteria for reopening public and private schools in the areas haven't been established, he said.
The transmission rate of the coronavirus in the majority of the city remains low, below 2 percent, but for weeks officials have raised concerns that hot spots could grow into further community spread, leading to a second wave.