Instant noodle makers reap rich rewards
Share - WeChat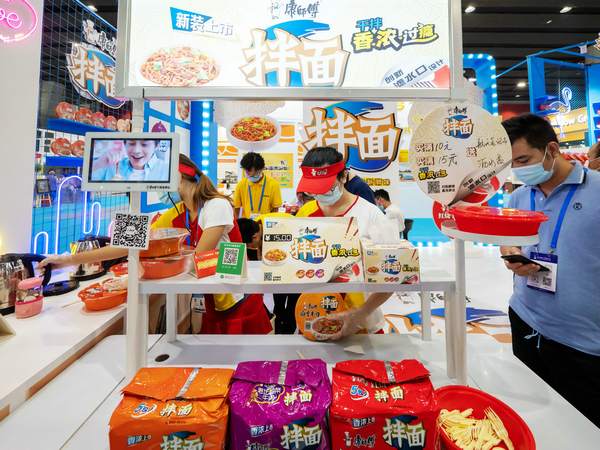 Convenient to cook and easy to preserve, instant noodles have become one of the few products that remained unaffected by the COVID-19 epidemic and instead saw a surge in sales. Buoyed by the resurgent demand, companies are now increasing their investments on the products by making them more delicious and healthy to meet the discerning tastes of consumers.
Master Kong of Tingyi Cayman Islands Holding Corp, China's largest instant noodle maker, has been cashing in on the higher-end segment of the market and seen positive results.
During the first six months of this year, Master Kong saw its instant noodle business achieve sales revenue of 14.9 billion yuan ($2.2 billion), up 29.16 percent on a yearly basis. During the period, its net profit stood at 1.69 billion yuan, up 93.54 percent on a yearly basis, according to the company.
The company's higher-priced instant noodle products saw sales revenue soar by 47.8 percent on a yearly basis during the same period, while instant noodles in cups reported double-digit growth, the company said.
"Convenience food is becoming more healthy, safe and distinctive. Retailers need to make innovations to provide products with better taste, more attractive packaging and high-quality raw materials to meet the changing demands," said Shen Qun, a professor at the College of Food Science and Nutritional Engineering of China Agricultural University.
From January to June, major instant noodle maker Uni-President China Holdings Ltd achieved sales revenue of 5.21 billion yuan, up 22 percent year-on-year. Uni-President said it has been focusing on using better raw materials, including the use of broth and more healthy and fresh cold noodles.
Japanese convenience food and instant noodle maker Nissin Foods Co Ltd saw sales of convenience foods in China reach HK$1.74 billion ($224.5 million) in the first half of this year, up 15.9 percent on a yearly basis.
Targeting increasingly diversified demands in the market, Nissin Foods has endeavored to innovate with different ideas. For female consumers who would like to keep fit, the company has launched high-fiber and low-calorie products. For the elderly group, it has introduced Japanese buckwheat noodles in small packages. For young people, it has launched featured products such as noodles in Thai style Tom Yam Kung soup (spicy seafood soup), and Lanzhou beef noodles.
Kazuo Kawasaka, director of Nissin Foods (China) Holdings Co Ltd, said: "We have put an inner cover inside the instant noodle package to place the fork separately in one of our cup noodle products in China. We take the demand of consumers as the highest principle of innovation. We found the purchasing frequency of the product increased after the launch of such designs."
Kiyotaka Ando, chairman and CEO of Nissin Foods and the director of World Instant Noodles Association, said the pandemic has brought irreversible changes to people's lifestyles. The instant noodle industry has shown its resilience in fighting the crisis, and the supply chain of the sector has been able to maintain regular operations.
At the same time, the instant noodle industry needs to draw up new strategies regarding issues such as climate change and environmental protection. It can further promote some environment-friendly measures, such as introducing biological material packaging and contribute to the reducing of greenhouse gas emissions and continue to raise the value of instant noodles, Ando said.
Unlike before, increasingly advanced automatic manufacturing equipment and logistics have helped the convenience food industry to raise its overall strength and advantages.
Shao Wei, vice-president of Chinese Institute of Food Science and Technology, said: "The market has shown a huge demand for convenience food since the outbreak of COVID-19, as the governments of various countries and regions are urging people to go outside of the house as little as possible.
"We need to research on the changed market demand after the epidemic comes under more control and upgrade the products and management models accordingly, and tap more young consumers through digital sales channels," she said.
Most Popular