Homegrown nuclear tech gets impetus
Share - WeChat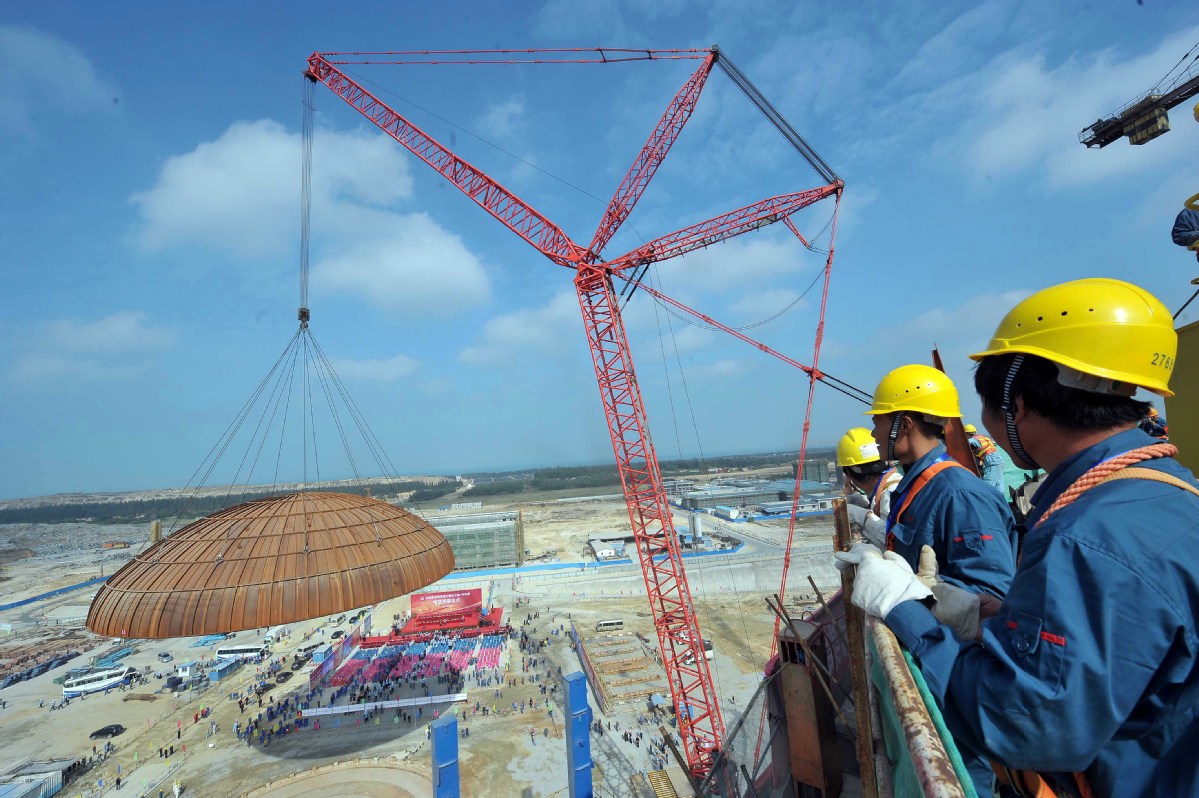 China expects to be leader of the sector by 2026 as more projects go on stream
China is more committed to moving away from reliance on imported nuclear power technology and building up its own homegrown systems, said insiders.
Construction of two nuclear power projects at a cost of 70 billion yuan ($10.24 billion), including the Hainan Changjiang phase 2 and Zhejiang San'ao phase 1 projects were approved recently, both of which will be adopting domestically developed third-generation Hualong One reactors.
The units will begin operations over the next five to six years.
Wei Hanyang, a power market analyst at Bloomberg New Energy Finance, said the government prefers to utilize its self-developed third-generation technology-Hualong One.
"It indicates a clear trend for China to move away from imports of nuclear power technology and marks a likely acceleration of local adoption, as successful local applications will help export Hualong One to more countries in the world," he said.
China had 49 gigawatts of installed nuclear power capacity last year, the third largest globally. The sector continues to develop even though it makes up just around 5 percent of the country's total generation, compared with 70 percent in France, 19 percent in the United States and 12 percent in Germany, said Bloomberg New Energy Finance.
The agency predicted that China will pass France as the world's second biggest nuclear power generator in 2022 and overtake the United States four years after that.
Nuclear power plant construction has been suspended in China over the past few years.
"China has not approved new nuclear power sites for two consecutive years, since Guangdong's Huizhou and Fujian's Zhangzhou in 2019. Nuclear power will help decarbonize China's power and heating sector, replace some of the existing coal powered-consumption and meet increasing energy demand, which is embedded in China's economic shift to services-led industries," said Wei.
It is believed China will see more than 17 nuclear units under construction by the end of this year and at least four units will begin construction by 2020 alone. The approval and commencement of new nuclear power units is also expected to gradually become the norm.
The China Nuclear Energy Association estimated that nuclear power will play a more significant role in China's energy mix going forward, and the country is expected to construct six to eight reactors each year to gradually push forward its nuclear development between 2020 and 2025.
He Yu, former chairman of China General Nuclear Power Corp, had also been actively calling for the mass production of Hualong One reactors due to their safe, technically mature and economically competitive technology, so as to ensure installed capacity of nuclear power in China reaches at least 150 GW by 2030.
While China is expected to fall short of its planned total installed nuclear capacity of 58 GW by the end of this year, capacity is still likely to increase exponentially in the coming decade, and China is still on track to become the top global nuclear energy player over the next decade, said the association.
According to the nuclear association, China is expected to have 51 nuclear facilities in operation by the end of this year, with an installed capacity of 52 GW. More than 17 nuclear units will be under construction with installed capacity reaching 19 GW.